Cooper is one of the most famous names in the tire industry. In recent years, Cooper has held the OE class mark for major brands such as Volkswagen, Ford, and Mercedes-Benz.
The names above are partly a testament to the quality and reliability of this leading US tire-related tool company. Are Cooper tires any good? Is its high price commensurate with the quality? Refer to the Cooper tires review below.
Cooper Tires Overview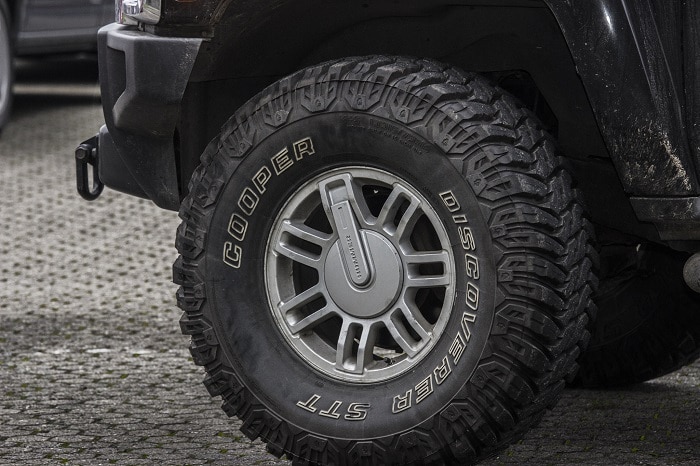 Cooper first appeared in 1914 as a company offering tire patches and tire repair kits. After a few years, this US-based company started researching and manufacturing tires.
By 2019, Cooper had production facilities in three continents and occupied a significant market share in the tire manufacturing market in the United States and North America.
Notably, despite appearing after famous names like Bridgestone, Goodyear, or Continental, this brand still accounts for approximately 5% of tire sales in the US.
The success above comes from the new features and technology also thanks in no small part to the relatively affordable price of the product.
On the market today, to buy a set of tires for SUVs from a famous brand, you need to spend at least 800 USD. However, you only need to pay about 600 USD to get the same experience with Cooper.
Increasingly improving in recognition and quality, it is not difficult to understand why Cooper has received the trust of major car manufacturers such as Volkswagen, Ford, and Mercedes-Benz when selected as the OE tire brand.
Most Popular Cooper Tires Review
Over the course of the past century, Cooper has maintained a price advantage. At the same time, the manufacturer also constantly improves technology and design to bring many different tire lines to serve many types of vehicles and be suitable for many kinds of terrain and weather conditions.
And to demonstrate the variety of product models that this brand offers, here are the popular tire models that have made Cooper's name:
Cooper Evolution Tour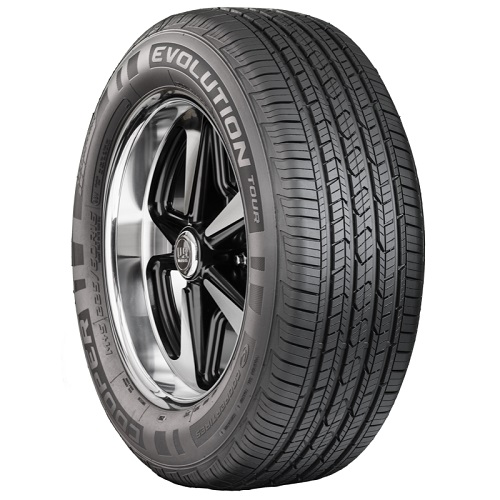 Specifications:
Model: Evolution Tour
Weight: 20 lbs.
Size: R14-18, 175/65 to 235/65
Longevity and affordability are the first points worth mentioning of the Evolution Tour class line.
This tire model has a unique tread design for even wear, good warmth, and absorption. In particular, the midrib also offers stability and good handling for the price. Meanwhile, the polyester shell and reinforced nylon wrap are enough for the Cooper Evolution Tour to become a tire model worthy of UTQG's 600 AB rating.
The product is the first choice if you are looking for a class kit that can fit many different passenger cars or a product specifically for the Sedan family car, which can work well on any terrain.
Cooper Zeon RS3-G1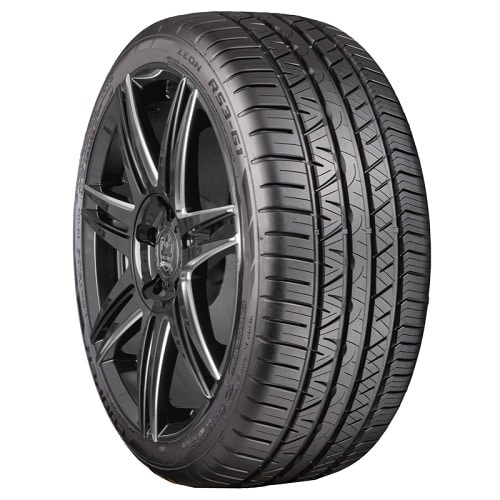 Specifications:
Model: RS3-G1
Weight: 26 lbs.
Available sizes: R16-20, from 205/55 to 305/35
Cooper Zeon RS3-G1 is a tire line aimed at sedans, coupes, and sports cars especially; this tire line also clearly shows the advantages of driving on slippery roads.
Specifically, the product has a fantastic cornering grip with the silica compound on the tire and the asymmetrical design. In addition, the noise is also significantly limited.
The unique feature of Cooper Zeon RS3-G1 that makes this tire a top choice in winter comes from Micro-Gauge grooves, loose lines, side stripes that help control moisture flow, improving traction in weather conditions bad weather like ice and snow, slippery in winter.
In terms of durability and hardness, Zeon RS3-G1 is not inferior compared to any Cooper tire models in particular and other products on the market in general.
The double-layer polyester shell material and the grain filler do a great job of maintaining the rigidity and resisting deformation of the corners.
The Cooper Zeon RS3-G1, with its dual steel belt and spiral nylon sheath, does not disappoint in terms of speed stability.
Cooper Evolution H/T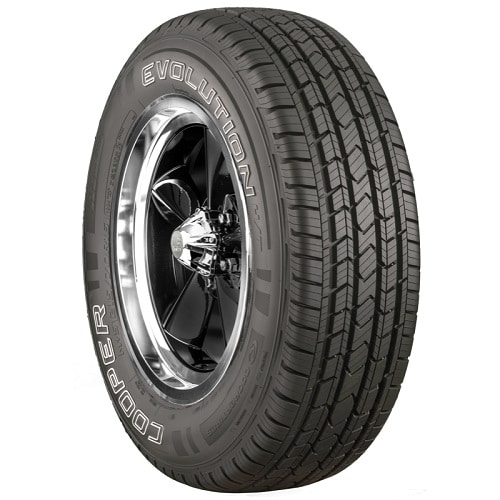 Specifications:
Model: Evolution H / BILLION
Weight: 29-45 lbs.
Available sizes: R15-20, from 235/75 to 275/65
Also a tourist tire, but the Cooper Evolution H/T is at crossovers used in all seasons, meeting daily needs.
Therefore, the manufacturer has paid great attention to improving the smoothness and quietness of the tire's operation. Besides, like most products from the Cooper brand, the Cooper Evolution H/T has a pretty good grip and fantastic longevity.
Cooper Discoverer AT3 4S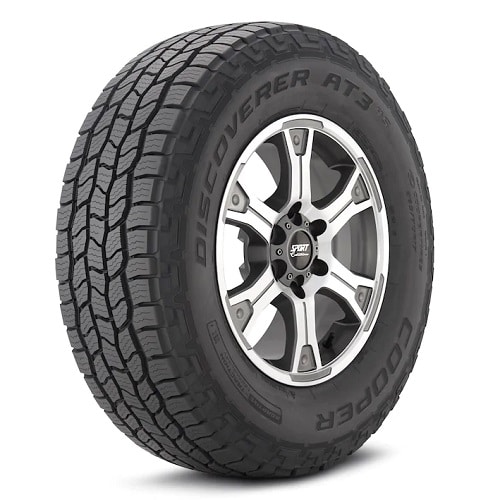 Specifications:
If you have doubts about the longevity of off-road loops, you can switch to the Cooper Discoverer AT3 4S. This product is suitable for quite a lot of terrain but still has the fantastic longevity of on-road tires.
To get the above advantages, the manufacturer has designed the Cooper Discoverer AT3 4S tread in the style of an exclusive Safety Grip. Besides, the tire has up to 5 ribs to have the best performance in any road condition.
In addition, thanks to the AquaVac channel, any liquid can easily escape from the tire, thereby providing excellent mobility even in cold weather conditions.
In addition to the exterior design with silicon serrations, the Cooper Discoverer AT3 4S also has a commendable internal design. With two layers of molded polyester and a single layer of nylon reinforcement, the durability and handling of this model are well worth considering.
Cooper CS5 Ultra Touring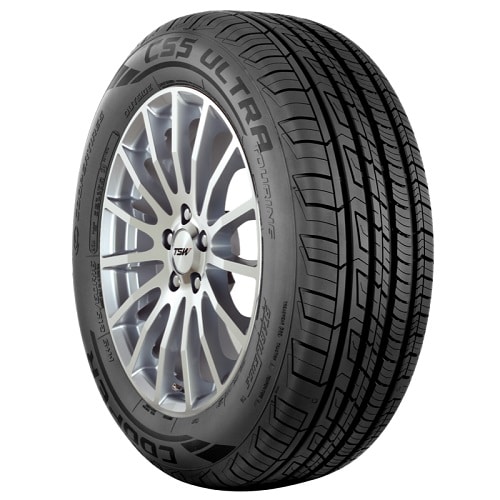 Specifications:
Model: CS5 Ultra Touring
Weight: 27 lbs.
Available sizes: R15-20 from 185/65 to 255/60
Smooth, quiet, and stable, the CS5 Ultra Touring is one of Cooper's standout products.
The main compound of the product is coupled Silica. In addition to the unique combination, the product also has an impressive, asymmetrical design. Not only gives an aesthetic impression, but the unique design also significantly improves the ability to drain water and grip the road in harsh weather conditions.
In particular, you can also comfortably drive in light snow without too much difficulty, thanks to the Micron-Gauge 3D slot creating many angles, which is very suitable for cases when driving in low-friction conditions.
Watch this detailed review video below for more:
Cooper Evolution Winter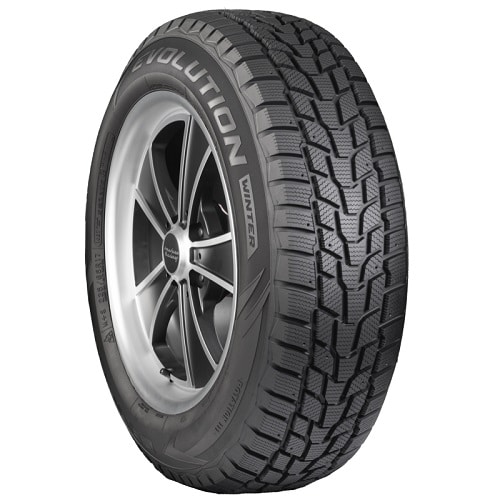 Specifications:
Model: Evolution Winter
Weight: 20 lbs.
Available sizes: R14-19 from 175/70 to 265/65.
If the above products are suitable for use in light snow conditions, then the Cooper Evolution Winter is a true winter tire that can perform well on all snow-covered North American roads.
Proof of excellent traction and grip is the prestigious 3PMS rating. To achieve the above certification, in addition to the usual advantages found in any Cooper brand tire, it is impossible not to mention the differences only in Cooper Evolution Winter.
Specifically, the product is composed of a proprietary compound.
Besides, this tire model also has a significant difference when focusing on improving traction. The rivet holes first appeared on the Cooper brand tire model, contributing in no small part to the addition of TSMI #12 rivet spikes. You will feel the noticeable changes this supplement brings, especially in terms of traction.
When we talk about the treads on the tires, it is impossible not to praise the wide and stiff tread blocks that help increase stability on even the driest roads. Meanwhile, the tread depth and wide circumference of the tire have good drainage and mud discharge, which is very suitable for wet terrain.
Another difference of Cooper Evolution Winter comes from the interior design. Instead of providing a double-layer polyester cover, as seen in previous products, the manufacturer in this tire model offers only one layer.
This reduction is to fix the shape with the high flip layer. And you will still get the same durability and impact resistance as experienced with previous models of the same brand.
Referring to the internal design of Cooper Evolution Winter, it is impossible not to mention the wide steel belt. This arrangement combined with a reinforced nylon layer gives longevity, durability, quality, and performance.
Cooper Adventurer H/T
Specifications:
Model: Adventurer.
Available sizes: R14-19 from 175/70 to 265/65.
Load Index/Speed ​​Rating: 112R – 123R.
Cooper Adventurer H/T is a tire with a good grip on dry and wet roads.
The product has Cooper's exclusive R-Tech side skirts whose main task is to improve cornering stability. The rubber-silica compound of the tire also enhances this ability.
Your tire's reliable traction on wet terrain comes from 3D Micro-Gauge tracks. In addition to the grooves, the manufacturer also integrates the tread with large circumferential grooves to improve grip.
However, you should also note that Cooper Adventure H/T should not be used on thick snow and ice.
Cooper Adventurer Tour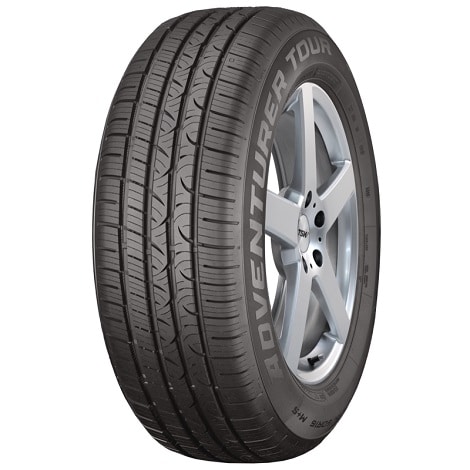 Specifications:
Model: Evolution Winter
Available sizes: 195/65R15.
Load Index/Speed ​​Rating: 91H.
SUVs are the vehicles that receive the most benefits from Adventurer tours. It gives better control over a wide range of terrains while also allowing you to monitor tread life.
Specifically, the Cooper Adventurer Tour's controllability comes from Stabilledge technology that enhances handling and traction stability. Meanwhile, Micro-Gauge Zigzag Sipes will reveal their full strength on slippery roads.
And most significantly, Cooper has brought a Wear Square indicator on this model so you can keep track of the remaining usage time of the tires.
Cooper Discoverer AT3 XLT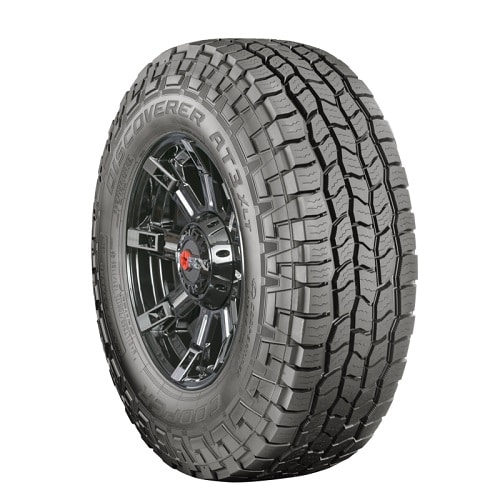 Specifications:
Model: Discoverer.
Load Index/Speed ​​Rating : 108R – 113R.
Available sizes: 33X12.50R15LT, 32X11.50R15LT , 31X10.50R15LT.
Impressive traction, incredible durability, and significant payload are the reasons why the Cooper Discoverer AT3 XLT is a top pick for pickup trucks.
Cooper has equipped a lot of technology on this tire model to provide a smooth feeling when traveling on the highway. While still being able to withstand heavy loads.
One of those technologies is the sturdy drag shoulder found only in the Cooper Discoverer AT3 XLT, which significantly improves traction. The drag shoulder support is Even Wear Arc technology, which offers pretty good handling.
And last but not least is the tread layer that repels gravel and rocks, protecting the tire from any damage on the highway.
Cooper Evolution M/T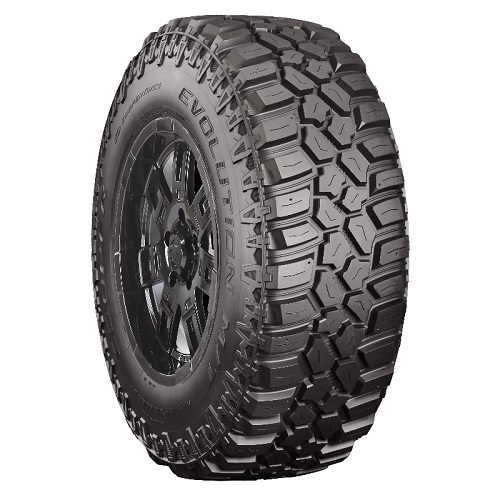 Specifications:
Model: Evolution Winter
Load Index/Speed ​​Rating : 108Q – 113Q.
Available sizes: 33X12.50R15LT, 35X12.50R15LT, 31X10.50R15LT.
Like Cooper's famous tire models, the Cooper Evolution M/T is a lot of new technology. In particular, because it is product-oriented to use on rugged terrain, the manufacturer focuses on improving the strength of this tire model.
Cooper has accomplished this goal very well with specialized technology for handling rugged terrain, especially the Earth Diggers muddy environment. The mud-piercing power of this tire is further enhanced by Mud Slingers, which can remove any build-up in the tread.
Durability is also one of Cooper's goals when building this tire line. And the product's stone protective barrier is the most apparent testament to Cooper's success in building a durable product.
Are Cooper Tires Good?
The quality of a set of tires is evaluated based on many criteria: durability, comfort, integrated technologies, price.
So, is Cooper a good tire? With more than one hundred years of experience in the field of design – production Cooper is proud to be a brand that meets all of the above criteria.
Top-notch handling and stability
In terms of reputation, Cooper is somewhat less prominent than names appearing in the nineteenth century, such as Goodyear or Continental.
However, in terms of handling and stability – the two most important factors of a tire, Cooper is certainly not inferior to any brand.
The company has made great efforts in research to improve the handling and safety of tires. In particular, with a proprietary compound that uses Adaptive Traction technology, every product from the Cooper brand has excellent grip and handling, even in any harsh or treacherous terrain.
Besides, the five-rib design that has created Cooper's trademark is also one factor that makes up the product's success in handling when cornering at high speed.
Appease
Not only is it a top product in terms of handling, but Cooper tires also do not disappoint users in terms of smoothness and comfort.
To give the driver a great experience on all terrain and weather conditions, Cooper's secret is exclusive compounds combined with the latest technologies such as 3D Micro-Gauge positioning.
Reliability
Durability is also an essential factor in evaluating the quality of tires. And by this criterion, Cooper remains one of the top trusted brands. What are the reasons for this?
First, the product's durability comes from the hardness of the proprietary tire compound.
Second, Cooper also offers a 45-day trial warranty service. During this time, you can evaluate the tire's performance for free. If the product's durability, handling, and comfort make you unhappy, you can return it directly to the dealer for free.
Another nice difference of this brand is that Cooper operates with independent direct distribution agents.
Although this business network can make the brand not too famous, this type of distribution clearly shows advantages in customer service, of which the above 45-day warranty program is an example.
Quality
To develop, survive for a century, and constantly grow in the future, in addition to the element of opportunity, that brand needs products of excellent quality with many unique features compared to other brands' competitors.
And Cooper is one such company. Whether your choice is a passenger tire or an SUV tire, you can be of the quality of the product.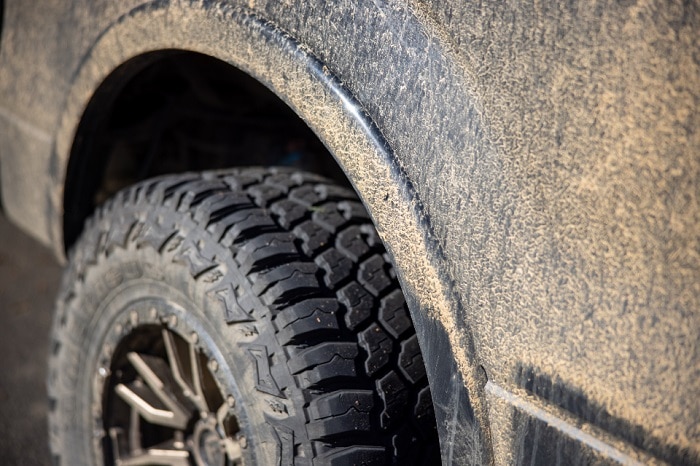 Price
As mentioned, compared to more famous brands, Cooper tires are significantly cheaper, although the design is equally solid and reasonable.
With an average price of about $600 for a set of quality SUV tires, Cooper can be the brand that specializes in providing the most accessible high-quality products today.
Fuel Efficiency
If you're looking for a set of great fuel-efficient tires, don't forget Cooper's GFE-certified tires.
In this particular tire, the manufacturer has made specific changes in design and materials, thereby significantly reducing rolling resistance. And of course, with the relative reduction in drag, the tires move more efficiently but require substantially less fuel.
Durability
Cooper offers not only a 45-day road-tested warranty but also a pretty good tire mileage warranty: between 25,000 miles-90,000 miles.
The manufacturer has absolutely enough grounds to be confident in the product's durability. Because every year, the company spends millions of dollars on testing, handling errors, if any, and constantly improving to bring top quality products in the price range.
If you care about maintenance, indeed, the product's durability is much higher than what the manufacturer claims.
Handling
You probably won't be too concerned about the tire's grip on normal roads. However, you will definitely need stable tires on all terrains and different surfaces like Cooper with more rugged roads.
The handling of Cooper tires is quite impressive. With Adaptive Traction technology, a five-rib tread construction, you can drive safely in all-terrain conditions, even the driest or the most slippery.
Range
Providing a wide range of products is also one of Cooper's commendable advantages. Whether you own a Sedan, Coupe, Crossover, SUV, or pickup truck, you can find a tire model just for you.
Besides, if you have any special requirements for the terrain and conditions of use, Cooper can make you satisfied with its outstanding quality and durability.
Why Choose Cooper Tires?
There are hundreds of tire brands currently on the market, so what are the highlights that make Cooper different and worth trusting other brands?
There are many different answers to the above question. But in general, it is impossible without the advantages that have made a name: reasonable price – long service life – suitable performance.
In particular, reasonable price without sacrificing too much quality is one of the advantages worth considering of products from the Cooper brand.
You can already have a product that uses new technologies, has excellent warranty service, and is incredibly durable for a significantly lower price. Obviously, choosing Cooper is the most economical choice currently for balancing performance and cost.
In addition, the right performance refers to specific tires for specific conditions. The manufacturer offers a wide range of tire models for all weather conditions of the year and terrain.
You don't need to look at high-end brands with higher prices. You can find tires that impress when used in cold weather with slippery terrain or have other options suitable for hot and dry summer conditions.
Thanks to the high applicability above, it is not difficult to understand that the representatives from this brand are present in many countries and territories around the globe, meeting the different needs of different markets.
Practical Experience With Cooper Tires
Suppose the evaluations are on specifications and structural features that do not clearly show the advantages and give you the most transparent and most objective view of the products from this hundred-year-old brand. In that case, you can check out the Cooper tires review below.
Of course, no matter how high-end products are, there are downsides. And Cooper is no exception. Therefore, objective reviews of both pros and cons from people who have used the product themselves are a solid basis for you to answer the question that Cooper tires are good.
Positive
With the advantage, the price is always the most commendable point of the product. We can save $100 to $200 with online discounts. And even the original prices of these tires are too favorable compared to the quality and more advanced products currently on the market.
We own Cooper Tour Evolution tires and have driven 40,000 miles with the product without any discomfort. And indeed, in the future, our journey with the Cooper Tour Evolution tire truck will be even longer.
With Cooper Discoverer A / T3 XLT tires, the most impressive point is the ability to operate smoothly in all-terrain conditions. Especially for the first time driving, We were so surprised that we had to open the window to check the road below because we could barely hear any annoying sounds.
Negative
On the downside, depending on the needs of each person, the responsiveness of the tires from Cooper is different.
To be fair, we don't appreciate the Cooper CS5 Ultra Touring line.
The product can be pretty excellent with its specs and design, but it's not that great if you use it on a mid-size SUV. However, if you only have a small car, perhaps your experience will be much better.
Durability is always an advantage of most Cooper tire models, but unfortunately, it does not appear on the Trendsetter SE line. This product line is undeniably a good choice for the budget, but the tire's durability makes me a bit disappointed when it wears out quickly and cracks after only a period of use.
The product can be used in any weather conditions, from wet with snow, light mud in winter, and dry hot in summer. However, if you expect more impressive usage time, you may need to invest more.
Conclusion
Despite appearing in 1914, Cooper is still a younger name than some of the leading US brands. However, this brand is undeniably a formidable competitor with names like Bridgestone, Goodyear, or Continental.
With the efforts and success in harmonizing price, reputation, and quality, there is no doubt that Cooper fully deserves a rather high market share in the current US market.
With the above information, you probably answer the question: Are Cooper tires any good? And to test for yourself the advantages that have been repeated about this brand that appeared in 1914, the next time you choose tires, consider products from Cooper.
If you have any questions related to this tire, don't forget to leave a comment in the detailed article below for us to answer promptly.
Last but not least, don't forget to share this article with your relatives or friends who may be car enthusiasts. Thank you for reading!
Our full list of Cooper tires review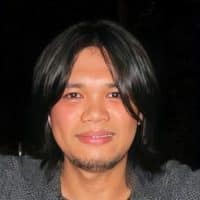 Alvin Reyes has expertise in automotive evaluation. He collaborated with famous newspapers and is still making efforts in tire review for DrivingPress.com