Hey there, I'm Alvin Reyes, and I'm more qualified to pick tires than a sommelier is to choose a fine wine. With a background in piloting, accounting, and auto repair, I know my way around cars like a squirrel knows where to find nuts.
Like any other driver, I want to go the longest distance but pay the least for gas. The best low rolling resistance tires will help me do this extraordinary thing.
However, these models also need other essential features to keep the trip safe and comfortable. The balance between low rolling resistance and important parameters makes finding tires much more difficult.
Understanding this difficulty, I will provide you with some tires to consider.
In addition, I'll also share some helpful tips for you to choose the best tires with low rolling resistance. Now, let's read on to discover!
The Best Low Rolling Resistance Tires Reviews Of 2023
The tires below impress with their low rolling resistance and conquer me with their impressive performance. If you are looking for a product with the same advantages, do not miss any of the picks right here.
Michelin CrossClimate 2
Best for Overall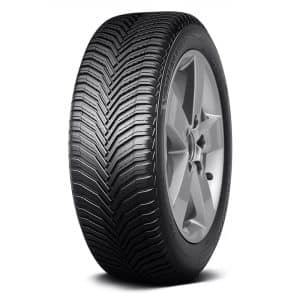 The Michelin CrossClimate 2 matches my expectations for the best low rolling resistance tires. It comes with good off-road handling, impressive driving experience, and superb fuel economy.
Regarding handling, CrossClimate 2 inherits all the advantages of all-season and all-weather tires.
The Michelin tire compound is quite soft but gives excellent traction on dry surfaces. The light and responsive steering feel also helps me easily control the car and ensure the trip's safety.
CrossClimate 2 did not let me down on slippery surfaces because of all the advantages of all-weather tires.
Its water resistance and cornering grip are reliable enough on the long haul. With it, in heavy rain and deep puddles, I still had complete control of the car.
The product's impressive handling continues to be quite good on light snow. CrossClimate 2 has met the industry's rigorous standards for severe snow service, receiving 3PMSF certification.
The product's ability to operate quite well on snow is mainly due to the high-silica tire compound, which improves traction.
The unique tire compound also has a relatively low rolling resistance, which helps to reduce fuel consumption.
In the end, I am satisfied with Michelin's driving experience. This French brand's PIANO noise reduction technology is effective for unmatched ride comfort.
My only complaint about this tire is the 60,000-mile warranty. Compared to competitors in the same class that offer a deposit of up to 70,000 miles, the service of the Michelin CrossClimate 2 seems far less appealing.
Pros
Good waterproof.
Work well on light snow
Reasonable control of dry conditions.
Special tire compound reduces rolling resistance.
Effective noise reduction with PIANO technology.
Cons
The warranty period is slightly shorter than the competition
Bridgestone Ecopia EP422 Plus
Best for All-Season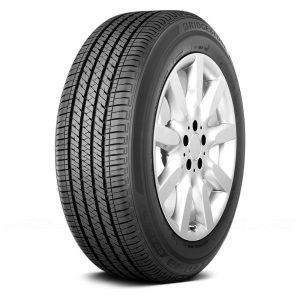 In the past, I've always avoided all-season tires when looking for a product with low rolling resistance. Most tire models that want to maintain traction in many conditions sacrifice fuel economy characteristics.
However, Bridgestone Ecopia EP422 Plus completely changed my opinion.
This Japanese tire brand has equipped this model with NanoPro-Tech. This exclusive technology ensures even tires maintain low rolling resistance in various weather conditions. Since using the Ecopia EP422 Plus, I have saved a significant amount of fuel.
The unique tire compound does not affect the product's handling. In contrast, the Bridgestone tires have excelled in my testing on various surfaces and weather conditions.
I appreciate the product's cornering grip and braking performance on dry runways the most. The only regret is that the Ecopia EP422 Plus does not deliver the exciting driving experience I expected.
On wet roads, braking performance and traction are still maintained reasonably well. In addition, I am also quite satisfied with the product's waterproof four-way wide circumference design. This particular design has helped me to cross deep puddles many times safely.
The product will have to pass a performance test on snow and ice to be on my favorite tires. And Bridgestone Ecopia EP422 Plus is such a tire model.
However, I do not recommend using the Ecopia EP422 Plus to move on heavy snow. The all-season tire model does not receive 3PMSF certification, which is not reliable enough for use in harsh winters.
Pros
Good waterproof.
Good performance on light snow.
Good grip on both dry and wet terrain.
The tire compound reduces rolling resistance.
Save fuel and reduce carbon dioxide emissions.
Cons
Not the best choice in harsh winters.
Continental TrueContact Tour
Best for Tread Life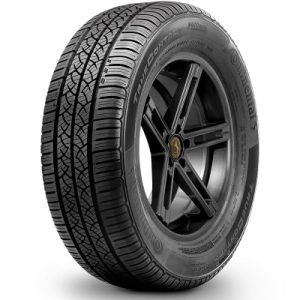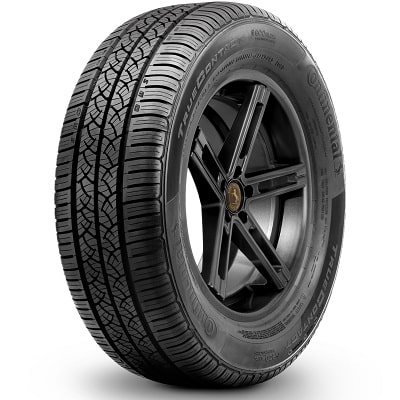 One of the most impressive advantages of this low rolling resistance model is the exceptional tire life. The manufacturer used functional polymer compounds and salt additives to create a durable tire worthy of an 80,000-mile warranty.
In particular, polymers enhance tire durability, and salt additives ensure wet braking and traction performance.
But TrueContact Tour captivated me more than simply with its impressive tire life and outstanding warranty period. The product has also become my favorite all-season touring tire because of a series of commendable advantages.
One of the features I appreciate most about the Continental TrueContact is its class-leading dry grip. The product provides a safe and comfortable ride.
Tires have a vigorous cornering with a short braking distance. This advantage has brought about an impressive driving experience on the highway.
The product also successfully passed my wet and snow traction tests. Continental tires provide reliable traction and short braking distances on generally slippery terrain.
Finally, I must commend the comfort that TrueContact Tour brings. Thanks to a rubber layer that absorbs vibrations, this tire model is significantly quieter than the competition. I always favor using Continental TrueContact Tour for long-distance trips for the same reason.
Overall, the Continental TrueContact Tour is one of the few low-rolling resistance products that doesn't have too serious of a downside. The only issue I think the manufacturer could do better is improving traction reliability on ice.
Pros
Long tread life.
Quiet on the highway.
Handle well on many different terrains
The tire tread warranty is up to 80,000 miles.
Comfortable, smooth even on rough roads.
Cons
Improved traction on ice.
Firestone Champion Fuel Fighter
Best for Light Snow Traction
Most of the tire models I introduced above have limited snow traction. This disadvantage is entirely acceptable, especially for all-season products.
However, what if you live in a snowy area and pay special attention to low-rolling resistance tires? Firestone Champion Fuel Fighter will be your choice!
This tire model maintains low rolling resistance with the Long-Link Carbon Silica tread compound and design optimization technology. By my calculations, the product's ability to reduce rolling resistance has saved me up to 5% on fuel.
Despite possessing a series of technologies to reduce rolling resistance, the product's traction, traction, and braking are not affected.
On dry roads, the performance of the Firestone tires is unquestionable. I installed the product on my relatively robust model, but the Champion Fuel Fighter's traction is still commendable.
On the snowy road, the deep grooves in the surface exerted maximum power. Although not a well-known brand in the winter tire industry, the Champion Fuel Fighter is reliable when traveling on light snow.
Unfortunately, when traveling on wet roads, the product does not maintain the above advantages well.
Reasonably commented, Champion Fuel Fighter is still reliable enough to move on wet roads. However, I expected more from this model. Firestone will have to improve its cornering grip to keep up with the competition.
Pros
Cozy and quiet.
Up to 5% fuel savings overall.
Ideal traction for powerful vehicles.
The deep trench is helpful in light snow.
Optimized design reduces rolling resistance.
Cons
Not so great on wet roads.
Pirelli P4 Four Seasons Plus
Best for Year-around Traction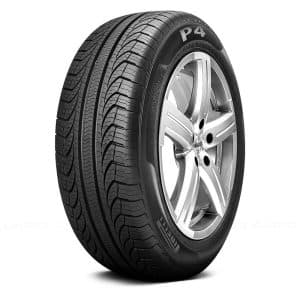 As the name suggests, this representative from Pirelli was born to provide traction and year-round handling.
During the dry season, Pirelli P4 Four Seasons Plus performed exceptionally well. It combines all the attractive advantages of traveling on dry roads: good grip, reliable traction, and short braking distances.
The Pirelli is not the product that offers the most enjoyable driving experience on dry roads. However, this tire model is my first choice when I want a safe trip.
During the rainy season, P4 Four Seasons Plus continues to not let me down. Although we have experienced many tires every season, those tires have never been for a better-wet road experience than the Pirelli,
The product also has excellent traction, giving me confidence through deep puddles and heavy rains. When winter comes, I continue to use the Pirelli P4 Four Seasons Plus. And the product's handling exceeded all that I expected.
Unlike quite a few all-season touring tires I've used, the representative from Pirelli offers good handling of light snow. I can barely complain about the traction and grip the product provides.
In addition to reliable performance, I also quite appreciated the ride quality of the Pirelli P4 Four Seasons Plus. Whether accelerating on the highway or moving around the city, this Italian tire maintains a comfortable ride.
On asphalt and concrete, I barely noticed the noise the tires made. When traveling at higher speeds, the new product emits some light growl.
But overall, the noise generated by the tires did not affect my driving experience.
Finally, another impressive advantage of this low rolling resistance tire is its 90,000-mile warranty. The excellent mileage above gives me more peace of mind and reflects its exceptional durability.
The only issue I think the product should improve on is responsiveness. I don't feel too enjoyable to drive the Pirelli P4 Four Seasons Plus on dry roads.
This disadvantage makes the product not too suitable for powerful sports cars.
Pros
Safe on dry roads.
Long term warranty
Quiet on the highway.
Handle light snow pretty well
Excellent performance on wet surfaces.
Cons
Continental CrossContact LX25
Best for Steering Response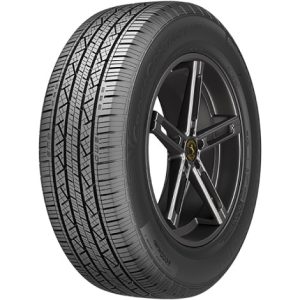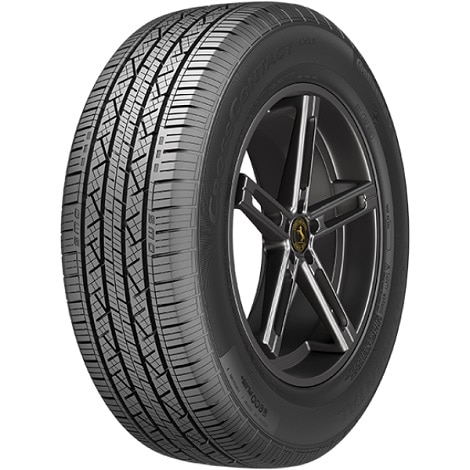 While I love the durability and low rolling resistance of the Pirelli P4 Seasons Plus, I did not choose to install it on my sports car. Instead, I would choose the Continental CrossContact LX25, a tire with good fuel economy and feedback.
Its fuel economy mainly comes from EcoPlus technology and matching tread patterns. This model is one of those with low rolling resistance and effective emissions reduction.
Handling and driving feel are also commendable advantages of CrossContact LX25. The product's steering response is much better than regular all-season tires. Although not a racing tire, the Continental still provides excellent grip when cornering under challenging corners.
I appreciate the deep side groove design, which considerably extends to the tire width. This unique creation has had a significant impact on its processing performance. As a result, the Continental CrossContact LX25 became the perfect choice for my powerful sports car.
In addition to its good response and low rolling resistance, the Continental impressed me with its impressive traction and performance on various terrains.
I have had almost no problems using the product on dry roads. When it rains heavily, the tires do not also get wet and ensure a reliable grip.
In the end, the CrossContact LX25's grip and light braking distance on light snow were much more impressive than I expected. The product performs poorly on heavy snow but has better handling than summer tires.
Comfort is also a commendable advantage of the product. Continental tires are much smoother and quieter on sandy terrain roads than the competition.
I've driven a lot of all-season Crossovers/SUVs touring, but only the CrossContact LX25 has side cushions for added comfort.
The only problem with this tire model is the price. Still, the Continental Crosscontact LX25 is a worthwhile investment for you to get great experiences.
Pros
Good steering response.
Comfortable and smooth.
Excellent cornering grip.
Significantly reduce rolling resistance.
Reliable traction and braking on light snow.
Cons
Michelin Pilot Sport 4S
Best for Summer Tires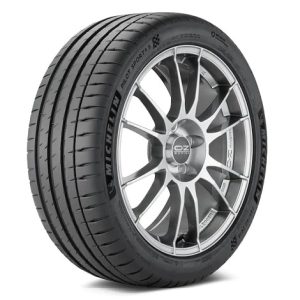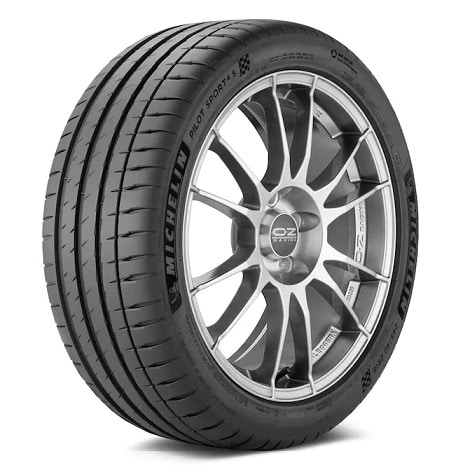 The Michelin Pilot Sport 4S still offers excellent handling in hot, dry climates. My assessment above is based on a series of basic tests.
About grip on dry roads, the product surpasses most current competitors. Even with maximum acceleration, the tire still does not lose grip. The product's dry braking distance is relatively short, enough to provide a safe ride.
As a max-performance summer tire, it does not require much heat to function optimally. I still use this tire model to travel on wet roads, even on light snow.
Contrary to popular stereotypes about summer tires, riding with Pilot Sport 4S on wet roads is surprisingly safe.
Although the number of grooves is not much, Michelin has overcome it with a special silica-impregnated damp compound. With it, the wet performance of the product is quite reliable, even in deep puddles.
The Michelin Pilot Sport 4S continues to change my mind about the comfort and quietness of a summer performance model.
This model features Michelin's famous sound reduction technology to minimize noise entering the cabin. The growl of the tire is not too noticeable. And my sedan has good enough sound insulation to eliminate the above noise.
This tire from France has done quite a lot of impossible things. Unfortunately, the product still has some disadvantages.
One of them is a slightly delayed response compared to a summer maximum performance tire. This disadvantage helps the car move more smoothly.
Pros
Minimize noise.
Safe and reliable.
Reliable on wet roads.
Excellent grip at high speeds.
Short braking distance.
Cons
Slower response than summer max performance models.
Pirelli P Zero All Season Plus Elect
Best for Year-round Performance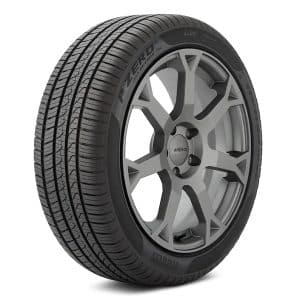 It would be remiss if the list of best low rolling resistance tires lacked the Pirelli P Zero All Season Plus Elect.
This product uses the famous advanced compound of the P Zero series. It reduces the tire's rolling resistance to the lowest but remains flexible in various temperature and weather conditions.
The year-round performance of P Zero All Season Plus Elect also comes from the asymmetrical tread design.
In the first contact, I did not attach too much importance to this tire model because I did not find anything new in the design. But on my first test drive, I completely changed my mind.
The product provides excellent traction when cornering at high speed. Also, my dry road driving experience is more impressive than ever, thanks to high longitudinal traction and low center of gravity.
This tire also allows me to accelerate immediately, even on wet terrain. The manufacturer also focuses on improving traction, making the product work quite well in winter weather conditions.
I am also quite satisfied with the smoothness and quietness of the Pirelli P Zero All Season Plus Elect.
I was impressed with the proprietary Pirelli noise cancellation system. This feature absorbs sound quite well, almost eliminating all noise in the cabin. Unfortunately, Pirelli only equips this technology with advanced products.
P Zero All Season Plus Elect is one of the few low-rolling resistance tires with this technology. As a result, it is the first name that comes to mind if I want a refined and smooth ride.
So, the Pirelli P Zero All Season Plus Elect doesn't have too many downsides.
The biggest problem with the product is probably the not-so-accessible price tag. But with a premium experience and excellent performance, the downside won't be too much of a problem.
Pros
Easy acceleration.
Year-round performance.
Low rolling resistance.
Delicate and smooth ride.
All-weather flexible tire compound.
Cons
Things to consider when choosing tires with low rolling resistance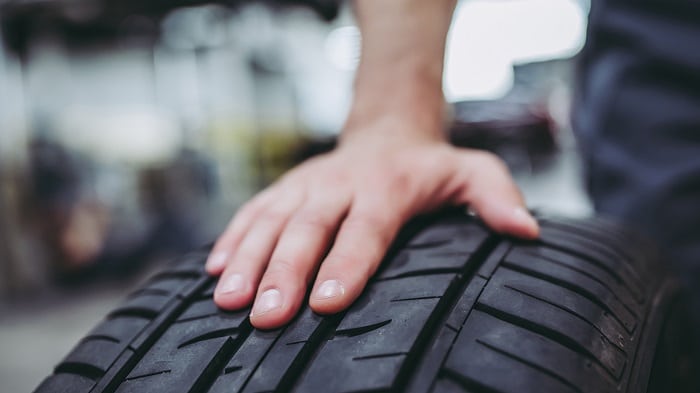 With the suggestions above, you can discover what is the benefit of low rolling resistance tires. You should refer to some tips below to make the search easier and faster.
Sedans and Minivans
You should prioritize touring and grand touring tires with small cars like sedans or minivans. These tire models are relatively affordable, possessing many technologies to reduce rolling resistance. In addition, the travel tires are also fairly smooth and comfortable, promising to bring an impressive ride.
SUVs and Crossovers
Touring tires are also an option for owners of SUVs and crossovers. It has all the advantages you want: smoothness, low rolling resistance, stable handling, and high durability.
Passenger tires
Passenger tires will be the ideal choice for compact cars. This model's impressive advantages could be its affordability and durability.
More importantly, passenger tires can meet all the requirements of compact car drivers.
High-performance tires
High-performance tires deliver powerful performance. This tire still maintains impressive fuel economy.
Yet, high-performance tires are not as durable as touring or grand touring tires. Besides, the high price is why many drivers hesitate when choosing this tire.
FAQs
Below is a summary of some asked questions regarding low rolling resistance tires. These questions will help you in the process of choosing the low rolling resistance tires list.
How much difference do low rolling resistance tires make?
A study has shown that a 10% decrease in rolling resistance leads to a 1% increase in fuel economy.
Are low rolling resistance tires safe?
Low rolling resistance tires are safe to travel on dry and wet roads. This model still has spikes and grooves for a smooth and safe ride.
How do you reduce tire rolling resistance?
In addition to choosing a low rolling resistance tire, try increasing the pressure in the tire to the recommended level. This action will help the tire to be less deformed, thereby moving efficiently on the road, saving maximum energy.
How do tires affect fuel efficiency?
Some studies indicate that tires are involved in 20-30% of a vehicle's fuel consumption. Switching from regular tires to green models will help save from 5% – 7% fuel.
How does tire size affect fuel economy?
The larger the tire diameter, the better the fuel economy because on the same road, large diameter tires will have significantly fewer wheel turns.
Conclusion
From practical experience, I found the Michelin CrossClimate 2 with excellent fuel economy and smoothness, while the Firestone Champion Fuel Fighter impressed with its performance on light snow.
Each of the 8 best low rolling resistance tires above has unique advantages. Your task is to find the advantage that best suits your driving habits.
Don't forget to leave a comment below to let us know about your choice.
Thank you for reading!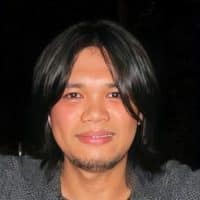 Alvin Reyes has expertise in automotive evaluation. He collaborated with famous newspapers and is still making efforts in tire review for DrivingPress.com