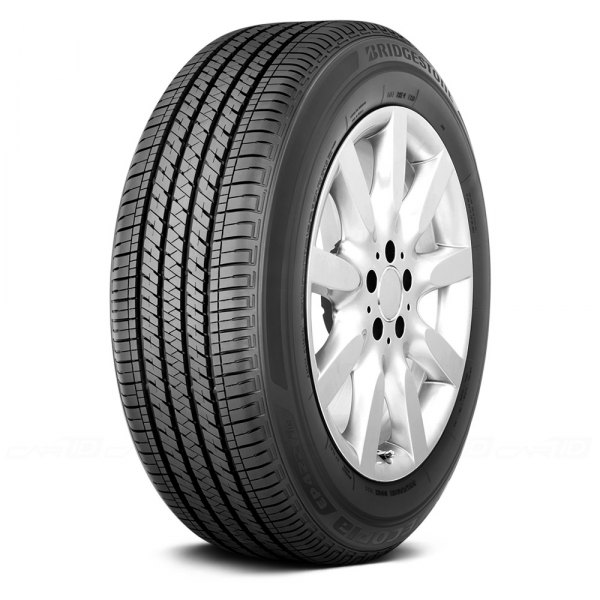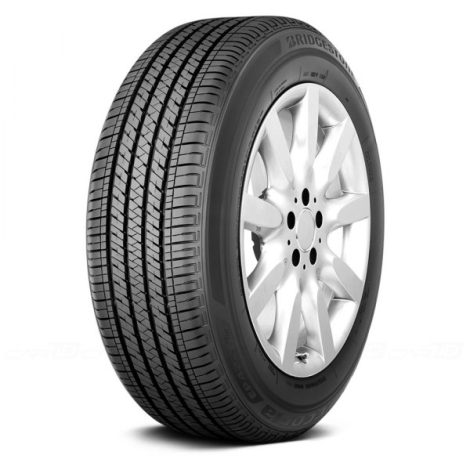 Quite honestly, the Bridgestone Ecopia EP422 Plus left a burning question in our minds. We know for a fact the first-gen Ecopia EP422 is a great all-season touring tire with a quiet ride, superior comfort, and excellent fuel efficiency. However, the Ecopia EP422 has a chink in the armor. It's not as good on wet or snowy surfaces as we expect from an all-season tire.
In the middle of this review, we got curious and went straight to Bridgestone's official website. In there, we compared the characteristics of the second-generation Ecopia EP422 Plus with the previous tire, and it left us more puzzled than when we started.
According to Bridgestone, the Ecopia EP422 Plus is further maximized for fuel economy, which is funny since the previous model is already the leader in fuel efficiency. Next, we noticed the Plus model suffers a bit in terms of almost all aspects including tread life, road noise, comfort, wet performance, and dry performance.
If that's not enough, it also shows the old Ecopia 422 Plus is better over snow than the Plus model. What's going on here? In order to find out, we need to put it to the test. In this review, we got our hands on a bone-stock 2013 Hyundai Elantra Limited. It's the model that came with a six-speed automatic transmission, a 1.8-liter four-cylinder engine with 148-horsepower and 131 pound-feet of torque, and OEM 17-inch wheels. Of course, the wheels are wrapped in Bridgestone Ecopia EP422 Plus tires.
We're familiar with the previous Ecopia EP422. It came standard in our trusty 2014 Mitsubishi Mirage G4, but we forgot about it after upgrading to larger 15-inch aftermarket wheels. But to tell you the truth, the Ecopia EP422 is a genuine touring tire for all-season driving. It's not designed for sticky handling, responsive steering, or a general sporting feel. In fact, it's the exact opposite of that, and we know that for a fact. The Ecopia EP422 is not a bad tire. Quite the opposite, it's a great tire for the daily grind. But as you speed up on the weekend jaunt, the weaknesses are there, but the tire was not designed to be sporty or exhilarating in the first place.
As the name implies, Ecopia is for eco-friendly driving. And in this review, we're about to find out if the EP422 Plus is any better than the previous model (or if it's worse as Bridgestone implies).
Bridgestone Ecopia EP422 Plus Review: Features
The Ecopia EP422 Plus is Bridgestone's all-season touring tire for passenger cars, small coupes, minivans, and crossovers. The tire is available in many sizes from 15 to 18-inches. But based on the sizes alone, it's easy to tell this tire is still oriented towards economy cars rather than sporting versions of German luxury sedans.
According to Bridgestone, the Ecopia EP422 Plus is engineered to deliver more miles to the gallon compared to the old Ecopia EP422. The company said this new version delivers 23-percent better rolling resistance than the old tire, which roughly equates to around 20 more miles per full tank of gasoline. But that's hardly surprising given the touring nature of the tire, and those claims are tested under the most ideal running conditions. In short, it's hard to really tell if a particular tire is more fuel-efficient than the next, especially when comparing tires from the same brand and family. But the point is Ecopia EP422 Plus remains a champion in fuel economy, and Bridgestone did it by using a different tread compound.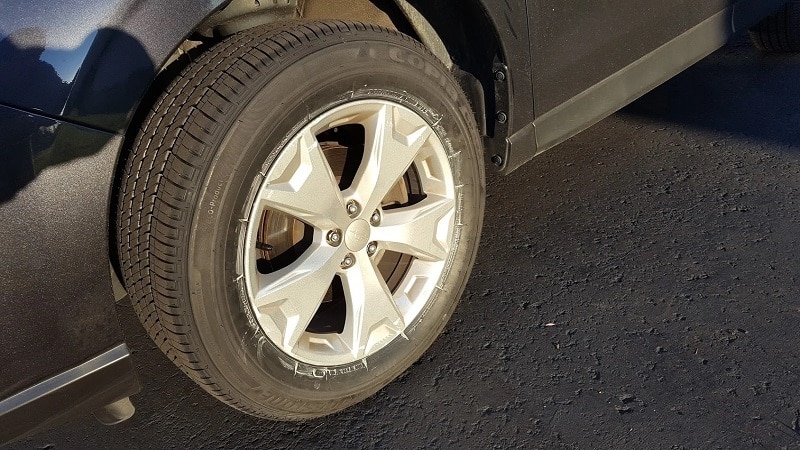 The tire is constructed from Bridgestone's proprietary NanoPro-Tech compound, which is formulated for an even lower rolling resistance while combining durability and all-weather traction. Bridgestone promises better handling with the revised symmetric tread pattern. With independent tread blocks and notched shoulders, the Ecopia EP422 Plus is touted to deliver better handling and crispier steering than the original.
The Ecopia EP422 Plus also benefits from four wide circumferential grooves to assist in water displacement. And with an optimized contact footprint, the tire is able to distribute weight more evenly across the contact patch. This means even tire wear and better longevity. Bridgestone is offering this tire with a 3 to 4 years replacement warranty, which can be extended up to five years from the date of purchase. It also comes with a 70,000-mile treadwear limited warranty.
Bridgestone Ecopia EP422 Plus Review: Test Drive
Our 2013 Hyundai Elantra test vehicle is as fresh as a daisy, but it's been through a lot of highway miles. The owner is a huge Bridgestone fan and swears by the confident handling of Potenza tires in his Mazda MX-5. The previous tires (Hankook Optima) were a bit noisy and didn't handle as well, he said. However, he instantly noticed a smooth and quiet ride after upgrading to a new set of Ecopia EP422 Plus tires six months ago.
The owner of the Elantra is a close friend and next-door neighbor. He bought it a year ago for his first car, which was previously owned by his uncle. He gave us the keys without hesitation, and we drove off. The weather was fine and sunny when we left, but the heavens opened up as we were leaving the interstate.
Dry Traction
We're not sure if what Bridgestone said is true on its official website, but the Ecopia 422 Plus is better on the dry than the previous model. It feels sportier and firmer than the old tire, which is a nice thing to have if you're a sporty driver like us. The steering felt stable and the braking was strong even as the discs were heating up with our repeated jabs on the brake pedal.
Sure, it's a better handler than the old Ecopia EP422, but we're not saying the Plus model now has a properly sporting DNA. It remains a touring tire that puts more emphasis on comfort rather than point-and-shoot driving, which is quite a shame since the Elantra is more responsive and livelier than a Corolla or Chevy Cruze.
Wet Traction
It's essentially the same story over the wet and rain-drenched pavement. The tire is a capable performer over slippery surfaces as long as you don't push too hard. But if you bombard the tires with a hurried mix of steering and brake pedal inputs, the tires tend to get overwhelmed. Accelerating from a standing start in the wet is smooth and fuss-free with careful throttle inputs. Attacking a corner at speed on a wet road requires dedication and timing. This is not a sporty tire, but it holds well when you're in a hurry.
Snow Traction
The previous Ecopia EP422 wasn't exactly great over snow, and we're not expecting the Plus model to be any better. The owner had some experience driving over mild icy conditions, and he said the tires were okay as long as the roads are not literally covered with snow or ice. However, we had a nasty experience with the old Ecopia 422 a couple of years back. Our vehicle started sliding all over the place over mild snowy roads, but we were able to push through with little to no damage to the car and to our ego.
Comfort
Over smooth and open highways, the Bridgestone Ecopia EP422 Plus was in its proper element. It's primarily a touring tire, so we weren't entirely surprised at how comfortable the tires were over long distances. It also deals with potholes and expansion joints quite well. This tire deserves a higher score in terms of comfort.
Noise
We find this funny since the Ecopia EP422 Plus is as silent as the old model. But according to Bridgestone, the Ecopia EP422 gets a higher mark for road noise compared to the Plus model. Even at higher speeds, the tires remained quiet and composed. Even potholes were muffled to a certain degree without allowing harshness to intrude inside the cabin. But is this really surprising for a touring tire?
Treadwear
The Ecopia EP422 Plus tires in our test vehicle were aging gracefully. With a 75,000-mile limited wear warranty, this is not surprising as well. But if you take a look at Bridgestone's website, the older EP422 got higher marks for tread life than the new EP422 Plus. Were they comparing it to other touring tires from a different brand? It's hard to say.
Conclusion
The lower rolling resistance of Bridgestone Ecopia EP422 Plus tires is great if you're looking to save money on gas. It's also highly competent in the touring spectrum with its perfect blend of comfort and lower road noise. It's foolish to expect sporty handling from a touring tire, but the Ecopia EP422 Plus delivers, although not by much compared to the previous model.
But with an affordable price and lengthy warranty, the Ecopia EP422 remains a solid choice if all you need are a set of quiet and comfy all-season tires.
List of Bridgestone tires review