Howdy, y'all! Alvin Reyes in the driver's seat, the automotive expert who knows more about all-terrain tires than a kangaroo knows about jumping. As a full-time trucker, I know the importance of having tires that can handle any terrain without making your ears bleed.
Back in the day, finding all-terrain tires that were both quiet and capable was about as easy as herding cats. But, with the help of some magical tire tech, we now have a plethora of tires that can handle off-road conditions with ease while keeping the noise down.
Using my expertise and experience, I've put together a list of the top 8 quietest all-terrain tires on the market. These babies will make your truck purr like a kitten on the road, while still delivering top-notch performance in any off-road situation.
So, if you want to know the lowdown on the quietest all-terrain tires around, buckle up and read on, my friends!
The Quietest All Terrain Tires Reviews Of 2023
The tires below have accompanied me on many off road adventures. After each test driver, I recorded my assessment of the operation and driving feel. Surely these notes of mine will be a great help to you.
Kumho Road Venture AT51
Most quiet all terrain tires for overall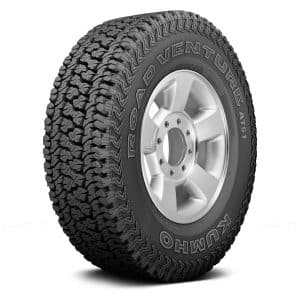 All terrain tires are often not the ideal choice for on-road driving. However, the Kumho Road Venture AT51 is an exception.
The product has a perfect balance between off road ability and comfort, something that not many tires on the market can do.
This tire's ability to cross the terrain is a robust tread design and deep grooves. This design provides maximum bite force in less than ideal conditions like snow and mud.
In normal driving conditions, the Kumho tires still maintain pretty good handling. It has the grip and stability to keep my every ride safe.
This model also always provides the proper braking distance, as long as I don't drive at speeds that exceed the limit.
I used to use the Kumho Road Venture AT51 during the rainy season. Compared to a few all terrain tires I have used, the water resistance of Kumho tires is the best.
With many advantages of off road tires, the product's performance reminds me of travel tires.
The symmetrical design of the Kumho Road Venture AT51 produces relatively low noise. Meanwhile, the two outer bands and the ribs in the center help the product operate stably and quietly even when driving at high speed.
Road Venture AT51 is entirely different from the existing off road tires on the market. This tire model offers a smooth ride and excellent off road performance in its class.
However, the product still has some limitations. In particular, the most noticeable disadvantage is performance on the sand. When moving on this surface, I did not feel the necessary grip. Although the experience is not too bad, a few competitors of the Kumho Road Venture AT51 have better handling.
Pros
Top quiet.
Excellent waterproof.
Good terrain performance.
Smooth driving experience.
Reliable when driving on the road.
Cons
Poor performance on the sand.
Continental TerrainContact A/T
Best for Tread Life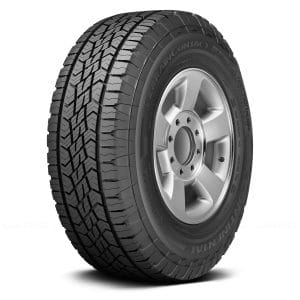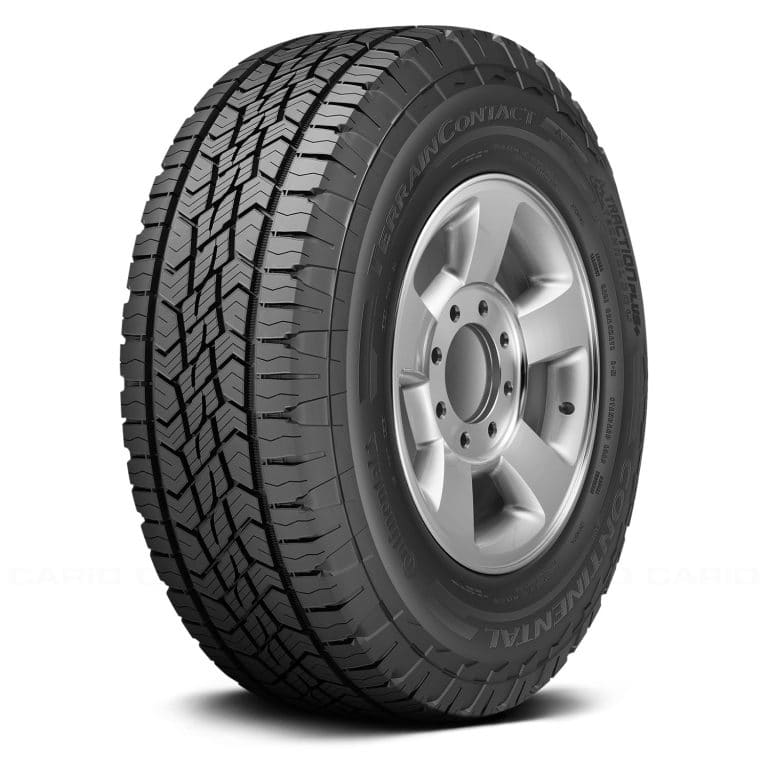 The average life of all terrain tires is significantly less than that of highway or all-season models. To overcome the above disadvantages, manufacturers have constantly researched to improve the compound and tire life.
With Continental TerrainContact A/T, Continental is one of the few manufacturers that has completed the above task.
This tire has a rich silane compound and an open, stable tread pattern. This combination eliminates uneven wear, providing a remarkable service life.
Continental also generously provides the product with a tire wear warranty of 60,000 miles. This number is excellent, considering its average lifespan is only about 40,000 miles.
To use a tire for a long time, I am also interested in the ability to handle many situations. Luckily, TerrainContact A/T has passed all of my tests excellently.
It provides excellent traction regardless of temperature and terrain. In particular, I highly appreciate the product's grip when cornering.
The cornering performance of TerrainContact A/T is not inferior to any high-end touring and highway tires I have ever used.
The product's ability to handle wet roads is also quite excellent. Even when I accelerated in heavy rain, the TerrainContact A/T provided impressive traction.
With the product, I can stop the car anytime because of the short braking distance and reliable grip.
Although I have not had the opportunity to experience the snow directly, I have received much feedback from experts about the product's snow and ice traction.
While braking performance on snow isn't too impressive, the TerrainContact A/T's grip on snow is worth considering.
Finally, I must commend the driving quality of the TerrainContact A/T. It always keeps noise to a minimum, providing a reasonably quiet ride.
It is an exciting advantage because most of the all terrain soft tires I have used are pretty sluggish and bring a lot of vibration.
The TerrainContact A/T has had to trade off with traction on a hard-packed surface to get the smoothness that not many all terrain tires have.
The product's ability to handle off road surfaces is not inadequate, but it is still far from the best all terrain tires in the competition. I would not recommend this product if you want to navigate through deep mud or large rocky terrain.
Pros
Enduring.
Keep noise to a minimum.
Impressive cornering grip.
Handles well on wet roads
Capable of handling light snow.
Tire wear warranty up to 60,000 miles.
Cons
Not enough traction on rough terrain
General Grabber APT
Best for Lateral Grip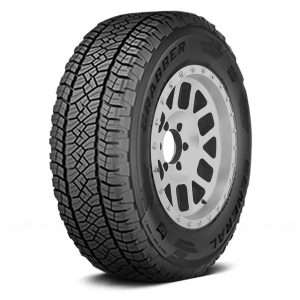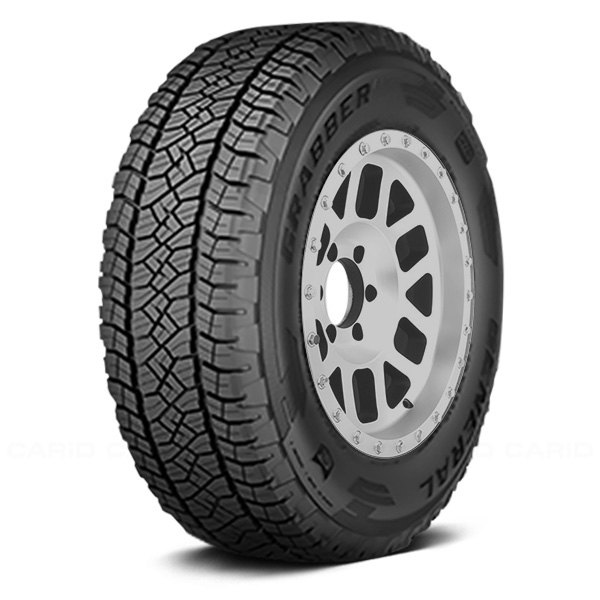 I tested the product on various terrain and weather conditions to get an objective tire rating. General Grabber APT is no exception. The product successfully passed my dry, wet, light snow, and off road tests.
This tire impressed me with its stable lateral grip in my first dry-handling test. My truck has no problems traveling on the highway, even at high speeds.
On wet roads, the features I am most impressed with in this product are its waterproofing and stability. While the drivability isn't as good as some of its competitors, overall, the Grabber APT is still a reliable rain tire.
During the winter, 3PMSF doesn't let me down. The longitudinal traction of this tire model is much better than I expected. I am also assured about the product's stopping distance and stable handling.
On more powerful terrain, the grip and traction of this Grabber version remain pretty good. It traverses dirt and gravel roads yet maintains excellent smoothness and quietness. For me, the General Grabber APT is one of the quietest and most refined all terrain tires in its category.
Although Grabber APT has many advantages, it still has some disadvantages that must be overcome. One of them was the lack of a tire wear indicator, which caused me to resort to many complicated workarounds to fix it.
Pros
Stable lateral grip.
Reliable on wet terrain.
Stable handling in light snow.
Quiet and smooth when passing potholes.
Good traction for light off road driving.
Cons
Lack the tire wear indicator.
Firestone Destination A/T2
Best for Year-around Traction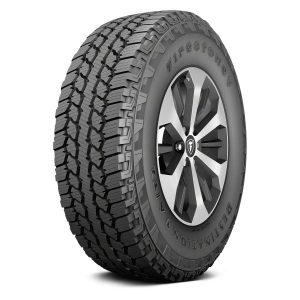 Finding an all terrain product that works well even in normal street conditions is difficult. The difficulty is further increased when the tire needs to be smooth and comfortable during the trip.
But with Firestone Destination A/T2, Firestone has done what seemed impossible. I've been captivated by this product's year-round traction.
During my first test drive on dry roads, I was amazed at the product's impressive traction. My experience is far from many experts' preconceptions that all terrain tires don't perform well on dry asphalt.
Tested to wet and slippery roads, Destination A/T2 continues not to disappoint me. It offers a safe driving experience despite less-than-ideal driving conditions.
Its most significant advantage on wet roads is its excellent water resistance. The wide and deep grooves have saved me from dangerous accidents at high speed in the rain many times.
Improved performance on snow is also a commendable advantage of the Destination A/T2. Compared to its predecessor, its tire compound is more flexible, and the tread design is more beneficial.
I do not recommend using A/T2 in harsh winters. Yet, if you are only looking for a product capable of handling light snow, the A/T2 will be a worthy choice.
As an all terrain tire that offers year-round traction, the Destination A/T2 also has commendable off road capabilities.
I have tested the product on muddy and sandy terrain. And as expected, the tire maintains good performance, ready for any off road trip.
The only feature the Firestone Destination A/T2 should do better on is responsiveness. Its rigid side walls made me not get the sporty driving feeling I expected.
Pros
Safe operation
Good waterproof.
Better snow performance
Provide year-round traction
Handle well on light mud and sand
Cons
Need to improve responsiveness.
Cooper Discoverer AT3 4S
Best for Hard Packing Surfaces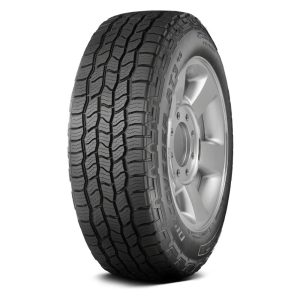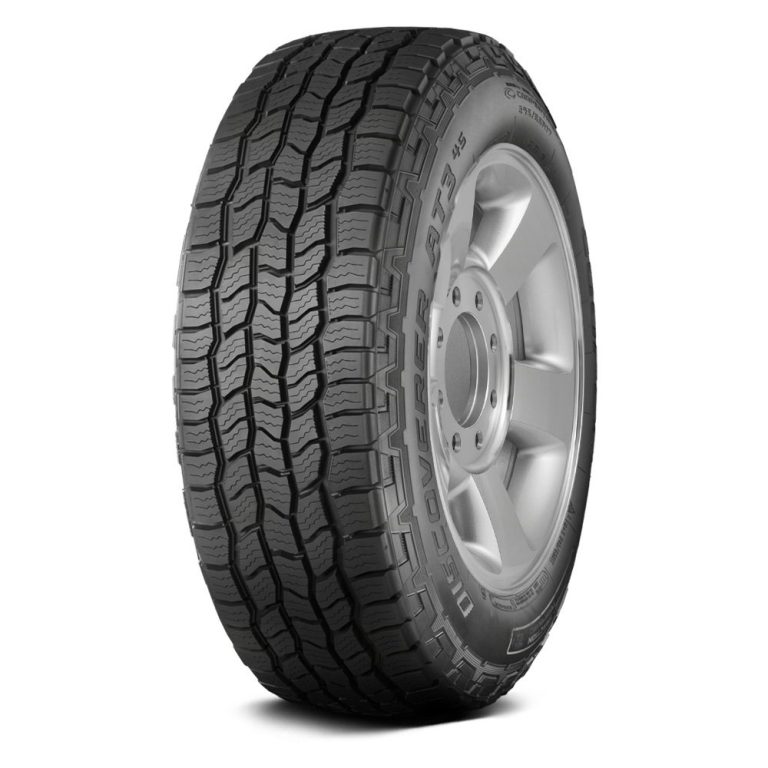 I was attracted to the Cooper Discoverer AT3 4S' five-rib design from first contact.
This design does not simply make the product look as aggressive as all terrain tires. The styling is also part of adaptive traction technology, which provides good handling on harsh surfaces.
This ability is most evident when I drive on hard packing surfaces such as gravel and dirt. This Cooper version offers outstanding traction and impressive cornering ability.
The advantages do not appear only when driving off road. Cooper Discoverer AT3 4S still performs excellently in various road and weather conditions.
The product provides a firm cornering feel and high grip on dry terrain. I also appreciate the gentle, quiet, driving feeling the product brings.
The growl that tires make on the highway isn't too annoying. Even when accidentally moving through potholes, the reverberation didn't distract me.
Meanwhile, in harsh winter conditions, the product offers short braking distances, is quite solid, and is easy to drive.
It is unfortunate that this tire model does not perform well on slippery roads.
When performing corners and accelerating, the grip of the product is not too good. When stepping on the gas from a corner, I noticed that the rear tire was not very stable. Meanwhile, the front tire slips slightly when entering the corner and does not immediately grip the road.
However, the product has good water resistance and a short braking distance. So, the Discoverer AT3 4S is still quite reliable when moving in heavy rain.
Pros
Smooth driving feel.
Perfect light snow handling.
Short braking distance on snow.
No noise when traveling on the highway.
Outstanding traction on hard packing surfaces.
Cons
Not an ideal grip on wet roads.
Michelin LTX A/T 2
Best for Comfort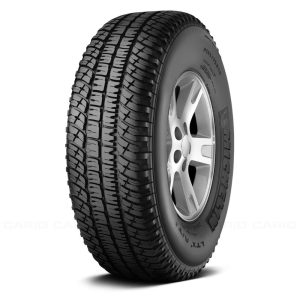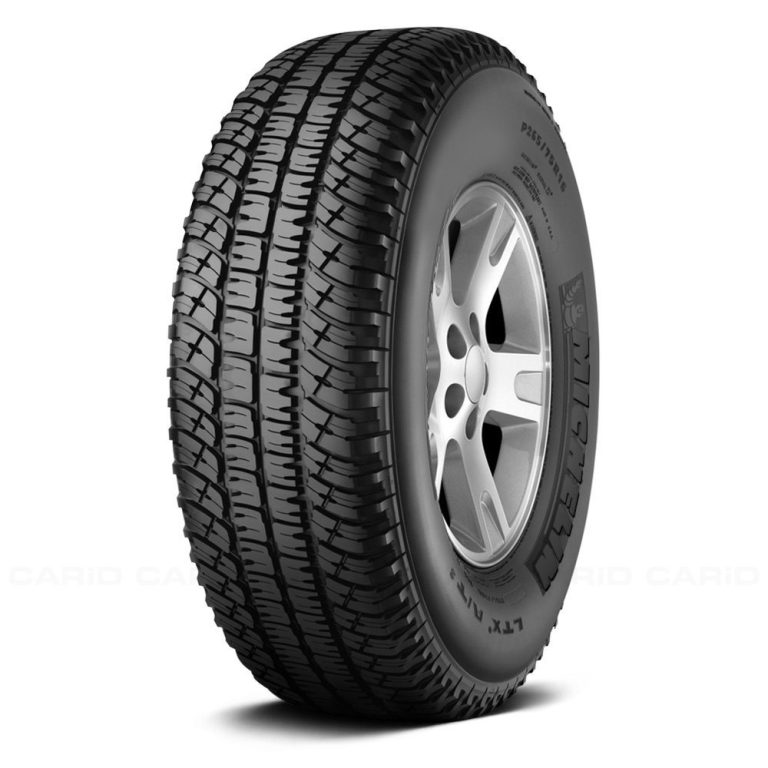 Whenever I think of all terrain tires, I think of bulky, uncomfortable, noisy products. However, so far, many comfortable all terrain models have changed that thinking. And Michelin LTX A/T 2 is one of them.
The comfort and tranquility of this representative from France far exceeded my expectations. Michelin's comfort control technology is so good that it eliminates most noise when driving at low and medium speeds. As I accelerated, I discovered a slight tire growl accompanied by engine and wind noise.
Not only quiet, but the product also impresses me with its excellent smoothness.
When accidentally going through large potholes, Michelin tires do not react too violently and transmit slight vibration to the cabin.
The Michelin LTX A/T 2 has the comfort of a highway tire and handles the best all terrain tires. The product solves everyday driving situations well.
The tire pattern provided enough traction for me to accelerate and had a short braking distance for safe handling in dry conditions. When crossing large puddles on wet roads, LTX A/T 2 is reliable due to its good waterproof ability.
On more severe terrain, the representative from Michelin has done an excellent job with all terrain tires. I was impressed with the solid traction on gravel and dirt the product provides.
Durability when moving on harsh surfaces is also a great product advantage.
This product has traveled more than 40,000 miles with me on highways and gravel. And surprisingly, up to now, the tread wear is still about 45%.
The Michelin LTX A/T 2 is an excellent all terrain tire. However, before choosing, you need to pay attention to the snow performance of the product.
It does not have the three-peak snowflake icon to be perfectly available on the snow. So, this model will be wrong if you want to move safely in the winter.
Pros
Quiet.
Outstanding waterproof.
Short braking distance.
Solid traction on gravel and dirt.
Durable tire compound.
Cons
Traction on light snow is only averagely low.
Yokohama Geolandar A/T G015
Best for Durability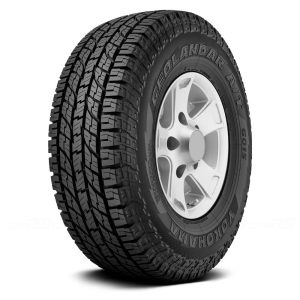 With Geolandar A/T G015, Yokohama wanted to create a product that can withstand off road tasks and has outstanding longevity. And in fact, Geolandar A/T G015 has wholly met the above requirements.
The product possesses a strong anti-scratch, anti-tear compound. The re-symmetrical design is easy for cross-turning and prevents even wear.
In addition to the above two advantages, this version also owns high tread to optimize and improve service life. So, the Yokohama Geolandar A/T G015 has become one of the most durable all terrain tires I have ever experienced.
I appreciate the warranty of up to 60,000 miles that the manufacturer provides. Not many all terrain tires on the market have this impressive warranty service.
In addition to durability, the handling on many different terrains of Yokohama Geolandar A/T G015 is also quite remarkable.
On dry terrain, the product offers quite a bit of traction. I've tried driving only with the rear axle. And surprisingly, the wheel cannot rotate in this case.
Traction in heavy rain conditions of the product is also quite remarkable. I have almost no problems with water or loss of control during the rainy season.
Finally, traction on ice is the highlight of the product. The 3D sipes and aggressive tread pattern provided decent vertical grip on the snow. In addition, my test results also show the product's excellent cornering ability.
I received quite a lot of compliments. However, like many other products, Geolandar A/T G015 is not perfect.
It provides plenty of traction on gravel and dust. When moving through terrain with larger rocks, Yokohama's traction did not meet my requirements well.
Hopefully, in the following versions, the manufacturer will improve the traction on the rock to comprehensive their products.
Pros
Long tire life.
Excellent cornering.
Good vertical traction on snow.
Warranty service up to 60,000 miles.
Good traction in heavy rain conditions.
Cons
Not enough traction on large rocks.
Sumitomo Encounter AT
Best for Design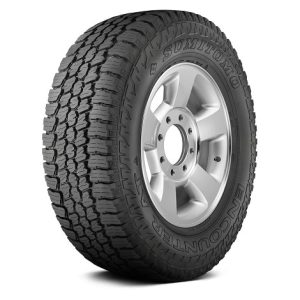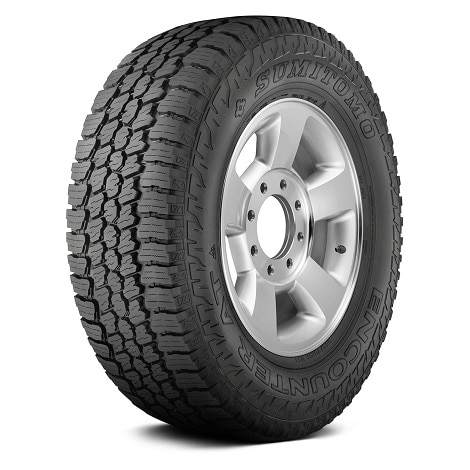 The Sumitomo Encounter AT is a typical on-/off-road all terrain model. However, it has an entirely different design compared to similar products in the same class.
This tire model has four large circumferential grooves and many asymmetrical deep tread grooves.
However, the tread of the product is not as deep as many competitors. Thanks to that, its highway noise is not too loud, even quieter than highway tires.
This particular design offers excellent quietness and handling quite well in a variety of conditions.
This version has excellent performance on dry roads. From braking to gripping the road, it did not disappoint me. I also wholly trust this tire model when moving in heavy rain. 3D Sipes technology and circumferential grooves have helped remove standing water and improve traction.
In light snow conditions, the three-peak snowflake symbol on the Sumitomo Encounter AT is enough to demonstrate its ability to perform well in these extreme conditions.
Not only handling snow, but Sumitomo Encounter AT also conquered me with its impressive off road performance. It maintains performance and rides quality even with heavy loads running over several miles.
Encounter AT marks a breakthrough in design and effort to bring durable and quiet off road tires. Unfortunately, its price is relatively high compared to in-class models, so few drivers prioritize this new, improved tire model.
Pros
Unique design
Work well on light snow
Remove standing water well in the rain
Maintain performance on rough terrain.
Excellent performance on dry roads.
Cons
Things to consider when choosing all terrain tires for quiet ride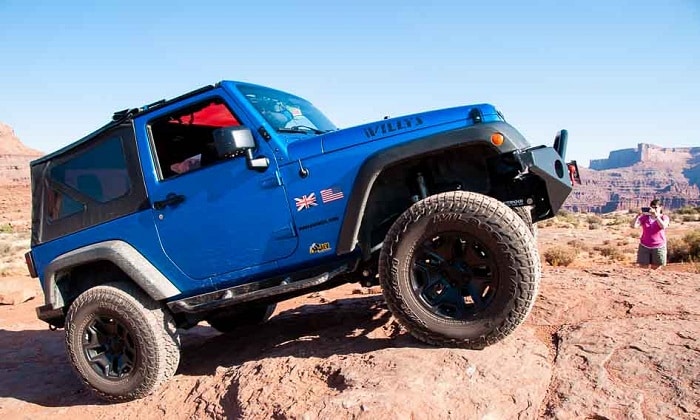 Tread pattern
The feature of all terrain tires is large grooves and treads. This design feature gives the tire better handling on rugged terrains such as rocks, gravel, and sand.
However, these spikes will increase the tire surface area, causing loud noise when traveling on the highway. Consider tire size and tread pattern if your goal is to find quiet off road tires.
Reinforced design
Reinforced design is a must on all terrain tires. Without the reinforced sidewall, the tire is difficult to work well on stone, gravel, and mud surfaces.
The stronger the reinforced sidewall, the better the tire will perform in harsh conditions. In addition, a product with a well-reinforced hip will usually have a longer life due to the reduced risk of abrasion and puncture.
Stone ejectors
Stone stuck to the tread will cause many unexpected harms, such as affecting the overall life and limiting the handling ability of the tire. Therefore, if you are interested in off road driving, look for products that can remove rocks.
Rubber quality
The rubber's quality will affect the tire's life, traction, and overall controllability. In my experience, high-quality rubber will have an abundance of silica or carbon.
Each manufacturer has its know-how to make rubber compounds. Therefore, you should pay attention to the tire's material's quality before deciding.
Noise
In the past, all terrain tires used to be quite noisy. However, with a lot of effort by manufacturers, this tire has become much quieter.
Usually, products with not too deep tread grooves will operate quite smoothly.
You should also consider some noise control technologies manufacturers equip to find the quietest off road tires.
FAQs
Do all terrain tires make road noise?
The noise of off road tires comes mainly from the large and symmetrical tread grooves. This type of tread will bring an unpleasant driving experience when traveling on the road.
Do all terrain tires ride rough?
Most all terrain tires are rough, heavy, and noisy. But now, several products with smaller spike blocks have appeared, helping to limit noise and help the car move more smoothly.
Are BFGoodrich All-Terrain T/A KO2 loud?
In contrast to most all terrain tires, the BFGoodrich All-Terrain T/A KO2 offers a reasonably quiet ride. The low noise of the product sometimes reminds me of travel tires.
Why are my tires so loud when I drive?
Tire tread friction with the road surface is one of the leading causes of noise. In addition, not enough air in the tire will also cause loud noise.
How do I reduce road noise in my car?
Here are some tips I often use to reduce noise while driving: add partition, install the sound reduction panel and check the vehicle regularly, especially the exhaust system.
Conclusion
It took me quite a while to compile this list of quietest all terrain tires. And so far, I am still delighted with the products on the list.
I fell in love with the Kumho Road Venture AT51 as much as I did on my first day of testing this quiet and powerful tire. Meanwhile, whenever I want a smooth and comfortable ride, I will look at the Michelin LTX A/T 2.
I hope you have as great an experience as I have with the products on the list.
Thank you for following this post!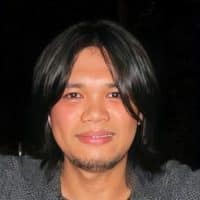 Alvin Reyes has expertise in automotive evaluation. He collaborated with famous newspapers and is still making efforts in tire review for DrivingPress.com