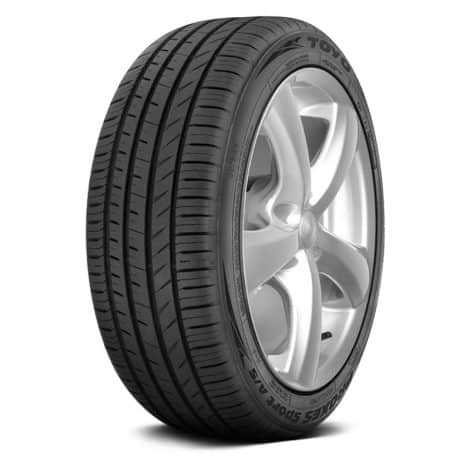 Are you tired of changing tires every summer? Don't want to buy too many models to use for a short time? If you have the same thoughts, Proxes Sport A/S is the best choice for you.
Products from the Toyo brand not only have extremely high performance but also possess mechanisms suitable for moving in many different conditions. Factors of durability and comfort are also characteristics that the tire brings.
In today's Toyo Proxes Sport A/S reviews, I not only introduce the highlights of the tire but also bring you the most accurate judgments about performance.
Specifications & Maintenance Indicators
Specifications
Load/Speed: 91v
Sidewall: BSW
Load Id: Xl
UTQG: 460 Aa A
Weight (lbs): 22
Max Pressure (Psi): 50
Max Load (lbs.): 1356
Revs Per Mile: 862
Tread Depth (1/32″): 9.9
Product Code: 214630
Approved Rim Width (In.): 5.5-6.5-7.5
Inflated Overall Diameter (In.): 24.1
Inflated Overall Width (In.): 8.4
Maintenance Indicators
Proxes Sport A/S is an ultra-high performance season tire suitable for sports cars or high-performance vehicles.
Products from the Toyo brand possess many functions and features to serve customers best. In addition to the impressive design, durability is an issue that cannot be ignored.
For me, a performance product must have high durability to withstand the pressures of operating at a high frequency. As expected, Toyo Proxes Sport A/S meets most of the strict requirements for durability.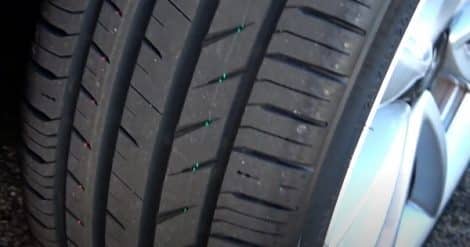 Almost all tires are available during the first 2 to 3 years of operation. From personal experience, I find this period will be longer if you know how to move and maintain it regularly.
Even if you are unfortunate to have a technical problem, the warranty program from the manufacturer will not disappoint.
Toyo offers a 50,000-mile tire surface warranty on models with V and W speed ratings, while Y-rated models receive a 40,000-mile guarantee.
Whether 50 or 40000 miles, this number is still quite impressive for a performance tire model. In addition, there are some other after-sales programs that you may be interested in.
During the vehicle's operation, the tire wear indicator system will help us a lot in controlling the problem and recognizing the appropriate replacement time.
For the high-performance versions, uneven tire wear often occurs due to the habit and use of vehicles with an eccentric center of gravity.
Experienced drivers like me also have a hard time avoiding this problem. To reduce risk, Toyo has equipped the product with Alignment Wear Indicators.
Unlike other ones, the alignment indicator will show if the tire is wearing abnormally. We can easily observe and recognize if the product shows uneven wear and find ways to fix it.
Toyo Proxes Sport A/S will also have a conventional indicator system that is more detailed than industry-standard TWIs.
Even without Quickviews DWS, TWIs more or less help you control tire wear. The structure of this system consists of narrow rubber bars recessed into the tire surface.
For me, observing TWIs is not easy, and it takes a lot of practice to acquire the necessary skills. These indexes sit 2/32 inches above the bottom of the tracks.
If the parameters indicated by the crossbar are already flat with the surface, it is time to replace the tire because it has worn to the maximum point.
I'm sure you can still ride with worn-out tires, but I can't guarantee stability. The point is that your safety is paramount. It is even illegal in some places to drive with tires with a tread depth of fewer than 2/32 inches.
We should replace it before the wear reaches the limit to avoid unnecessary trouble. There are recommendations, but I think 5/32 inches is the safest mark.
Features And Performance
The following information will help you somewhat determine the ability of Proxes Sport A/S to operate on different surface conditions.
I've used many terrain tests. So, you can quickly get a correct assessment.
Dry Traction and Stability
Being a high-performance product, Proxes Sport A/S's ability to work on dry surfaces is undoubtedly superior.
In tests, I have found that this statement is correct. The tire's performance on rough roads and smooth highways is the same.
The tests also produced the same results whether performed for the 2nd or 3rd time. In addition, the acceleration, control, and cornering did not disappoint me.
To get such excellent performance, Toyo has integrated into the product many modern mechanisms that not all products have.
The all-new dynamic taper design improves grip and longitudinal traction. Even when not moving on wet surfaces, the grip is still essential. This detail, therefore, greatly improves the tire's dry performance.
The frame design has also had many necessary changes. It's thicker and more spread for even contact pressure and better braking. The overall processing performance also increases from there.
Now, if you want to go on the highway at high speed, the new frame system itself also offers a higher lateral grip. More importantly, the above features do not create sizable rolling resistance and increase the vehicle's fuel efficiency.
This feature made me test Toyo Proxes Sport A/S to verify. Although more tests are still to be done, overall, the improvement is very noticeable.
In Proxes Sport A/S, Toyo uses a special tire compound that is much more rubbery and tougher than all-season tires.
More challenging and resilient gives the tire good traction on dry surfaces. With each acceleration, more traction improves operability and the time it takes to perform this maneuver.
Wet Grip
According to Toyo, the specialized silica compound and Nano balance technology on Proxes Sport A/S will help increase traction in wet conditions.
In several tests, I proved this claim. Although the road has a high liquid coating, the tire's performance has not changed too much. When accelerating, I did not realize that the car was sliding like when using other tires.
Tires also feel placed in the corners during light rain and heavy rain. Tire traction also has many improvements to make traveling safer.
Handling
Even if you don't have much driving experience, I'm sure you know how important control is with performance tires. The feeling of driving and the ability to control help us operate the car better and safer.
Understanding customers' needs, Toyo has significantly increased the features that enhance vehicle control. Some of the factors that you can feel most clearly are the stiffer sidewalls and increased contact area.
With these two features, the operations in my experience have improved markedly. There is no longer shaking or even loss of control like before. Tire sensitivity has also been greatly enhanced.
The feedback through the steering wheel of the tire is also somewhat improved. This change ensures that we will be safe from dangerous problems when cornering or braking sharply.
Tire Comforts
Fortunately, Toyo Proxes Sport A/S operates quite smoothly thanks to the stability of modern features and the elasticity of the material layer too.
However, the sound that the tire makes is not pleasant at all. The more you operate in areas with more obstacles, the louder the noise.
Braking
The compound properties that make up Toyo Proxes Sport A/S also help shorten braking distances because the tire surface can quickly recover its shape.
The shortening of the recovery time allows us to ensure that there will be no potential accidents.
The high grip of the tire is also an essential factor in determining the braking ability that the vehicle possesses. With Proxes Sport A/S, I don't need to talk much about grip anymore. Even when accelerating and operating at high speed, the friction only takes a little time to bring the tire and the car to a halt.
Ice & Wet
I still emphasize that this product is not a specialized tire like the snow models.
One cannot expect the tire's snow performance to be as good as the specialized products. Avoid operating the Toyo Proxes Sport A/S on snow if you don't want to get stuck the way I was. For a practice test, watch this video for details:
Should You Buy the Toyo Proxes Sport A/S?
The finishing of the tires is relatively high, along with a series of modern features that make Toyo Proxes Sport A/S great value.
So, I would be deceiving myself if I thought this tire model was not worth buying because of the lack of performance. However, you need to be aware of the disadvantages of the tire before deciding whether to buy it or not.
Quick Rundown Of Toyo Proxes Sport A/S
Pros
Excellent wet and dry performance
Good resilient tires
Outstanding controllability
Real driving feel
High durability
Cons
Noisy
Can't operate in snow
Conclusion
Toyo still doesn't let us down with their product with Toyo Proxes Sport A/S.
Hopefully, today's article has given you helpful knowledge, making it easier to choose the right product for your needs.
Our list of Toyo Tires Review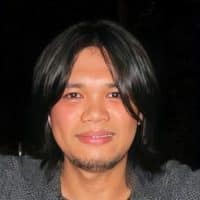 Alvin Reyes has expertise in automotive evaluation. He collaborated with famous newspapers and is still making efforts in tire review for DrivingPress.com