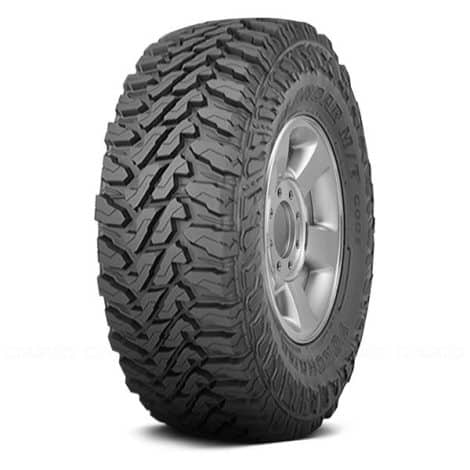 Geolandar M/T G003 is Yokohama's very popular light truck mud tire. Compared to the all-terrain models, this version delivers impressive driving performance on mud, dry, wet and light snow.
For more details on my experimental tests with this tire, refer to the Yokohama Geolandar M/T G003 review below. Scroll down for details!
Specifications & Features
Designing and manufacturing mud tires is no small challenge. These tires need good self-cleaning and strong traction to overcome loose terrain and provide the necessary control.
With Geolandar M/T G003, Yokohama has met the above requirements quite well.
Design
In the past, Yokohama has launched several models of mud terrain tires.
The manufacturer has listened to the opinions of consumers to improve the old designs. Geolandar M/T G003 is Yokohama's breakthrough in mud tire design.
One of the most novel features of this tire model is the three-layer sidewall. The thick sidewalls help me confidently move on rough terrain, unaffected by chips and cuts.
The optimal mass-to-headroom ratio is also a design feature of this tire. Large blocks have a pretty good self-cleaning of mud and rocks.
When driving off-road, this feature helps the wheels no longer rotate in place, limiting getting stuck in deep mud and wet sand.
In daily driving, the large tread blocks with deep water slits help to remove the water layer on the tire surface. So, the tire always maintains a connection with the road surface, avoiding vitrification.
Finally, I appreciate the wide and flat contact pads that Yokohama has. Geolandar M/T G003 distributes pressure on the tire better than most mud terrain tires I have used. The tire showed no signs of overheating or excessive wear in my tests.
Braking & Cornering performance
Before testing, I had high expectations for the cornering performance of the Yokohama Geolandar M/T G003. The sturdy sidewalls promise not to deform during sharp cornering, providing excellent handling.
When testing, the results received were not too impressive. Tires have solid sidewalls but are pretty heavy, so for tricky corners, it handles not so optimally.
While still safe enough when cornering, the Geolandar M/T G003 is not sufficiently sufficient to be the leader.
The braking performance of Geolandar M//T G003 is also not so exceptional. On dry roads, the tire's stopping distance is slightly longer than some all-terrain models I've used.
However, compared with options in the same category, the braking and cornering performance of the Yokohama tires are still quite reliable. Some of the other mud tires I've used have resulted in a much worse experience.
Test Drive
Dry traction
The common disadvantage of muddy terrain tires is that they have dry traction.
Yokohama has worked to fix the problem. However, the tire's ability to handle flat terrain is still not excellent.
I don't overestimate the tire's longitudinal traction. Some wheels turned when driving at high speed on the highway, and the system providing all-wheel force distribution did not work well.
In addition to longitudinal traction, stopping distance and grip are problems for Yokohama operating on dry roads. Tires are still reliable enough for safe everyday driving.
Compared to the highway or all-terrain tires, the handling ability of Geolandar M/T G003 still needs to be improved a lot. With this mud terrain tire model, I will have to limit driving at high speed when traveling on the street for safety.
Wet traction
When switching to wet road testing, the Geolandar M/T G003 delivered more commendable results.
I was incredibly impressed with the water resistance of the tire. Typically, mud tires with a high clearance area will drain well.
But the waterproof ability of Geolandar M/T G003 far exceeded my expectations.
Its other outstanding advantage is traction and grip on slippery roads. It provides solid vertical traction, helping me move confidently on tricky terrain.
The tire's wet stopping distance is also exceptional. In my testing, its 50 mph stopping distance was 51 feet from its classmate.
In short, I was pretty pleased with its wet performance. Of course, it can't be as excellent as the highest-end highway tires.
Yet, Geolandar M/T G003 is still a reliable choice to move in the rainy season.
Safety
This version is worth considering for daily driving and off-road driving.
On street terrain, I have never had a bad safety incident when driving at a reasonable speed. Even if the tire sinks or cracks with off-road driving, it still provides the necessary grip and durability from the durable side armor.
I almost didn't feel any distortion on the highway. Although it is quite noisy, in return, this model feels much more solid and secure than the cheap mud models I have tested.
Durability
As an off-road enthusiast, I'm particularly interested in the durability of mud tires and off-road handling. And Yokohama has quite well met my expectations with this product.
The manufacturer confidently declares that Geolandar M/T G003 has an 8% longer life than competitors. After a long time of testing and researching, I found that this Japanese tire brand does not exaggerate the longevity of Geolandar MT.
A unique rubber compound with high silica content contributes to the tire's excellent durability. In addition, the tire has an optimized contact patch that distributes the impact force evenly, ensuring even tire wear.
Finally, this mud model has commendable longevity thanks to the exclusive Geo-Sheild texture.
After a long experience, I am delighted with the tire's durability. Despite having conquered the harshest terrain with me, the cracks in the surface were minimal. It wears out relatively evenly and promises to continue to be available for a long time to come.
Off-road
I was excited to do the off-road performance tests of the Geolandar M/T G003. And this mud terrain pattern didn't let me down.
First, I tested the tire's ability to handle soft sand and loose terrain. On this surface, it maintains a pretty good grip. For safer driving, I adjusted the tires to the center of the track. And after the tuning was complete, I had a pretty impressive sand off-road driving experience.
I also test-drove the Geolandar M/T G003 on more challenging terrain like dirt.
As I expected, the tire handles this terrain well. The feeling received is similar to driving on the sidewalk, but the driving experience is much more enjoyable.
Finally, I conquered the trail with Yokohama tires. On this mixed terrain, the tire handles quite confidently. Challenging terrains like sand, loose rock, and giant rock slopes can't make it difficult for Geolandar M/T G003. It provides strong enough traction and handles all problems well during the journey.
Noise and comfort
I did not expect the Geolandar M/T G003 to be an extremely quiet and comfortable model. Because of its tread design, sidewalls, and excellent off-road performance, it's sure to create a bit of discomfort when traveling on asphalt.
However, Yokohama once again surprised me. Its unique block design has significantly improved performance on ordinary streets.
You won't appreciate these innovations if you're used to highway tires. Despite the effort, the ride quality of the mud terrain tires and the specialized tires for daily driving will also make a difference.
However, if you have used many models of off-road tires, their quietness and comfort will impress you. According to my test results, Yokohama tires are about 2.3 decibels quieter than current quiet mud terrain tires.
Quick Rundown Of Yokohama Geolandar M/T G003
Yokohama Geolandar M/T G003 is an improved mud terrain tire. So are those improvements working, and is this tire a worthy choice? If you can't decide yet, let's quickly check out its pros and cons now!
Pros
Durable silica compound.
Impressive off-road performance.
Good grip on a variety of conditions.
Thick side wall, resistant to chip puncture.
The shortest wet stopping distance in the category.
Cons
Quite noisy for daily driving.
It doesn't work well on frost and heavy snow.
Should You Buy It?
With all the above advantages, the Yokohama Geolandar M/T G003 is a tire worth considering for those passionate about off-road driving.
Especially if you want your off-road tire model to have a longer service life and still provide a safe ride even if the tire is cracked or broken, the Geolandar M/T G003 will be a worthy choice.
If you need an off-road tire that handles well on rough surfaces and the road, this model is one of the few options you can consider.
It still shows some disadvantages on the street. However, it exhibits superior stability and performance compared to many other mud terrain models.
Yokohama tires will likely disappoint you if you expect too much performance on dry roads or perfect quality on the highway.
Conclusion
The Geolandar M/T G003 is the next step forward in Yokohama's mud tire production field. It's durable and handles the terrain much better than its predecessors. If you love off-road driving, it is an option not to be missed.
Through the Yokohama Geolandar M/T G003 reviews above, you will better understand this tire model and make the most accurate choice for yourself.
Thank you for reading!
Our list of Yokohama Tires Review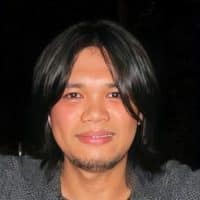 Alvin Reyes has expertise in automotive evaluation. He collaborated with famous newspapers and is still making efforts in tire review for DrivingPress.com