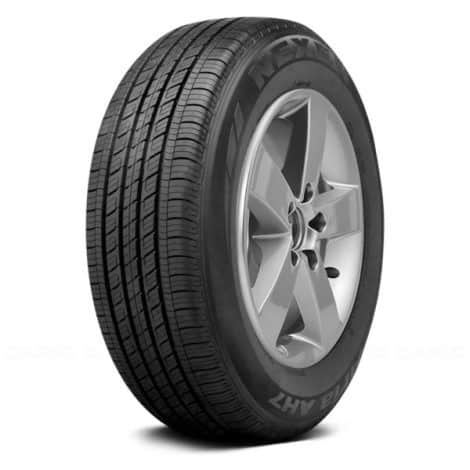 Nexen Aria AH7 is one of the best quality tires for traveling on many different terrains that the Nexen brand has produced and distributed to users.
With a modern structure and the appearance of many new manufacturing technologies integrated inside, this tire model will certainly ensure not only performance but also safety during the journey.
According to Nexen Aria AH7 Reviews from users, this Korean brand's product can also move stably in locations with moderate snowfall, something that few products in the same segment can do.
Not only that, but Nexen Aria AH7, in addition to possessing excellent performance, also comes with a price that is highly suitable for the pocket of most users. That's why you won't need to worry too much about costs while still getting a product with excellent portability.
Features
The first impression that Nexen Aria AH7 gives us is its excellent performance on different terrain and surfaces, whether dry, rough, or wet with large amounts of standing water.
It is not by chance that this tire has achieved this impressive ability, but thanks to several quality improvements compared to products in its class.
A typical example is a change in the types of synthetics that make up the tire. Thereby, it changes how friction between the product surface and the road surface occurs, leading to increased grip.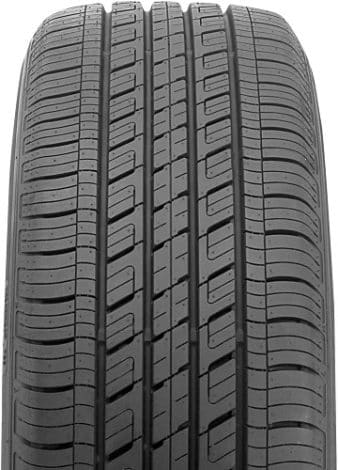 In addition to new materials, the tire upgrades are also worth our attention. This part will give the product good adhesion thanks to the symmetrical spike design to increase the contact area, along with the increased stiffness, which makes our vehicle more stable, especially when going through slippery areas or turning sharply.
Referring to the Nexen Aria AH7, it would be a huge omission if not to mention the snow-crossing ability of this tire.
Of course, this Nexen tire model is not specialized for traveling in heavy snow conditions. But with places with minor or moderate snow, the tires still ensure the ability to operate and help your vehicle not get stuck like many other tire models.
Like products from Nexen, the Aria AH7 possesses impressive durability from the internal power-assisted double steel belt and several other valuable upgrades.
So, you can confidently operate your car continuously for a long time without worrying about encountering significant damage from these problems.
Test Drive
The information below will help you somewhat shape the ability of Nexen Aria AH7 to operate on different surface conditions to get a suitable assessment quickly. Not only that but there is also information on other essential factors such as comfort and noise level for your reference.
Dry Traction
With Nexen Aria AH7, moving on a dry surface can't create too much difficulty.
The structure from the inner frame to components inside on the outside surface of this tire model is entirely responsive in operating in dry weather conditions.
The harsh roads with a lot of bumpy soil or high temperatures due to being located in hot regions all year round can't hinder the ability of Aria AH7.
In order to achieve excellent performance on dry surfaces, the manufacturer has added several improved features compared to previous generation products. In which, there is an apparent change in the design of the road-gripping spikes.
Because of this suitable upgrade, the tires will now have a better ability to stick to the ground whether the bottom is flat or full of small rocks. These stiffer spikes also provide better control when crossing less stable terrain.
With the decision to change the wheel's material, Nexen has indirectly enhanced the performance of the Aria AH7 in general and the performance in dry weather in particular.
Besides, the frame also has a significant contribution when it helps to increase the power as well as the traction ability of the tire when moving through complex terrain.
This advantage not only allows the tire to perform well in some conditions, but it also makes a clear difference in the Aria AH7 compared to other options on the market today.
Wet Traction
Nexen Aria AH7 is stable even on wet roads due to flooding or rainwater from heavy downpours or melting snow.
Once again, the quality changes from the manufacturer Nexen help the tires promote their impressive performance on many types of terrain. Here are slippery locations.
The most typical is the improvement in the grip with large size with a stiffer structure as well as a different layout compared to other products. It is this structure that gives the Aria AH7 high grip when moving.
Nexen has upgraded the groove on the wheel surface to maximize performance when operating in wet road conditions. The first is the apparent changes in the depth of the four main treads on the tire, characteristics that allow water not to pool so much on the surface, causing the loss of necessary friction.
Meanwhile, the reinforced grooves on both sides help increase friction and minimize the fact that we have to face the phenomenon of dehydration, which can cause loss of control and quickly lead to unfortunate accidents.
Maintaining high stability is also one of the essential abilities that a tire must have if it wants to move in wet conditions. And luckily, the Aria AH7 has enough features to make it both easy to control and a lot more stable.
Snow Traction
A significant difference between the Aria AH7 and many other products from the same Nexen brand is moving in the snowy terrain. However, we still have to emphasize that this product is not a specialized tire like the specialized snow tires.
So you can't expect the tire's off-road performance to be as good as models made for working in the snow. But that's not why we can underestimate the ability of this product to operate in light to moderate snow areas.
With good traction and resistance to agents that affect the friction between the tire surface and the road surface, the Aria AH7 can overcome a much higher amount of snow than we can imagine. From then on, moving in the winter will no longer be a nightmare to haunt us.
Comfort
Comfort is always one of the factors that we need to consider when choosing the suitable tire model for our needs.
Indeed, many people often only focus on operability but forget that if the product they choose is too bouncy or not elastic enough, the feeling of sitting while moving will be horrible. It is also the cause leading to reduced accuracy during vehicle control and operation.
Fortunately, the Nexen Aria AH7 is exceptionally smooth to operate, thanks to the stability that modern features bring. In addition, the optimal 5 tire layout helps to make the impact on the tires almost disappear, thereby helping to limit the feeling of bouncing when we operate the car.
It would be a significant omission not to mention the inner frame, an essential part of the tire's ability to increase performance. And the more robust a tire, the smoother it will operate when it can handle all small obstacles on the road.
Noise
Aria AH7 is not too noisy, even if you go through terrain with lots of rubble.
The main reason for this is that the tire surface is optimal for movement and avoids creating too much friction, leading to the annoying sounds we often hear.
Even when traveling through snow or flooded terrain, we do not have to worry about all kinds of noise caused by collisions.
Should I buy It?
Basically, Nexen Aria AH7 is a quality choice to use for many different purposes in many other locations.
As discussed in the previous section, we can see that the performance of this tire is relatively stable whether it is moving through rocky, uneven areas or through wet and slippery places to slide. And of course, even the terrain with average snow cover or less is suitable for us to use this product.
But with the non-specialist to cross heavy snow, it will be tough to use this Nexen tire model to move at such times.
Conclusion
Nexen does not disappoint us with their products by the release of the Aria AH7 tire with excellent performance. It can be that tires play a significant role in-vehicle operation.
We hope that this article has brought you helpful knowledge, making it easier to choose the right product for your needs.
If you have any other questions, don't hesitate to leave a comment below to be promptly answered.
Last but not least, don't forget to share this article with your relatives and friends, tire believers gain more knowledge.
---
Nexen Aria AH7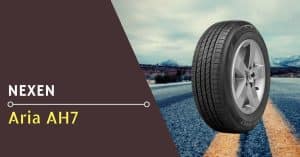 Nexen Aria AH7 is one of the best quality tires for traveling on many different terrains that the Nexen brand has produced and distributed to users.
Our list of Nexen Tires Review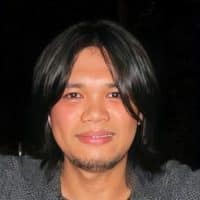 Alvin Reyes has expertise in automotive evaluation. He collaborated with famous newspapers and is still making efforts in tire review for DrivingPress.com