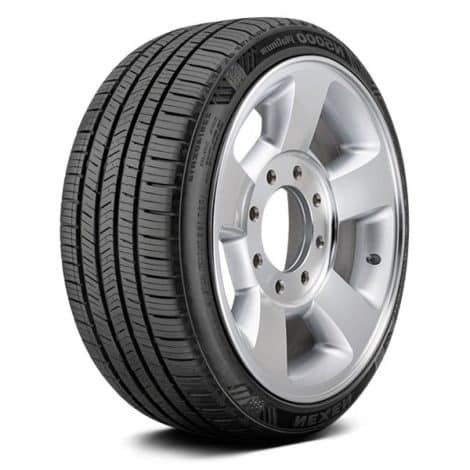 Nexen is a tire brand that is durable and reliable. Not many manufacturers can create tires of such consistent texture and quality. Therefore, Nexen products always have advantages over competitors.
If you need a solid dry grip and a highly durable model, the Nexen N5000 Platinum is my first recommendation. This version has excellent quality, outstanding performance, stable multi-profile grip, and affordable price.
You may wonder: "Is everything that perfect?" Check out my Nexen N5000 Platinum review below!
Nexen N5000 Platinum Features
The Nexen N5000 Platinum is an outstanding product with impressive features. During the tire experience, I also clearly felt this outstanding ability.
It is not easy to imagine the quality of the tire if you do not know the product's key features. So, I will describe the easiest to understand in the section below.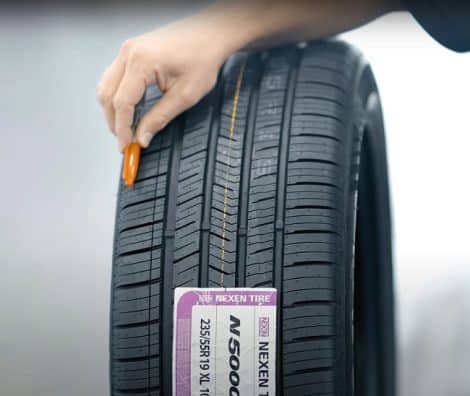 Speed
​​The manufacturer offers users up to three different speed ratings. More options also mean more accessible access to a variety of speed markers.
The first ranking landmark is H, which has a top speed of 130mph and is suitable for basic needs.
Higher is the V level with a speed limit of 149mph and excellent compatibility with performance cars.
Finally, there is the W, which is also my favorite, with the top speed reaching 168mph.
Safety
Nexen N5000 Platinum works in various weather conditions, especially in wet areas. The features of the tire allow us to move more safely on slippery roads.
These factors still hurt vehicle stability, whether it is rain, standing water, or melting snow. Usually, the liquid will tend to stick to the tire surface.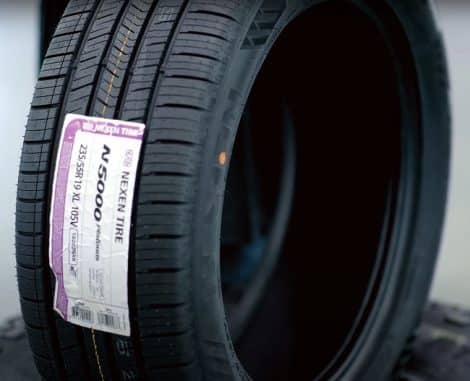 After a while, the water layer will be thick enough to cover the entire surface of the product.
At this point, the tire will no longer be able to create or maintain grip friction. The central phenomenon is hydrolysis which is responsible for thousands of accidents yearly.
To avoid the risk of hydrolysis, Nexen has improved the grooves on the N5000 Platinum to be more comprehensive and have a higher throughput.
Not only rainwater but many other liquids will have difficulty sticking to the tire surface. Thereby it ensures the highest level of safety for users when moving.
Durability
A common feature of Nexen tire models is impressive durability, and the N5000 Platinum is no exception.
I was surprised that the N5000 could move stably at high intensity for five years.
After some simulation tests to check, I know the actual durability of the tire is not too different from the data.
If divided by the average life of the tire, the final result is about 4.8, which is approximately 5 years.
Warranty
Tires with H and V speed ratings come with a 70,000-mile warranty.
It is quite a large number for a tire capable of traveling in many types of weather like the N5000 Platinum.
Thanks to this warranty, I no longer need to worry about repairs or finding replacement parts. Even so, this figure in the W series is only 50,000 miles, slightly lower due to performance issues.
Maintenance Indicators
Compared to other in-class models, the tire wear warning system on the Nexen N5000 Platinum is not too different.
The notification lines are still in the tracks, and it takes some time to find them.
The finish line will not be visible if the wear exceeds the last 2/32 of an inch. It is a sign that it is time to replace the new tire.
Nexen N5000 Platinum Test Drive
The parameters will only be reliable if we can verify them in practice. That's why I tried to use the Nexen N5000 Platinum in various conditions.
From dry to snowy areas, I've moved through, and it's about getting accurate information about the tire's capabilities.
Wet performance
Regarding stability on wet roads, the N5000 Platinum deserves much praise.
The combination of the center groove and the deep corner cuts at the shoulder helps the water to drain quickly. As a result, it prevents dangerous hydrolysis.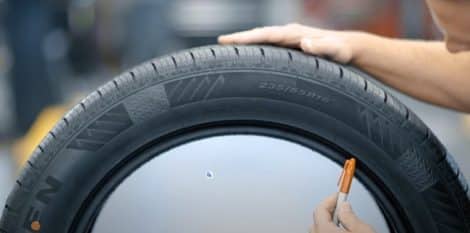 I had the opportunity to test this ability of the tire when traveling through a low-lying area with deep water levels. Other tire models will have problems such as slipping or difficulty controlling the direction.
But with the N5000 Platinum, I did not experience these conditions. So, I quickly passed this area instead of having to park and wait for the water to recede.
Although moving safely, in fact, the wet performance of the Nexen N5000 Platinum is not so excellent.
I realize the tire's traction is somewhat less potent than other products in the same segment. The responsiveness is at an acceptable level, not too outstanding.
Dry performance
In contrast to the wet performance, the dry version of the N5000 Platinum impressed me. With the tire structure suitable for all-weather travel, it is surprising that this Nexen product has adequate dry traction. Tests on regular asphalt roads and also highways gave similar results.
The grip is key to the excellent dry performance the tire possesses. With the ribbed layer in the middle and the high-performance grips, it is not difficult to understand when the tire grips very well. Even if the surface is unstable, slipping or losing control is unlikely.
By testing cornering and turning, I have attested to the traction performance of this tire. Low cornering deflection and high responsiveness allowed me to pass an S turn without too much difficulty easily.
The turning action on the product is quite good, increasing stability when moving on dry surfaces.
Snow
Nexen N5000 Platinum can still move on the snow, not wholly losing performance like many other products.
However, you should note that this tire model is not a specialized winter tire. So moving during heavy snowfall will never be a good idea.
The N5000 Platinum has an M+S rating, so I tried moving through 2 to 3 inches of snow on my first test to check.
As I expected, the product did not have too many problems. The thin snow surface has never been enough to stand in the way of this Nexen product.
When moving to thicker snow areas, the tires immediately have trouble moving. Luckily I didn't go too deep and avoided the danger of getting stuck in the snow.
Off-road traction
Tires can overcome some simple muddy terrain. Yet, I found that the overall off-road performance of the tire is not really good. Areas with a lot of sharp rocks or too dangerous will easily tear the tire if you are inattentive when moving. The tire is not stable to get through areas with many large rocks.
This version will not be the perfect choice for heavy off-road driving because of its many design flaws. However, on some milder terrain, you can still take advantage of it for your trip if the budget for replacing new tires is not enough.
Comfort and noise
Tires feel pretty comfortable when used for a long time. Whether sitting in front of the steering wheel or the rear seats, I find it comfortable over long distances.
Tires have an excellent ability to absorb shocks when traveling on unstable surfaces. It is this ability that brings great comfort.
The noise level of the Nexen N5000 Platinum is moderate, not wholly suppressed, but not too loud to affect the user. When traveling at high speed, the friction sounds gradually become more vociferous.
Nexen N5000 Platinum Pros And Cons
Pros
High grip
High durability
Long warranty program
Good drying performance
Quiet in the regular ride
Still maneuverable in thin snow
3-speed options H, V, and W
It can be done in one the easy way
Large size drains Good hydration resistance
Cons
Wet performance isn't so impressive
Dry rides in heavy snow
Low off-road performance
Noisy at high speeds
Is Nexen N5000 Platinum Worth Your Money?
The N5000 Platinum is a quality product from Nexen. The tire's structure and features can meet many different needs. In general, this tire model is worth buying and using for sedans.
In terms of functionality, you need to consider it carefully before making the final choice. This tire model is highly worth it if you want a quality tire to travel on dry terrain or highways.
However, it is not your product if you need high performance on wet surfaces. Same with needs like going on snow or needing high off-road performance.
Although it is not the ideal model for all terrain and weather, this version is worth the investment for a tight budget.
Conclusion
Nexen has brought us the N5000 Platinum tire with many impressive features you cannot ignore. But not all needs are suitable for us to use with this tire. With the Nexen N5000 Platinum review, I hope you have gained more helpful knowledge. Thank you and see you in our next update!
---
Nexen N5000 Platinum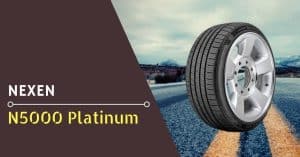 The Nexen N5000 Platinum is an outstanding product with impressive features. During the tire experience, I also clearly felt this outstanding ability.
Our list of Nexen Tires Review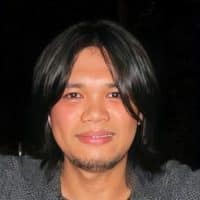 Alvin Reyes has expertise in automotive evaluation. He collaborated with famous newspapers and is still making efforts in tire review for DrivingPress.com