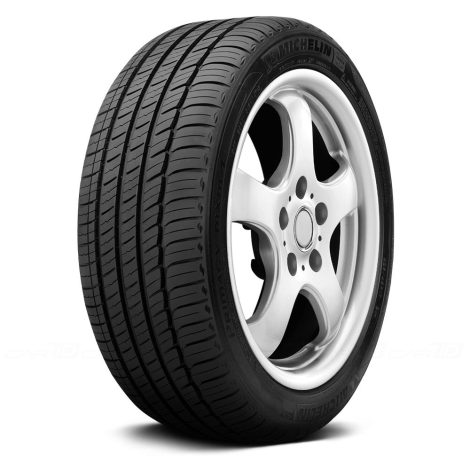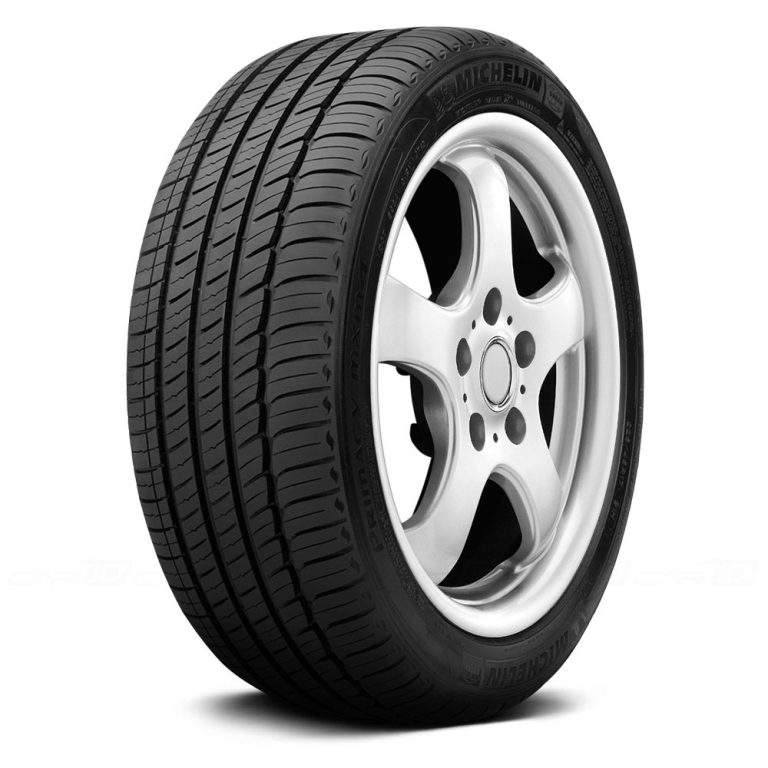 Those of you who like their food cooked might be aware of the utility of sunflower seed oil. It contains minimum cholesterol, is nearly tasteless, and happily adopts the flavor of your liking. And as it turns out, sunflower oil also increases the wet grip of your tires.
We came across this interesting fact while reviewing the Michelin Primacy MXM4 tires. Proving the claim of their manufacturer, the presence of sunflower seed oil in their rubber allows these tires to maintain their stickiness and elasticity in wet conditions, without sacrificing traction on dry tarmac.
Previously, this compound only came with tires designed for freezing winter conditions. It was only after the American drivers showed the tire manufacturers by their purchasing habits that they can't afford to buy separate tires for different seasons that it has made its appearance in this all-season tire.
Does that make the Michelin Primacy MXM4 a better choice than its competitors? Scroll down to find out.
Michelin Primacy MXM4 Review: Features
According to Michelin, the Primacy MXM4 is a touring all-season tire for SUV and passenger vehicles. It comes with a warranty of 55,000 miles and has a stabilized tread area – plus reinforced tread wear – to last years for a driver who doesn't have a knack for aggressive driving.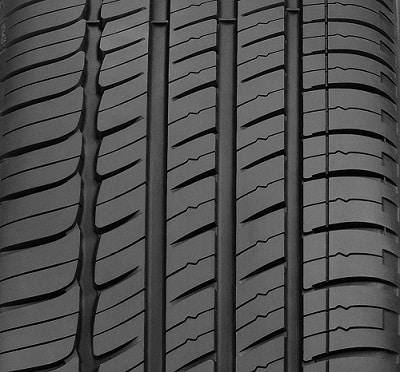 Exclusive Technologies
Michelin has never been a tire manufacturer to shy away from the use of cutting-edge technologies in its models – as that's what has made it the 2nd biggest tire manufacturer in the world. Had it not been for these technologies, it might not have been possible for Michelin to continue dominating the market for more than 120 years since its founding.
Sunflower Oil Helio Technology: Eager to know how this technology improves the performance of the Primacy MXM4? Just re-read the first few paragraphs of this article, as they have everything to perfectly answer this question.
Filament At Zero Degrees Technology: The name of this technology betrays its operating principle. It precisely places at a zero degree angle individual, nylon filaments inside the tread of the MXM4. Such an arrangement allows the tire to retain its original shape and enhances the precision of your vehicle's steering.
3D Variable Thickness Sipe Technology: Veteran drivers with an experience of driving on snow might be aware of the importance of sipes. Their presence helps the tire provides additional grip on snow-laden and loose surfaces. The 3D Variable Thickness Sipe Technology aims to achieve just that but with a specially designed tread pattern.
Comfort Control Technology: What this technology does is to ensure a comfortable riding experience by reducing the vibrations passengers might feel in their cabin. It does that by making sure that the Primacy MX4's road contact remains constant.
Three Speed Ratings
As we have been telling in these pages before, tires' speed rating indicates the maximum speed they can maintain without decreasing their shelf life over a longer period. Hence the reason why expensive models such as sports cars have tires with high-speed ratings than, say, family sedans.
H Speed Rating: The coupe owners among you might like to choose those versions of the MXM4 which come with H-speed rating – as those have the ability to let you constantly drive your vehicle at 130 miles per hour.
V Speed Rating: Not all of us have coupes standing in our garage. Provided you're the proud owner of a sports car, you might be equally proud of owning V-rated tires with a maximum 'sustainable' speed limit of 149mph.
W Speed Rating: Scour the market for tires of exotic vehicles, and you'll find that not many of them do justice to the speed requirements of these luxury goods. However, luckily for you, the 168mph rating of W-rated tires proves that they are an exception.
Michelin Primacy MXM4 Review: Test Drive
What do you do with a tire whose speed ratings allow you to ride it at breathtaking speeds? That's right; you take it out for a test drive. At least that's what we did after reviewing the features of the Primacy MXM4. Here's how this tire fared.
Treadwear and Durability
Between the time that we ordered these tires and they arrived at our doorstep, Michelin was running an aggressive marketing campaign telling anyone who'd listen that with their Max Touch Construction, the Primacy MXM4 promote even treadwear.
Michelin says that what the Max Touch Construction does is evenly distribute the forces of acceleration, braking and cornering across the tread area. As the theory goes, that arrangement helps promote even treadwear and makes this tire ultra-durable.
We didn't find anything during our test drive to contradict this claim. Perhaps that's the reason why three new vehicles (Mercedes-Benz E-Class, Buick LaCrosse, and Infiniti M) choose the Primacy MXM4 as their standard tires. After all, which car manufacturer can say no to tires that can last ages?
Dry Performance
In case you haven't got the memo already, these tires are designed to be driven on fully-paved roads. All those technologies we mentioned at the start have little to no utility if you're going to drive these tires through a jungle. They are only helpful if your way is the highway.
And that's where these technologies show their true (and delightful) colors. With the Max Touch Construction increasing the tire's footprint to reduce any vibrations in the cabin, you can visibly feel that this tire has those excellent forces of braking and acceleration which Michelin talks about in its brochure.
Furthermore, since they come with Michelin's Green-X technology, you can also expect some fuel savings down the line. Throw into the mix the Comfort Control Technology, and these tires have (nearly) everything to make your highway ride as vibration-free as possible.
Wet Performance
Although it's been almost a decade since these tires were first released on the market, some of their wet-road-specific features are those which you don't get even in the new Michelin tires. We were aware of this fact having reviewed other Michelin models, and were excited to see how those features behaved.
They performed exactly as intended. Thanks to the 3D Variable Thickness Sipe Technology, the MXM4 provided more than an adequate grip on loose surfaces. Sipes, if you don't know, are tiny cuts located in the tread's center to give it more biting power to provide added grip on loose surfaces.
As our test drive revealed to us, all these technologies aren't just marketing jargon. When we compared this tire's stopping power with that of the Continental Pro Contact, it stopped 15 feet shorter in wet conditions, a testament to this tire's performance on wet roads.
Snow & Ice Performance
While it does provide the tire with added grip on wet surfaces, the main target of the 3D Variable Thickness Sipe Technology is snow-laden roads. That's what we thought when we inspected those sipes, though our thinking was only partially true.
The MXM4 have everything to handle light snow and ice conditions, there's no doubt about this. The sipes provide enough bite and the sunflower oil empowers them with additional grip to better perform on light snow conditions. Together, they allow you to enjoy a slip-free ride in moderate winter conditions.
On the flip side, these are not winter tires and you shouldn't think of them as one. There are no indents in the tread area where you can just insert studs to get better traction in freezing conditions. So, while their excessive price tag might lead some to believe otherwise, these tires aren't for extreme winter.
Noise and Comfort
One of the reasons we always take our tires for a test drive before writing a detailed review is because this practice allows us to put theory into practice. Put simply, only after the tire has 100plus miles down its throat can one be confident about its performance.
As a result, after riding this tire in our coupe for more than a week, we can safely report that its Comfort Control Technology does make your ride vibrations-free. Taking help from the tires' computer tread block sequence, it cancels out road noise and won't disturb the passengers.
Further enhancing this tire's comfort-inducing ability is its internal structure. We were told that there are inner steel belts that help this tire maintain original shape for long. What the steel belts also do, as we found out, is suss-out the vibrations emanating from road bumps. And that's not a mean feat considering the abnormally high speeds these tires are capable of achieving.
Conclusion
Available in 45 sizes and covering 90% of the luxury touring market, the Michelin Primacy MXM4 is a fuel-efficient tire. While its abnormal price tag will make sure that not everyone can afford it, those who could won't be able to find many faults with this model.
Pros
Green-X certification for fuel efficiency
Sunflower Oil Helio Technology for added grip on wet surfaces
Certified to 168 miles per hour
Cons
List of Michelin tires review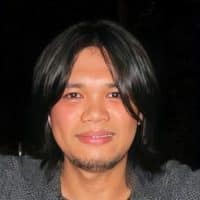 Alvin Reyes has expertise in automotive evaluation. He collaborated with famous newspapers and is still making efforts in tire review for DrivingPress.com