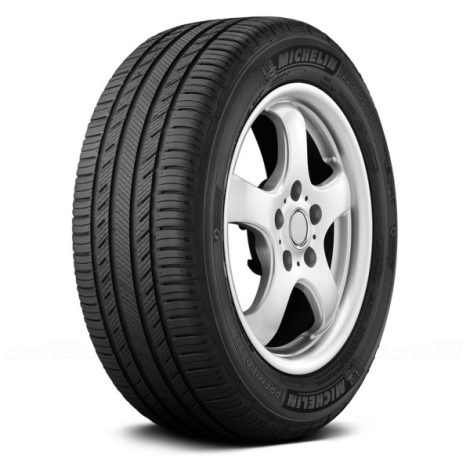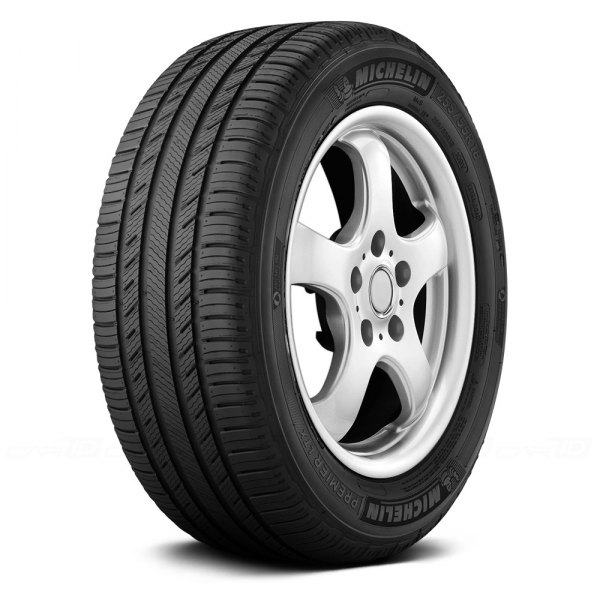 Provided you drive a sport-utility vehicle, light truck or any pickup, and you came here for an all-season tire that is quiet, durable and performs admirably in both dry and wet conditions – and has the speed rating to not let anyone overtake you on a highway, the Michelin Premier LTX might be worth a shot.
The Premier LTX tire relies on increased amounts of silica and sunflower oil to create a tread compound that provides added traction on wet surfaces. Throw into the mix its symmetric tread pattern and Michelin's EverGrip technology, and the increased grip results into better braking performance.
Apart from traction and braking performance, this model also goes the extra mile to ensure your comfort by providing a quiet riding experience. As a result, while most all-season tires might want you to make a trade-off between ride comfort and traction, the Premier LTX is an exception to the norm.
Read on to have a detailed review of the Michelin Premier LTX.
Michelin Premier LTX Review: Features
Of all the things that surprised us about this tire, its features weren't one of them. We were already expecting that all of its features would join their forces to serve one end: make the Premier LTX one of the best all-season tires on the market. Let's dive into the list of its features and find out how they might affect your ride.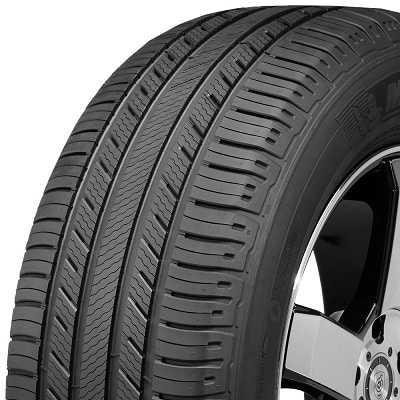 Tread compound
As stated earlier, the tread compound of this tire contains a high content is designed to provide added traction on both dry and wet surfaces. To find out how it achieves that objective, let's look at the substances which make up this model's tread compound.
Sunflower oil: Tires that are designed to provide added traction on wet surfaces need to be flexible, or they'll just skid along. The sunflower oil equips the Premier LTX with the same flexibility to ensure that its firm grip holds on in cold temperatures.
Silica content: The silica compound in the tread acts as the yin to the sunflower oil's yang. While the latter imparts flexibility to the tire, the silica compound acts as a bonding agent to improve its strength. Together, both these substances complement each other's strong points while eliminating the weak ones.
Reinforced steel belts: Internally, the tire contains a couple of steel belts which are protected with a ply of a polyester casing and are reinforced with polyamide cord. Such an arrangement prevents the tire from transmitting all the road vibrations to the cabin, thereby ensuring a comfortable ride.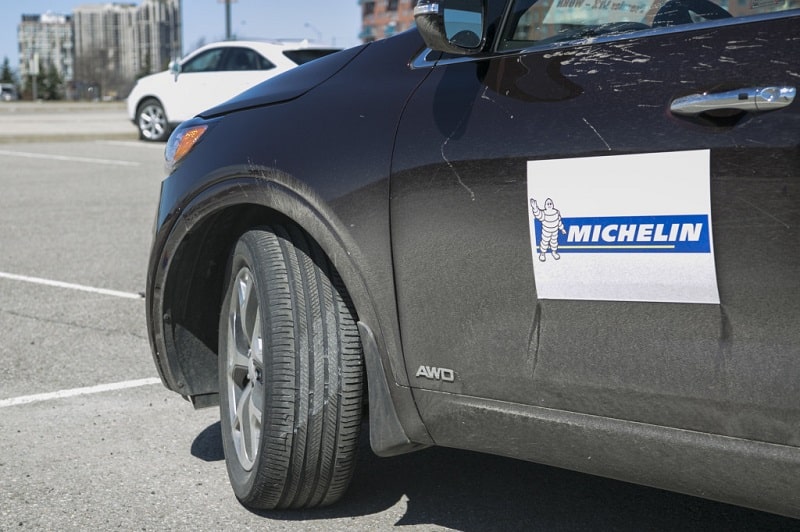 EverGrip Technology
As you might have inferred by looking at its name, the 'EverGrip' Technology is responsible for this tire's traction on the road. Basically, what this technology does is widen the tire's tread grooves with the passage of time, and replace them with new grooves as tread shows signs of wearing.
As a result, even when the tire is fully worn out, you'd get excellent traction in both dry and wet weather conditions. In fact, if Michelin's claim is to be taken at face value, the Premier LTX stops shorter on the surface that its brand-new competitor even when this tire is worn.
Michelin Premier LTX Review: Test Drive
What do all the above-mentioned features mean in real terms? Do they make their presence felt in real-life conditions? To have a foolproof answer to these questions, we took the Michelin Premier LTX on a test drive.
Treadwear and Durability
You get a 60,000 mile tread life warranty on the Premier LTX, whereas Michelin guarantees the tire's uniformity for the first year. The tread design of the tire is what makes this tire durable. As the tire wears, you'd notice that the tread design starts to evolve to maintain optimum traction and grip.
That's a pretty good statement in theory, but in real life, our experience was different. In fact, other drivers who have used this tire can also corroborate our claim that the tread starts to wear out quicker than it should, given its respectable tread life warranty.
On the flip side, we'd be lying if we don't tell you that a good number of drivers are saying that the Premier LTX doesn't only meet but exceeds its tread life warranty. That goes on to show that as far as the tread life of this model is concerned, it's mostly (but not wholly) about your driving style.
In other words, the following factors will influence the treadwear and durability of this tire:
The roads you drive on: The rougher the pavement and the more potholes you encounter, the shorter this tire's tread life. The cleaner and smoother the roads, the longer it will be.
Your driving style: If you don't brake abruptly, have a confident driving style and aren't aggressive on the steering, the tread life is likely to last a long time.
Tires' maintenance: To enhance your tires' treadlife, make sure you keep them properly inflated and have them balanced regularly.
Dry Performance
One of the reasons these tires performed as well as they did on dry tarmac is because they have a tough sidewall and a softer-than-usual tread. The former keeps wear at bay and therefore increases the tread life. Whereas the latter, thanks to the sunflower oil, provides a firm grip on difficult surfaces.
Though what's really interesting about this tire is its EverGrip Technology. Some other models from Michelin also have this but it really shines on this one. Also, while we were expecting to see the merits of this technology on wet surfaces, it surprised us with its dry performance.
What this technology does, is increase the diameter of the tread grooves with the passage of time. As it does that, new grooves emerge to replace the old ones when the tread wears out. The result, as you might guess, is excellent dry traction.
Wet Performance
There are two features of these tires that help take it wet performance to the next level. The first of them is Michelin's EverGrip Technology. But that's not all – the tread contains rain grooves which remain hidden as long as the tread remains in optimal condition.
The moment it shows any signs of wearing, the hidden grooves start baring their teeth to help the Premier LTX provide even more traction on wet surfaces. This feature not only makes your ride slippage-free in wet conditions but also lets the tires effectively channel water to prevent hydroplaning.
And that's not all. The EverGrip compound contains high amounts of sunflower oil and silica, which boosts the tire's hydroplaning resistance and wet grip. The sunflower oil ensures flexibility in cold weather and a firm grip on slippery roads, while silica plays its part as a bonding agent to increase the tire's strength.
Noise and Comfort
Provided you're a fan of smooth and comfortable rides, you'd absolutely fall in love with the Michelin Premier LTX tires. There are two reasons for this potential love affair – the tire's internal structure and its rubber material (sunflower oil and silica).
Internal tire structure: The Premier LTX contains two steel belts reinforced with a polyamide cord and sitting under the 1-ply polyester casing. Among other things, what this arrangement does is make the tires steady and comfortable on the road.Granted, these tires might make a little noise when driven at or around 75mph, but this noise will be more like a hum – which means that provided you aren't focusing on it, you won't hear the noise most of the time.
Sunflower oil and Silica: As stated earlier, both these substances which combine to make the tread compound help in multiple ways. In the context of your comfort, both of them work in tandem to increase the Premier LTX's impact-absorbing ability – thereby providing you with stable riding experience.
Snow & Ice Performance
As long as you don't drive your way into snow-laded roads, the Michelin Premier LTX will do enough to justify their claim of being 'all-season' tires. That's because they have a rubber tread that performs adequately in mild-to-moderate snow conditions.
Also, thanks to the presence of silica in their EverGrip compound, these tires will remain stable on ice. The Sunflower oil, meanwhile, increases the tires' flexibility to empower them to handle cold snow and light weather relatively well.
Having said that, you need to bear in mind that these aren't winter tires. That means that if you live in an area which is the hub of super cold winters, we recommend that you buy dedicated winter tires and NOT all-season tires, as the former are much safer.
Conclusion
If you came here looking for good-quality, all-season tires, want them to be quiet and super-comfy and need ultra-long tread life, the Michelin Premier LTX – due to all their features mentioned above – may be the ideal option for you.
Pros
Super-quiet, comfy ride
High level of traction
Flexible at lower temperatures
Excellent grip in wet weather
Cons
Some users have noted that its tread life is short
List of Michelin tires review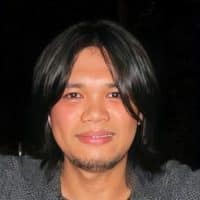 Alvin Reyes has expertise in automotive evaluation. He collaborated with famous newspapers and is still making efforts in tire review for DrivingPress.com