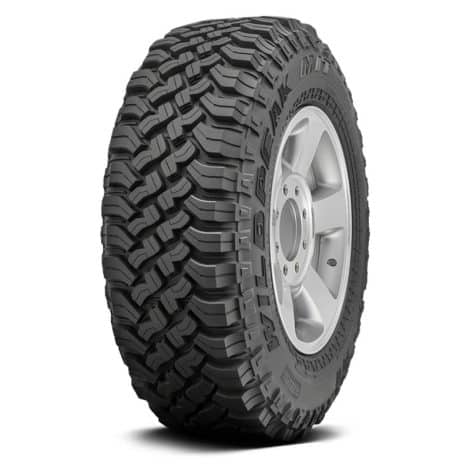 You can call it blind luck or whatever you want, but I was simply at the right place at the right time. I'm talking about my test car for this Falken Wildpeak M/T review. The owner of a pristine 2007 Jeep Wrangler Unlimited Sahara was filling up at the local gas pump. I was also there during that time, and I happened to be thinking about friends or colleagues who can hook me up with a rugged 4×4 machine.
Since the Falken Wildpeak M/T is a tire designed to handle all sorts of extreme terrain, I needed a vehicle that is tough enough for the task at hand. The 2007 Jeep Wrangler Unlimited was the perfect answer to my prayers!
The Falken Wildpeak M/T was developed alongside the excellent Wildpeak AT3W. Both tires were tested by professional off-roaders during the prototype stage. The father and son team of Tony and Jordan Pellegrino (who happen to be one of the biggest names in off-road) are a part of the Falken family. They tested the Wildpeak M/T tire over punishing road conditions and off-road events including the King of the Hammers race which brutally combines desert racing with rock crawling.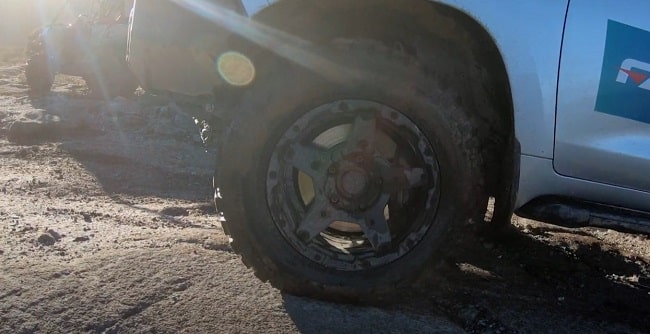 However, the Wildpeak M/T is not your typical mud terrain tire. Falken boldly claims the tire is civilized enough to be used as a daily driver. You don't need to participate in off-road events to equip your vehicle with the Falken Wildpeak M/T in the same manner that you don't need to join a marathon to wear running shoes. My Jeep Wrangler test vehicle is one such example.
The owner of the Wrangler is a simple chap who simply prefers the rugged looks of a mud-terrain tire on an equally rugged 4×4 vehicle. Yes, the Jeep was equipped with a 1.5-inch lift kit and an LED light bar on the roof but that's about it. This is a Jeep that drives on normal roads and open highways, and it so happens to be equipped with the Falken Wildpeak M/T tires.
Features
Since the sidewall is the most vulnerable part of any tires, Falken made sure the Wildpeak M/T can resist punctures and deep scratches caused by sharp stones and other debris. The Falken Wildpeak M/T is constructed using Falken's proprietary Duraspec Three-Ply Sidewall with an additional two high ply turn-ups to provide an added layer of protection.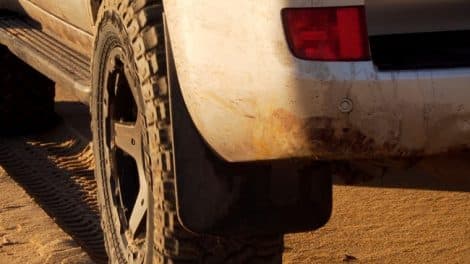 This tire is equipped with large and rigid tread blocks with step-down supports on the center blocks. The design is meant to improve the rigidity on the contact patch for stable handling and better stability on all types of road surfaces. This feature also prevents sharp debris from embedding themselves on the treads. With an optimized tread pattern that has three variable pitches, this tire can also roll quietly when on normal roads.
The Falken Wildpeak M/T is engineered with offset shoulder blocks and an aggressive upper sidewall. This design will allow the tire to perform optimally even in low tire pressures so you can forge ahead on soft sand without losing traction.
Test Drive
I got chance to test the Falken Wildpeak M/T on a variety of wet and dry surfaces including a bit of time on snow and moderately rough off-road terrain.
Dry Traction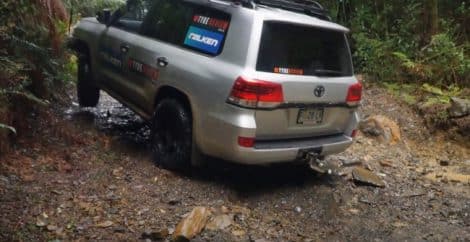 The Falken Wildpeak M/T performed admirably on dry pavement. I didn't feel the tires lose traction as I drove over hard concrete covered with inches of dry sand. The steering was still fairly responsive as I drove on tight city streets, and the tires felt above average on the highway.
Wet Traction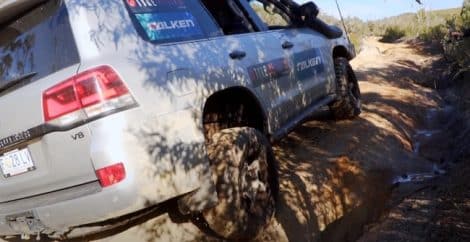 The tires were also admirable on slippery road surfaces. There was a bit of rain as I headed to the nearest makeshift off-road trail and the tires never broke traction even as I drove aggressively over thewet tarmac. Water puddles were reduced to nothing as the Wildpeak M/T tires simply rolled over them like it was nothing. The off-road trail was a bit damp when I arrived but this proved not to be any problems with the Wildpeak M/T.
Snow Traction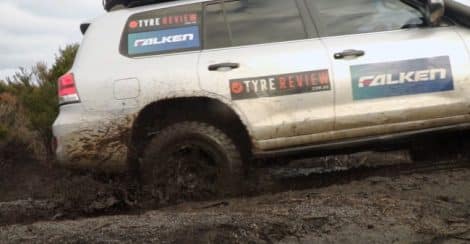 The Falken Wildpeak M/T can easily handle inches upon inches of snow. I did feel the tires slip a bit as I tried to climb a slippery slope peppered with snow and shards of ice, but I was able to reach the top with no further drama. The trick, of course, was to tread slowly and to minimize steering inputs as you step on the gas. No matter the case, the tires felt good on snow.
Comfort
The ride comfort was average at best, but it wasn't entirely harsh either. The Falken Wildpeak M/T was well-mannered on the highway and it allowed me to calm my nerves after a whole afternoon of off-roading. I consider comfort to be an important trait of a mud-terrain tire since your vehicle won't be traversing over loose rocks and soil all of the time, right? The tire will need to be comfortable enough to be used on normal roads. In this regard, the Falken Wildpeak M/T gets the thumbs up.
Noise
You would expect to be drowned in tire roar since the Falken Wildpeak M/T has a chunky tread design, but the opposite holds true. Even I was surprised how quiet the tires rolled on smooth tarmac. It's not as silent as a touring tire that's for sure, but I never thought an off-road tire can perform as quietly on normal roads as the Falken Wildpeak M/T.
Treadwear
The Falken Wildpeak M/T tires fitted to my Wrangler were purchased about five months ago but the treads still looked new with very minimal signs of wear. This is high praise since my test car has accumulated at least 4,500 miles after installing the tires.
Conclusion
I had a lot of fun testing the Falken Wildpeak M/T on a proper off-road spec SUV. This review made me realize that mud-terrain tires are not only good for the off-road since the Wildpeak M/T performed splendidly on thetarmac as well.
Our list of Falken Tires Review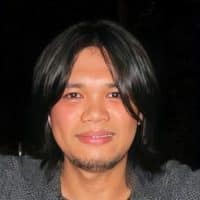 Alvin Reyes has expertise in automotive evaluation. He collaborated with famous newspapers and is still making efforts in tire review for DrivingPress.com