Driving in the snow always carries many potential safety risks. To successfully remove large amounts of snow, along with handling skills, you need a set of specialized tires that can operate on many different types of snow while still ensuring reliability and safety.
If you feel confused when choosing, immediately refer to the best tires for snow plowing below, where you can find the right product for all your needs.
Detailed Reviews Of The Best Tires For Snow Plowing
With experience in handling snow during winter, here are my favorite names when it comes to the best tires for deep snow.
Michelin LTX Winter
Best for Overall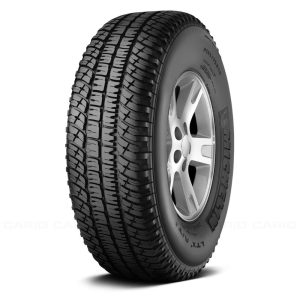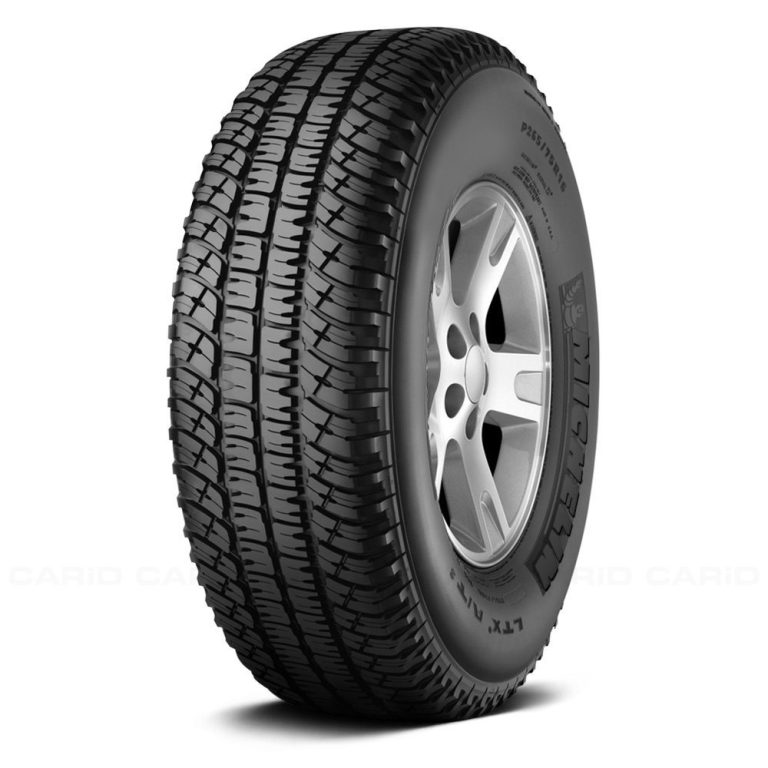 Specification:
Load Index Rating: 123.0.
Tire Aspect Ratio: 75.0.
Speed Rating: R.
Winter tires are always my top choice when it comes to tires for plotting. Looking at the advantages of the typical winter tire – Michelin LTX Winter, you will want to use this product during the most extreme time of the year.
The first highlight of this product from France is the exclusive high-tech compound W/MAX. As the manufacturer claims, this cold-weather compound can provide better acceleration while maintaining excellent braking performance on the ice.
When experiencing it, I am impressed by the above advantages and appreciate the stiffness when driving on dry or wet surfaces in warmer temperatures.
Michelin also brings Green X technology to this tire model. When combined with the symmetrical spike design, not only does it have decent performance in a variety of weather conditions, but it also has a lower rolling resistance – something that any winter driver would appreciate.
Finally, this winter tire model also gives me a comfortable feeling when using it. This effect probably comes from the product's famous Comfort Control Technology.
Although it is both safe on the snow, comfortable, and smooth, the Michelin LTX still has some disadvantages that need to be overcome. Soft sidewalls that affect cornering force are one of them.
Winter tires can hardly hit the corner like a proper summer model. But given the price and long-standing reputation, Michelin can still do better with LTX Winter.
Pros
40,000-mile warranty.
Excellent traction on harsh terrains such as snow and ice.
Outstanding braking ability.
Good Treadlife.
Exclusive high-tech compound W/MAX.
Cons
Soft sidewalls affect cornering performance.
Bottom Line
Overall, despite its imperfections, the Michelin LTX Winter is still one of the best winter performance tires you can find today.
Bridgestone Blizzak LT
Best for Highway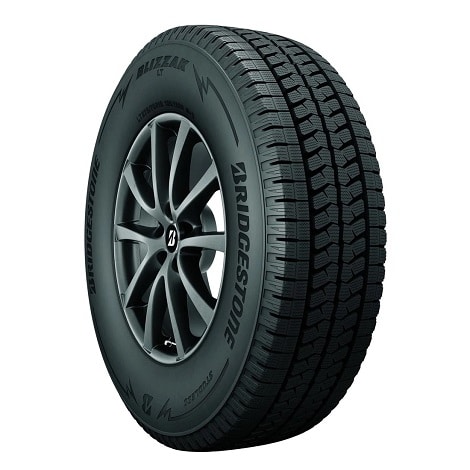 Specification:
Load Index Rating: 121.0.
Tire Aspect Ratio: 75.0.
Speed Rating: R
There are quite a few interesting points when looking at the Bridgestone Blizzak LT – a high-performance winter tire well suited for highway use.
Among the product's highlights, it is undoubtedly impossible not to mention the multi-cell Nano Pro-Tech compound. It is no exaggeration to say that this compound has made a revolution, providing fantastic performance when running long distances on snowy roads.
When driving on snow-covered highways, this representative from Japan gives quite an impressive amount of traction. I also appreciate the grip and reliability that the product brings, even when driving at high speeds.
The ability to control corners and outstanding braking are also advantages that impress me with Bridgestone brand products. It can be that the Blizzak LT is one of the most tested winter tire models today.
Even when compared to some other high-end tires like Winterforce, in some aspects, such as stopping distance, I still rate Blizzak LT much higher.
But you also need to note that the tread of this Blizzak LT has a much faster wear rate than similar tire models. This drawback needs to be careful of a product that is not as cheap as the Bridgestone Blizzak LT.
Pros
Good cornering control.
Outstanding braking ability.
Excellent snow grip.
Nano Pro-Tech Multicellular Compound.
Suitable for use on highways.
Cons
Tires wear out faster than similar winter tires.
Bottom Line
Impressive with Nano Pro-Tech multi-cell compound and a host of other advantages, the Bridgestone Blizzak LT is a tire that can compete directly with many other famous brands in the line of snow plows on the road.
Michelin Latitude X-Ice Xi2
Best for Traction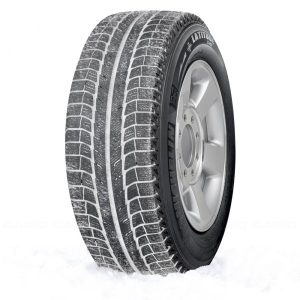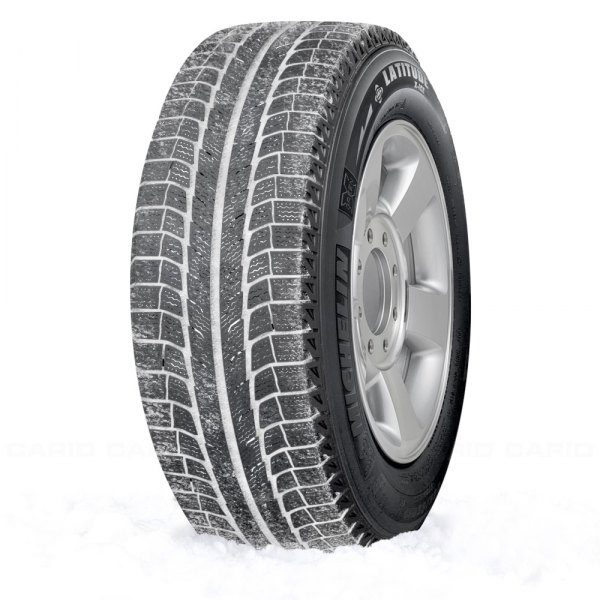 Specification:
Load Index Rating: 109.0.
Tire Aspect Ratio: 65.0.
Speed Rating: T.
Unlike many other winter tires that focus solely on traction on snow and ice, Michelin with the Latitude X-Ice Xi2 has proven to deliver impressive overall traction on most types of terrain.
The manufacturer has used a silica tire compound to achieve the above impressive effect. The unique feature of this material is that it can still maintain flexibility when the temperature is lowest, thereby providing excellent traction and grip despite weather conditions.
The success of the product's grip is also due to the directional tread design combined with the sticker with a large contact area. All have made a product with good performance on snowy terrain and in dry conditions.
Besides impressing with the grip, the ability to plow the snow of the representative from the Michelin brand also makes you consider.
Because the manufacturer has equipped a series of Cross-Z grooves with a step groove design, combined with tread blocking technology, phenomena like hydroacoustic driving or obstacles caused by ice, snow, and freezing rain are no longer a concern. Instead, you get reliable thrust that keeps the tire able to traverse the deepest layers of snow.
Another strong point of this tire model is its longevity. Compared to many winter tire models today, Xi2 is proud to have a product life that is 75% longer.
With quite impressive parameters as above, you can fully expect to use Michelin tires for many years to come.
Like some other winter tire models from the Michelin brand, the X-Ice also has a disadvantage in its ability to corner dry road conditions.
However, if you are just looking for a tire specifically for snow plowing, this product from the Michelin brand has almost no defects.
Pros
Cross-Z groove with step groove design.
Long Treadwear.
Good grip on many different terrains.
Reliable traction.
Flexible silica tread compound.
Cons
The ability to corner on dry roads is not too impressive.
Bottom Line
As mentioned, if you want to find a tire specifically for snow plowing, the disadvantages mentioned above are not too serious. Therefore, the Michelin Latitude X-Ice Xi2 very well deserves to be on the list of great tires for snow plowing that you should not miss.
Goodyear Ultra Grip Ice WRT LT
Best for Snow Traction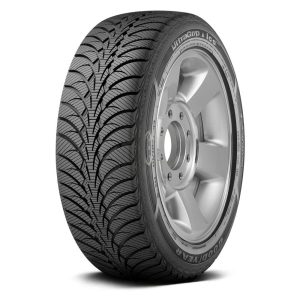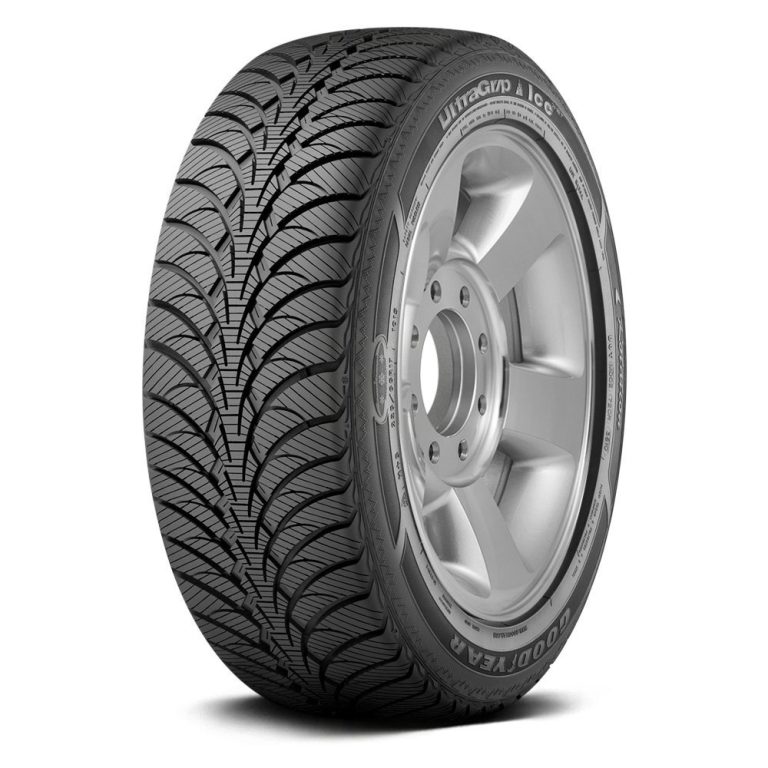 Specification:
Load Index Rating: 95.0.
Tire Aspect Ratio: 60.0.
Speed Rating: T.
Improving traction on snow is always one of the top goals of any winter tire brand. And Goodyear is no exception. Goodyear's representative in the competition for the best snow plow products is the Ultra Grip Ice WRT LT, which offers a host of advantages related to snow traction.
The exclusive Winter Grip tread compound, unique 3-D TreadLock Technology, and directional tread pattern are among them. This combination provides excellent snow traction in the segment and offers quite impressive traction on icy surfaces.
Goodyear's superb traction is also accompanied by Winter Response Technology, whose primary job is to enhance braking and accelerate in the harshest weather conditions safely.
The only point I can complain about this tire model is the bare ice traction. If Goodyear can improve and deliver as much traction as a high-performance tire on this type of terrain, surely the Ultra Grip Ice WRT LT will reap even more success.
Pros
Outstanding traction on snow and ice.
Impressive traction, whether on dry or wet surfaces.
Good acceleration.
Bring comfort and smoothness throughout the journey.
Good brake.
Cons
Improve traction on bare ice.
Bottom Line
Excellent acceleration and braking ability, high traction, good traction on snow ice all of the above advantages have made Ultra Grip Ice WRT one of the good tires for snow plowing.
Bridgestone Blizzak W965
Best for Durability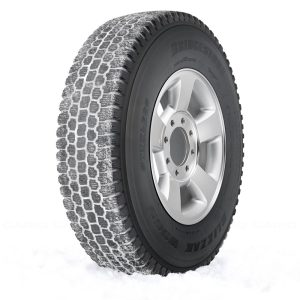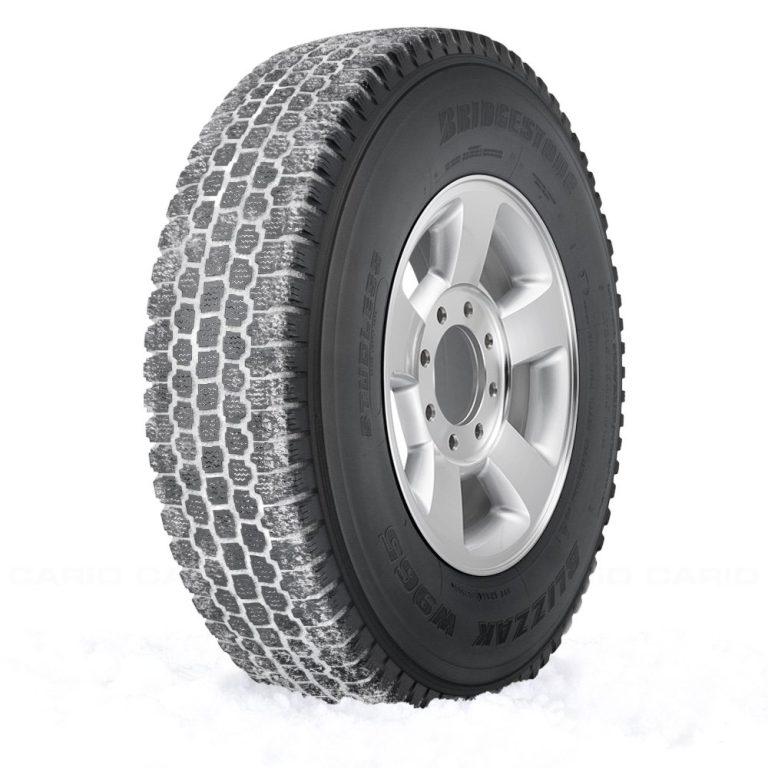 Specification:
Load Index Rating: 119.0.
Tire Aspect Ratio: 70.0.
Speed Rating: Q.
If you are looking for a tire that can accompany you for many winters, the Bridgestone Blizzak W965 is an option worth considering.
Because when considering both the internal structure and the exterior design, I appreciate the durability and limit the wear of the product.
Specifically, when looking at the inside of the tire, you will find that Bridgestone has reinforced the steel belt with nylon to both increase strength and bring uniformity to the tire, thereby improving durability. The polyester material of the wire body also helps this tire model have a significantly longer life.
The Tube Multicell tire compound has brought me a big surprise in terms of exterior design. Because this unique compound has an excellent ability to disperse thin films of water – something I, as well as any driver on snow and ice, are always looking for.
More than simply providing good traction in extreme conditions, the model above is unquestionably durable when the tire is difficult to puncture or cut.
However, the product's durability also causes a big problem: the tire's weight is heavy because of its rigid structure, which is difficult to puncture or cut.
And as you know, a tire with a significant weight will consume a little more fuel than a tire of similar size but less weight.
Pros
Excellent traction on snowy terrain.
Tough and durable, hard to be punctured or cut.
The ability to handle both dry and wet terrain is suitable.
Comfortable.
Tube Multicell compounds can disperse thin water films.
Cons
The weight is heavier than the tires of the same size.
Bottom Line
Heavyweight can cause more fuel consumption, usually around 1-2 mpg. These numbers are not too large to be a barrier, preventing you from accessing a durable, high-performance winter tire like the Bridgestone Blizzak W965.
Firestone Winterforce CV
Best for Commercial-grade Tire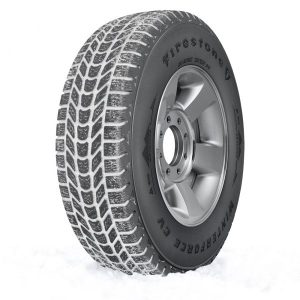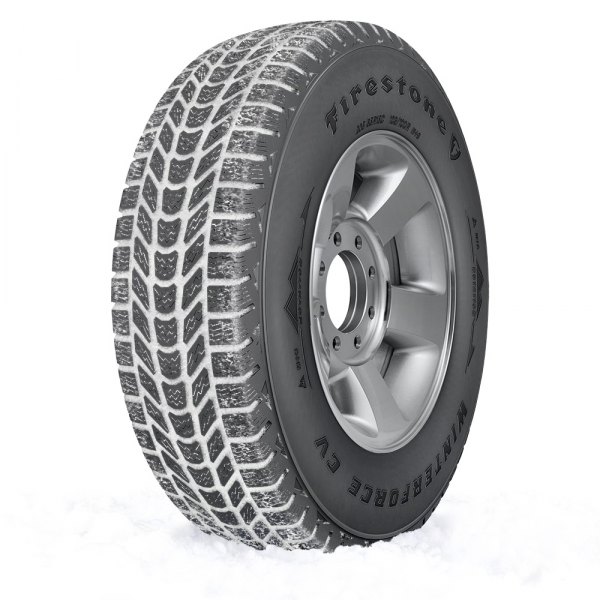 Specification:
Load Index Rating: 89.
Tire Aspect Ratio: 50.0.
Speed ​​Rating: V.
Load Capacity: 1279 Pounds.
The Firestone Winterforce CV is a commercial tire, so there will be many differences compared to other models on this list.
The most outstanding feature of this product is the large load capacity. As a commercial tire, the manufacturer has continuously reinforced to ensure load capacity and durability under the effects of loads and pressures.
One of Firestone's booming load-carrying success hallmarks lies in its double-belt construction with a polyester sheath. To maintain the tire's shape, the manufacturer has also reinforced the structure, improving the load strength.
In addition to a large load capacity, a commercial tire used for snow plowing must also have outstanding controllability. In consideration of this ethos, Winterforce CV did not disappoint.
Because the product uses a directional tread pattern integrated with braces to optimize surface contact area, along with a series of other improvements, Winterforce CV offers good responsiveness, helping you control the car easily at any time, in all weather conditions.
The most significant disadvantage of this product lies in the noise when operating. Especially when driving on dry roads, I do not appreciate the Winterforce CV's comfort.
Pros
Good grip and controllability even in heavy rain conditions.
Large load.
Long lifespan.
Good steering response.
The ability to grip the road in deep snow is impressive.
Cons
Bottom Line
As a commercial tire model, the noise problem of the Firestone Winterforce CV is not a big minus point of the product. Therefore, Winterforce CV remains one of my favorite names for the best tires for snow plowing.
As a low-profile tire, the Winterforce makes more noise than the Blizzak. It is very noticeable on dry roads.
General Grabber AT2
Best for Heavy Snow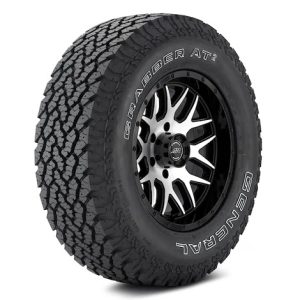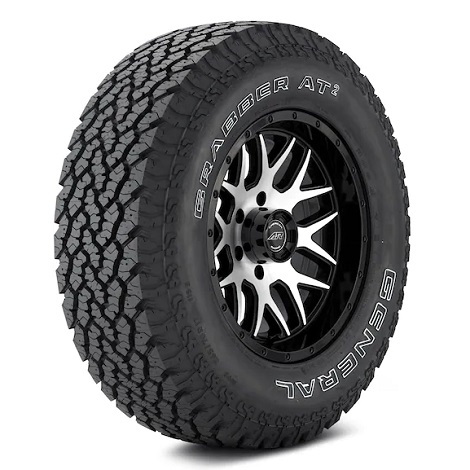 Specification:
Load Index Rating: 89.
Tire Aspect Ratio: 50.0.
Speed ​​Rating: V.
Load Capacity: 1279 Pounds.
The General Grabber AT2 is one of the few tires I reviewed that can handle deep snow and operate in the worst conditions of snowstorms.
Because the product meets the requirements of this specialized winter tire, it features an asymmetrical tread pattern, a tread material that can limit cuts and additional road ridges. The above factors make General one of the formidable opponents compared to the ability to handle deep snow.
More specifically, General Grabber AT2 also supports metal rivets. You can take advantage of this to improve the product's grip and handling.
However, traction on wet roads is not as excellent as what AT2 has shown on snowy terrain. It is possibly one of the most in need of improvement on this near-perfect tire.
Another point I appreciate about the AT2 is the comfort and smoothness of driving. This quite impressive advantage can come from the optimized spike size on the computer, which helps reduce road noise.
Pros
Excellent traction.
Stable and responsive.
Tough, puncture-resistant, durable sidewalls.
Warranty up to 60,000 miles.
Perform quite well, even on deep snow.
Cons
Wet traction is not so excellent.
Bottom Line
General always brings the best products in the segment. And the General Grabber AT2 – a class that can work well even in deep snow, has once again proved the above claim.
Bridgestone Blizzak DM-V2
Best for Thick Ice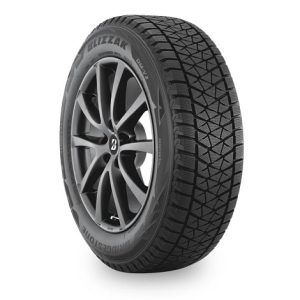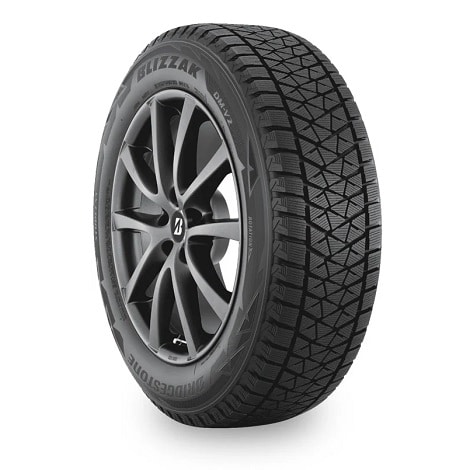 Specification:
Load Index Rating: 102.
Tire Aspect Ratio: 65.0.
Speed ​​Rating: S.
If I had to recommend a tire model suitable for thick ice conditions, I certainly would not be able to help but mention the name Bridgestone Blizzak DM-V2.
In the Blizzak DM-V2, you will find all the advantages you need to move on ice safely: short braking, outstanding traction, and naturalness when cornering.
Even in my direct assessment, this Bridgestone tire model outperforms some other high-end products regarding braking distance.
At the same time, the feeling of cornering on the snow that the product brings is quite impressive. I have almost the same sensations as when performing maneuvers on wet roads, not on harsh snow and ice.
The point that makes me not satisfied with the representative from Bridgestone lies in the relatively soft spine compound. It is a disadvantage when the tire is very easily punctured when you drive over sharp objects.
Pros
Good acceleration and braking on snow.
Handle well on heavy snow and ice.
Comfortable and quiet, even on rough surfaces.
The feeling when cornering is good.
Outstanding traction.
Cons
Bottom Line
While not the most durable tire, the Blizzak DM-V2 is the best performer for safe riding on thick ice.
How to choose tires for snow plowing
Snowy roads can be any driver's nightmare. However, if you know how to choose best tires for deep snow, you will have quite exciting snow plowing experiences.
Here are a few tips to help you find such quality tires: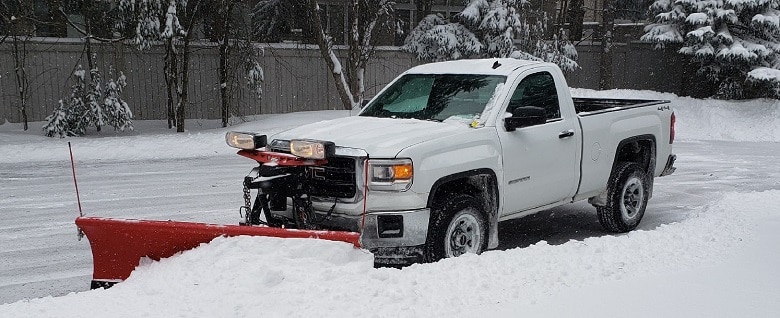 Tire type
When buying snow tires, you will have three main choices: winter tires, terrain tires, and all-season tires.
Of the three types above, off-road tires give the most impressive traction when working well on snow and ice and mud, rock, and many other harsh terrains.
While four-season tires are suitable for use in summer and spring. Four-season tires can meet your requirements well on thin snow and ice surface. If you want to drive on thick ice or in low temperatures, this type of tire is never a good idea.
Finally, winter tires are always the first choice on icy surfaces because this type of tire has notable spikes, grooves, and compounds that keep the tire soft even in the lowest temperatures.
Tire size
Choosing tires for snow plowing refers to choosing a tire size to determine whether the tire is narrow or wide. Typically, manufacturers will offer sizes between 16 and 18".
In my experience, narrow tires have low surface pressure, so they are helpful if you want to go through snow.
That's not to say it's wrong to choose wide tires. Because this tire has a better load-carrying capacity, it will be almost the only option for commercial use.
Distribution of treads
As mentioned, a good winter tire always has to have a lot of deep grooves to increase traction. In addition to this type of groove, you should also prefer tire models with minor cuts on the surface.
Because compared to conventional tire models, products with scratches on the surface will have significantly superior grip and traction.
FAQs
Like choosing tires for any other terrain, choosing snow products is never easy. Especially if you are not an expert, you will indeed have a lot of questions, some of which may be the frequently asked questions below:
Can I use mud tires for snow plowing?
The answer depends on the type of snow surface. For example, mud tires can go deep into the snow because of their thick tread and deep grooves.
However, on terrain with a thin layer of ice on the snow, digging deep with this type of tire is almost impossible.
Do rivets help tires perform better in the winter?
Rivets make a difference in traction on snow, especially on slopes or old ice surfaces.
Should I replace all four wheels with winter tires?
You should use specialized tires on all four wheels. Syncing your tires will give you the best possible traction and driveability.
Conversely, replacing only the front or rear wheels can lead to imbalance when the vehicle changes direction, and you can hardly control it well in this case.
Conclusion
In low-temperature conditions, non-specialized tires will harden and become slippery. That's why you need the products on the list of best tires for snow plowing above. These products are designed specifically for winter with the grip, and many advantages make your driving experience perfect.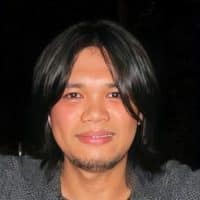 Alvin Reyes has expertise in automotive evaluation. He collaborated with famous newspapers and is still making efforts in tire review for DrivingPress.com