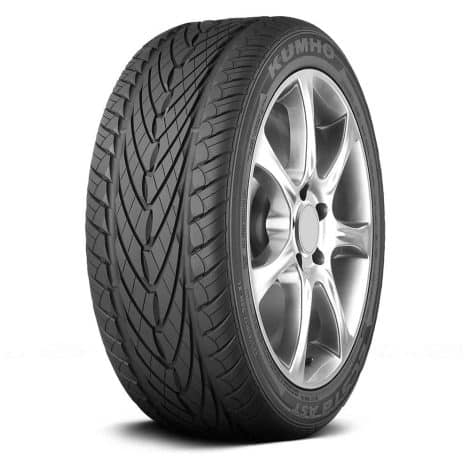 I will start this Kumho Ecsta AST Review by saying that this tire is a looker. I know that looks are subjective, and the design should be the least of your concerns when you choose a new tire. But it is hard not to notice the aggressive dual-angle cross grooves of the Kumho Ecsta AST. It manages to inject an added dose of sportiness without going overboard.
The Kumho Ecsta AST is an ultra-high performance all-season tire that is designed to handle the demands of sporting sedans, sports coupes, and even small crossovers. Despite the racing nature of the design, the Kumho Ecsta AST is also engineered to deliver dollops of comfort with negligible tread wear.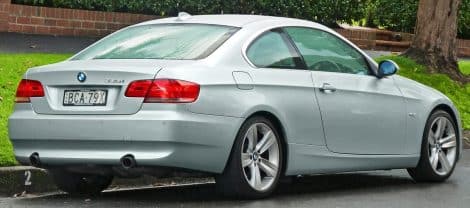 My test car would have to be a fast sedan or coupe, with particular emphasis on outright performance than cruising comfort. I managed to acquire a 2010 BMW 335i Coupe equipped with a turbocharged 3.0-liter inline-six engine mated to a proper 6-speed manual. With 300 horsepower and 300 foot-pounds of torque on tap, this is going to be a fun drive.
My Beemer is fitted with aftermarket 17-inch wheels with wider lips and Kumho Ecsta AST tires. The rather dignified BMW was rendered as a more aggressive driving machine due to the tread design of the Kumho Ecsta AST tires.
Features
The Kumho Ecsta AST is engineered with a directional tread pattern equipped with dual-angle cross grooves, similar to a proper V-tread tire. This tire is constructed using a carbon-based all-season tread compound to deliver maximum levels of grip on any type of weather.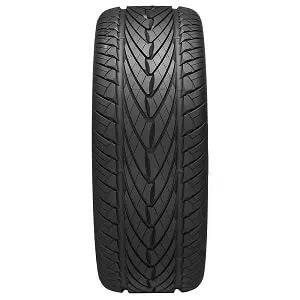 The exotic tread design is responsible for evacuating water on the face of the tread to offer better wet driving performance. There are multiple sipes located on each tread block and this helps the tire to grip adequately on snow-covered or icy roads.
The Kumho Ecsta AST also features shoulder blocks with a rounded trailing edge to promote healthy tread wear. It is good to know that this tire is also equipped with a lip protector to protect your alloy wheels from dents and unsightly scratches.
Test Drive
My BMW test car is bone stock except for the wheels. I would have to commend the owner for taking the necessary steps to maintain the integrity of this marvelous coupe. I am a big fan of the BMW 5-series and admittedly not smitten by the 3-series bug, but this test drive and review of the Kumho Ecsta AST will allow me to get up close and personal with one of the best entry-level German coupes that money can buy.
Dry Traction
The owner of the BMW 335i Coupe told me not to be gentle with the car. In fact, he urged me to wring the engine since it is due for servicing pretty soon. You know what I did? I searched for a deserted piece of road and drag raced myself into oblivion!
Well, not necessarily. This is still a German-engineered car, which should be tested on a proper race track and not on an improvised drag strip. But with a turbocharged 300-horsepower engine, rear-wheel drive, and manual transmission, I couldn't help myself.
The road was dry and I was alone in this deserted piece of road. I took three runs and I managed to make the tires scream for traction a couple of times. I didn't record the time myself during the multiple runs, but this car is fast. I got on the highway to get a better feel for the car. The Kumho Ecsta AST tires had plenty of traction and grip, but I felt it needed more, especially when the tires were spinning as I launched the BMW towards greatness (or so I thought).
Wet Traction
The rain came pouring down as I finished my lunch. Unsurprisingly, the Kumho Ecsta AST was well-mannered in the rain. I didn't feel the car wandering or hunting for grip as I sped on the highway, wringing out every ounce of power that 5,500 rpm can give (I didn't rev to the redline because this is not my car).
Handling and control were pretty decent given the slippery wet conditions of the road. I'm beginning to assume that the Kumho Ecsta AST performs better in the wet than on dry pavement, but I am probably mistaken here.
Snow Traction
There was no chance for me to test the Kumho Ecsta AST tires in the snow, so I talked to the owner about this. He told me the tires were fine on very light snow, but anything more would cause the tires to slide and lose grip, especially if the roads are peppered with ice.
Not bad, really, but better to avoid snow altogether if your car is fitted these tires.
Comfort
The critics were right. The BMW 3-Series is still the best when it comes to the perfect balance of ride and handling. Yes, the 335i Coupe is a bit stiff-legged if you'll ask me, but it's not harsh in any way. In this regard, the Kumho Ecsta AST offered a decently comfortable ride despite the aggressive nature of the tire.
Noise
In terms of road noise, the Kumho Ecsta AST is not as quiet as other ultra-high performance tires. There was a noticeable amount of tire roar over rough patches of cemented roads, but at least the tires were a bit more silent over smooth asphalt.
The tires will also emit a solid thump if you manage to run over a pothole, but it's not something that would upset the overall driving experience.
Treadwear
The owner of the BMW couldn't remember the exact date that he bought the Kumho Ecsta AST tires, but he's had them for quite a while. And it shows since the tires were showing signs of wear, especially after the amount of rubber I burnt during my impromptu drag race. For the price, the owner said that the tires were aging commendably.
Conclusion
Do you want a high-performance tire with exotic good looks, affordable price, and respectable all-weather performance? Based on my experience with the Kumho Ecsta AST in this review, the tire is a solid contender in the high-performance department, especially if you're on a tight budget.
Our list of Kumho Tires Review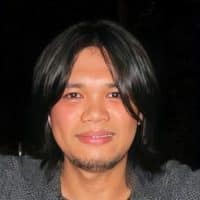 Alvin Reyes has expertise in automotive evaluation. He collaborated with famous newspapers and is still making efforts in tire review for DrivingPress.com