Most people love driving big cars for their comfort, aura, and appeal. Most people, as it turns out, end up getting stuck in traffic jams. With the huge size of their vehicle, they cannot do anything but wait for the congestion to clear up before they can drive ahead and run their errands
That's one of the reasons why Mini Coopers attract people – their compact dimensions make sure that while others are stuck in a traffic jam, drivers of Mini Coopers slalom through it. However, as pleasurable as leaving traffic congestion behind is for a driver, there's something even better.
A comfortable and vibrations-free ride. And that's what you get when you have the best tires for Mini Cooper. Not the ones which come pre-installed from the assembly line. But those which you order yourself after checking their features, getting recommendations, and searching the market
Best Tires for Mini Cooper (Updated 2023)
Michelin Premier A/S
Best Touring Tire for Mini Cooper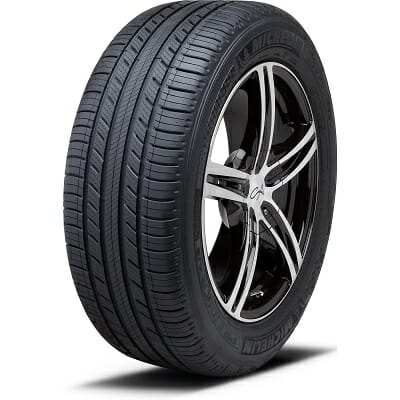 The Michelin Premier A/S provides year-round performance, comfort, and controllability and contains some pretty innovative features to justify its selection as one of the best set of tires for mini coopers.
Feature
One can never find a pair of Michelin tires without cutting-edge technologies increasing their performance level. That's certainly true for the Premier A/S as it comes with two of Michelin's exclusive technologies, the first of which is termed 'Comfort Control' by its manufacturer.
This technology increases the on-road grip of this tire by computer-optimizing its tread design, thereby giving you a smoother quieter ride. Then comes the 'EverGrip' technology which ensures excellent traction in all weather conditions, excluding snow.
Perhaps the most defining feature of this tire is the compound used in the manufacturing of its tread. A combination of sunflower oil and silica, it borrows optimum traction from the former and mixes in the latter's flexibility to give a rare combo of durability and sturdiness.
On top of everything else, this model comes with separate versions for mini coupes and John Cooper Works based on their speed ratings. Oh, and you also get a tread warranty of 60,000 miles (or 6 years) on the tire maintaining its uniform shape during that period.
Pros
Excellent traction on all surfaces
Comfortable and quiet ride
60,000-mile tread warranty
Cons
Michelin Defender T+H
Standard All-Season Tire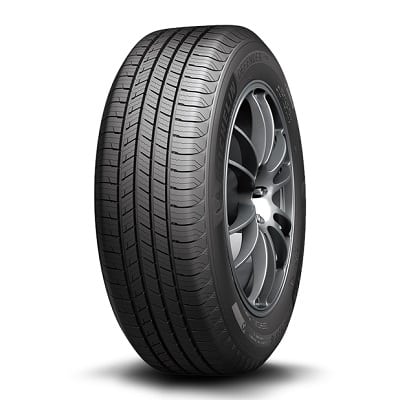 As is the case with the Michelin Premier A/S, the Defender T+H too is designed to be primarily driven on the dry tarmac with not a hint of snow. Otherwise, there is next to nothing in this model's tread design that might save it from skidding on snow-laden roads.
Features
Unlike most other manufacturers which forget updating their tires' design the moment they are out of the warehouse, Michelin strives for constant betterment. Hence the reason why, after five years of its release, it introduced quite a lot of upgrades into the Defender T+H.
One of the upgrades which we liked the most was the arrival of three new technologies. All three of them serve their purpose very well. For instance, while the Comfort Control technology increases the tire's grip, the Intellisipe technology increases this model's traction by providing it with more biting edges.
Then there is the Maxtouch technology. It evenly distributes the tire's contact forces (braking, acceleration, and cornering) on the road. This element in the Defender's design minimizes stress points inside its tread, thereby increasing its tread life.
You might also find it good to know that this tire is equipped with three safety features. They include its high silica content (for better grip on wet roads), zigzag sipes (for maximum traction on extra-slippery surfaces) and circumferential grooves to prevent hydroplaning and increase steering response.
Pros
Three safety features
Long tread life
Keep hydroplaning at bay
Cons
Michelin Primacy MXM4
Best Premium Car Tire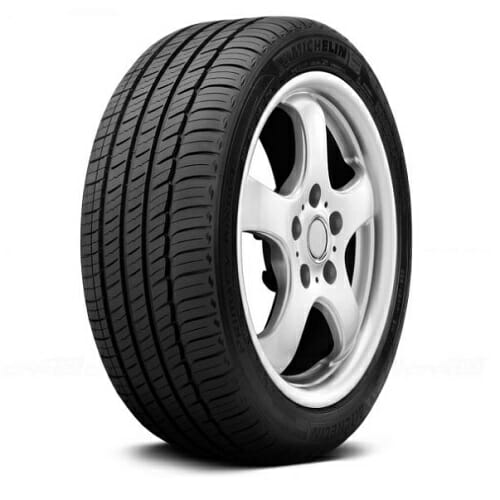 Most people believe that sunflower seed oil has no utility beyond serving as a food additive. Most people, as it turns out, haven't come across the Michelin Primacy MXM4 which introduces the world to a mind-boggling use of sunflower seed oil.
Features
So what can you expect from the presence of sunflower seed oil in these tires tread? Better traction on wet surfaces. It does the same by empowering the rubber of the MXM4 to maintain its elasticity and stickiness in wet conditions, thereby helping this tire provide more traction on challenging surfaces.
To make sure that these tires maintain their original shape for long, Michelin has equipped them with Filament At Zero Degrees Technology. This technology works by placing nylon filaments inside the tread of these tires and also enhances the precision of your coupe's steering.
As long as the snow isn't too thick, you can drive on it using the MXM4. That's because these tires have 3D Variable Thickness Sipe technology which increases their loose-surface grip with its specially designed tread pattern. And you also get Comfort Control technology to enjoy a vibration-free riding experience.
Lastly, although three different versions of these tires come with three different speed ratings, the highest (W) isn't for coopers. That's because its speed limit, 168 miles per hour, is at least 18mph more than that of the John Cooper Works, which is the speediest of all coupes to date.
Among the remaining two speed ratings, mini-coupe owners might like the H-rated tires with their maximum sustainable speed limit of 130mph. Those who drive Mini Cooper S or the John Cooper works, meanwhile, might want to put to test the 149mph speed limit of the V-rated tires.
Pros
Fuel efficient
Added grip on wet surfaces
Better steering response
Cons
Continental ExtremeContact DWS06
Best High-traction Tire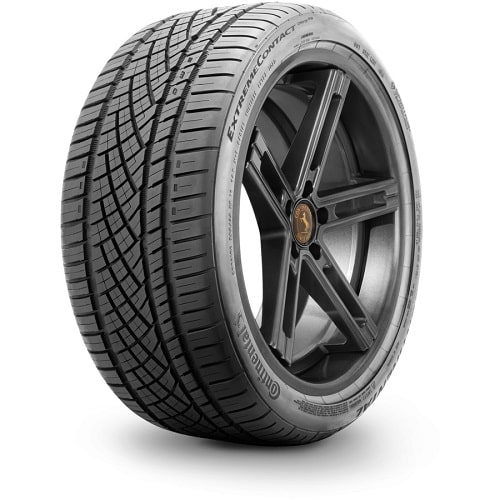 Provided you drive a Mini Cooper S or the John Cooper Works, and you're looking for a tire that will come handy through the whole season, the Continental ExtremeContact DWS06 might prove to be a worthy option.
Features
Let's begin with the 'D' in the DWS06. It's there to subtly tell you that this tire features an asymmetric tread design. Its special traction grooves and chamfered edges provide more than the adequate grip on dry tarmac. The wider shoulder blocks, meanwhile, give an accurate steering feel.
Move on to the 'W' now which stands for wet. You can know by looking at its spec sheet that these tires used Continental's Sport Plus Technology, +Silane additives, and an advanced silica tread compound. All of this join their forces to equip this tire with better grip on wet roads.
As you might have guessed by now, the 'S' stands for snow. That's because these tires come with traction grooves which increase this model's biting power to let it overpower icy and snowy roads. However, it doesn't decrease the tire's traction on wet surfaces it can still prevent hydroplaning.
These tires also come with Quick View indicators to let you know how much snow they can tackle. As long as the 'S' indicator can be seen with a naked eye, you can count on the DWS06 to conquer snow and ice-laden roads. However, the moment it vanishes, it's better to place your hopes on dedicated winter tires.
Finally, other models that rival the DWS06 in its wet- and snow-traction will do the same at the cost of more road noise. Not this tire. As we found out while driving it at maximum speeds, the DWS06 is incredibly quiet, even challenging the likes of proper touring tires in this aspect.
Pros
Superior snow performance
Ultra-quiet ride
Brilliant handling
Cons
Continental TrueContact Tour
Summer Touring TIre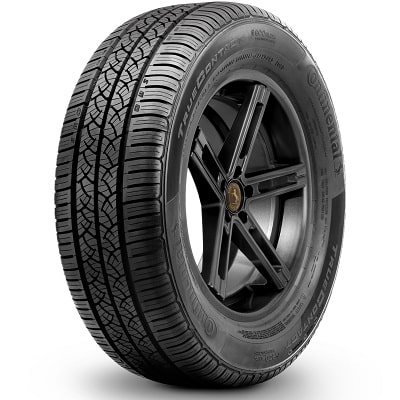 If you aren't ready to choose anything but an OEM tire for your Mini Copper – but you don't want its price tag to blow a hole in your pocket either – the Continental TrueContact Tour has the potential to offer you the best of both worlds.
Features
Did you read the word 'premium' in this tire's extended name? It's there to notify you of the Continental True Contact Tour's all-weather traction and grip. Not to mention the smooth and quiet riding experience it provides on highways.
This tire can afford to do that because its manufacturer has infused its tread compound with temperature-controlled polymers. They enable the rubber to expand or contract with the change of seasons, thereby letting the tire conquer both hot and cold weather.
Responsibility of providing the passengers of your mini-coupe with a vibration-free ride has been taken by Continental's Comfort Ride Technology. It works by supporting the tread with a rubberized underlay to prevent the frequency of vibrations making their way inside the cabin.
Whether you go north or the weather does, the symmetric tread pattern of this tire, with its wide circumferential grooves, will be ready to channel water from the treads. This arrangement prevents hydroplaning, which is a dangerous phenomenon that might lead to skidding.
Lastly, to make sure that this tire can hold its own in snowy conditions, Continental has equipped with biting edges. They provide the necessary traction regardless of whether you're navigating through muddy, snowy, or sandy roads.
Pros
Better handling on dry roads
Sturdy grip on wet and snowy surfaces
Relatively affordable than most OEM tires
Vibration-free riding experience
Cons
Its tread life could be better
Michelin Pilot Super Sport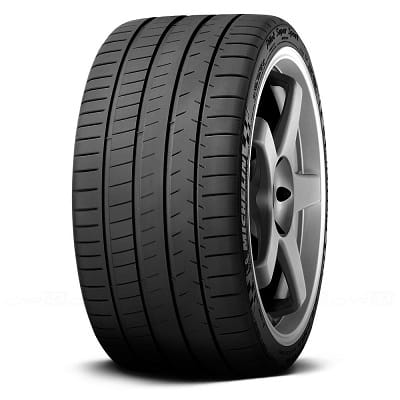 Unlike the Bridgestone Potenza S-04 which serves Cooper S drivers well, the Michelin Pilot Super Sport reserves its best performance for the John Cooper Works. That's because this tire is relatively better in most departments, though it is much pricier.
Features
How do we know that the Michelin Pilot Super support are the best tires for John Cooper Works? Their grip helps us convince us to make that claim. So much traction is on offer that oversteering your model – a dangerous but likely phenomenon with these vehicles – is almost impossible.
Even if you aren't one of those drivers who test the speedometer to its limits, the enhanced grip of these tires will help you in corners. It also helps deliver a better steering wheel by enhancing the control the same has over the sideways movement of the tires.
Moreover, the bi-compound tread of these tires helps them provide optimum grip in both summer and moderate winter conditions. 80% of their inner rubber has been optimized to provide grip on slippery surfaces, whereas the remaining 20 percent portion is reserved for dry handling.
Then comes the Variable Contact Patch 2.0 which is basically a fancy name for these tires' tread patterns. What isn't fancy is the better speed pressure that it delivers. The patch changes its shape during cornering to make sure that the surface area of the rubber in contact with the road doesn't decrease.
Lastly, to observe their braking stability, we hard-pressed the pedal when the speedometer was indicating 130mph. Not only did the speed came down to 30mph in a matter of seconds but our vehicle remained in our full control to the extent that if we wanted we could have taken a hard right-hand turn.
Pros
Excellent cornering and braking capabilities
Retain structural rigidity at high speeds
80/20 wet & dry tread design ensures wet traction
Cons
Firestone Firehawk Indy 500
Ultra-High Summer Performance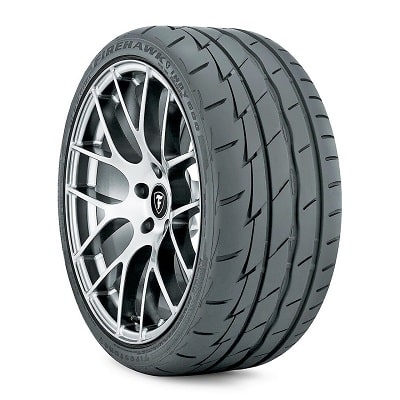 As a mere glance at its name will imply, the Firestone Firehawk Indy 500 tires are designed to be driven on the race track. They make up an excellent choice for both the John Cooper Works as well as the Cooper S if all you want from these tires is land you a trophy.
Features
What are the features you should normally look for in a racing tire? For starters, its cornering and braking powers should be second to none. Steering response needs to be great as without it you cannot execute mini-second decisions. Traction on slippery surfaces isn't necessary but crucial.
The Firestone Firehawk Indy 500 tick all these boxes with aplomb. It contains a silica-enhanced tread rubber compound and a molded asymmetric tread design which allow these tires to provide extreme traction and grip on both dry and wet surfaces.
You can also expect (and get) from the tires' continuous center rib an enhanced steering response, whereas Firestone's very own Pulse Groove Technology shortens braking distances – while also aiding the silica tread compound to increase traction on slippery surfaces.
Like the Michelin Super Sport reviewed above, these tires are known for their cornering grip and traction. The credit for this game goes to their stiffer sidewall and larger independent shoulder tread blocks. Both of them join their forces to increase the biting power of these tires, regardless of the surface.
Similarly impressive is the way these tires handle (and keep at bay) hydroplaning. It's a dangerous phenomenon that has the potential to cut the contact of your coupe with the road surface. Firehawk Indy 500 have circumferential grooves and open shoulder pattern in their tread design to effectively channel water from beneath the tire's footprint, thereby preventing a safety hazard.
Pros
Deliver brilliant all-weather performance
Extreme controllability and handling in wet weather
Prevent hydroplaning with their tread design
Resist heat build-up with their L.L. Carbon compound
Cons
Best Budget Tires for Mini Cooper
Following are the top three tires you can get on a budget:
General Altimax RT43
Budget All-Season Touring Tire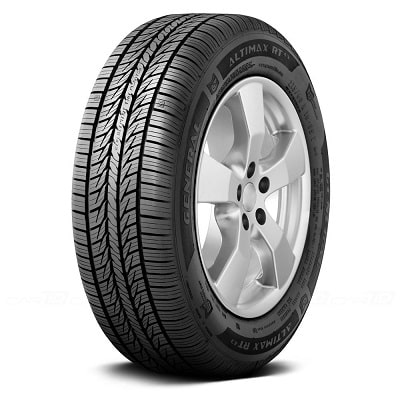 Ever wondered why the prices of all-season tires have nosedived in the recent years? While increasing competition has also played its part, it's the arrival of tires like the Altimax RT43 which has forced giants like Michelin to lower the price of their goods.
Features
In case you were wondering, corners haven't been cut to keep the price of the Altimax RT43 low. These tires come with General's sound wave suppression technology which, as their name implies, keeps the noise level to a minimal on dry tarmac.
General's decision to equip these tires with low surface abrasion technology has paid two dividends. First, as it rolls on the road, the tire experiences less tread distortion. Second, and this benefit stems from the first one, the decrease in distortion which the tread has to suffer ends up increasing its life.
You also get two 'monitors' to stay up-to-date with the status of these tires. The first of the two is the Replacement Tire Monitor which is inscribed on the tire's circumferential rib. If you can see this indicator three times in as many seconds while moving your gaze across the model, it means the tire is new.
Then there is the Visual Alignment Indicator. It is provided on the opposite shoulder blocks of the circumference of each tire in the shape of two additional sipes. If you notice that these sipes aren't aligned (one above/below the other), it's a sign that the tire needs realignment.
Pros
Sound Suppression Technology
Tire status monitors
Competitively priced
Cons
Speed ratings could have been better
Cooper CS5 Ultra Touring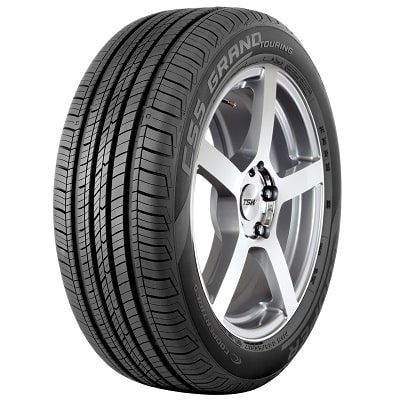 In contrast to most other tires you've seen in this review, the Cooper CS5 Ultra-Touring doesn't come from a highly famous brand. That gives plenty of reasons to the brand-conscious among you to ignore it. The rest of you have plenty to gain from its budget price and high-end features.
Features
One of the major reasons why the CS5 caught our eye during the review phase is because of these tires' ability to keep treadwear at bay. It has been made possible by the 3D grooves of these tires which interlock to maximize the tread contact with the road.
Such a mechanism, as veteran drivers among you might guess, provide these tires with two benefits. First, as the surface area of the tire coming into contact with the road increases, its grip also goes north. Second, this enhanced traction makes these tires more reliable in winter conditions.
Aware of the fact that every tire wears down with usage, their manufacturer has equipped the CS5 with features that a) improving its worn performance and b) let you measure the tire wear. The former is made possible as these tires boast more siping at half-worn.
As for the latter, the CS5 comes with a visual wear indicator. This indicator changes its shape as your tire wears, thereby letting you know of the remaining tread life. Also, if you notice that the inner and outer 'Wear Square' are at different stages, that's a signal that the wheel needs realignment.
These technological elements have no doubt played their role but a major part in these tires' sturdiness is played by their silica-compound tread. Silica is famous for its all-season performance, braking power and dissipation of heat, so you can expect the same features with its presence in these tires' rubber.
Pros
Has a visual wear indicator
Provides more siping at half-worn
3D micro-grooves stabilize the tread
Cons
Bridgestone Potenza S-04 Pole Position
Ultra-high Performance Tire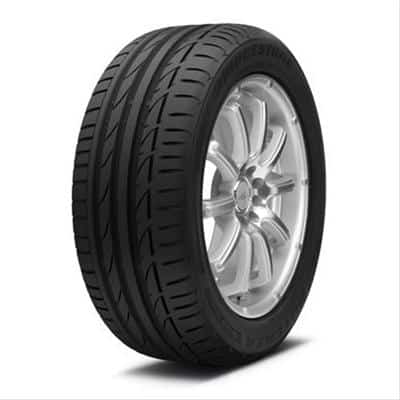 Due to their supreme cornering, the Bridgestone Potenza S-04 tires are extremely popular among the enthusiast crowd. Hence the reason why we chose them for drivers of Mini Cooper S as these tires will emphasize their coupe's go-kart abilities.
Features
First things first, these tires have a limited user-base because they are specifically winter tires. Neither their tread design nor their tread compound has anything which gives them the biting power in cold weather conditions. So you should only use them when it's hot-to-moderate out there.
Though these tires do well what they are supposed to do. Their on-road traction in summer conditions is second to none and they provide brilliant braking, cornering and acceleration capabilities. Having them underneath your vehicle will have a positive impact on your coupe's 'pick'.
Provided you're driving in wet conditions, you won't have to worry about water making its way inside the channels and disturbing the tire's contact with the road surface. The Bridgestone Potenza S-04 has slanted lateral grooves that channel water away to prevent the danger of hydroplaning.
High-speed durability is yet another area where these tires really shine, whose credit goes to their sturdy internal structure. That's because these tires have twin steel belts reinforced by spirally wrapped nylon to enhance their sturdiness.
Finally, your comfort is made sure even at breakneck speeds. Their sidewalls feature active rubber inserts in the proximity of bead areas which not only suss-out vibrations but also contribute to the tire's stiffness, thereby blending ride comfort with the cornering grip of these tires.
Pros
Enhanced dry road steering response
Better straight-line braking forces
Slanted lateral grooves prevent hydroplaning
Inside shoulder blocks keep vibrations at a minimum
Cons
Best Winter Tires for Mini Cooper
Following are the top three winter tires for mini coupes:
Pirelli Winter Sottozero Serie II
Best Premium Winter Tire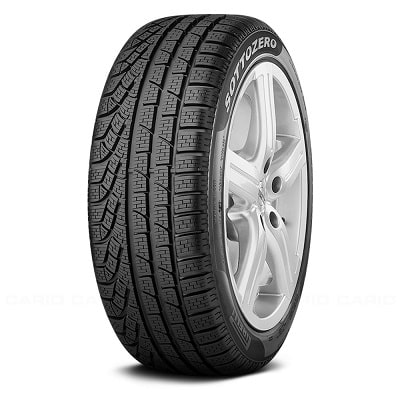 What do you look for when choosing tires for winter? Of course, safety is paramount, but there are other features too which are equally important. The Pirelo Winter Sottozero Serie II has all these features to make it a must-have for your coupe.
Features
One of the reasons why these tires make for a premium choice in winter conditions is their Temperature Dynamic Compound technology. It provides added traction on ice, snow and slush by optimizing the tread compound of these tires and increasing their flexibility for better grip.
Drivers of these tires also vouch for their performance on dry tarmac. Large shoulder blocks and Interactive Brickwork Siping empower the Pirelo Sottozero Serie II to ensure cornering stability on one end and enhanced steering response on the other.
Stability is yet other aspect where these tires justify their premium tag. Their internal construction consists of two stell belts which are further reinforced by polyamide and a polyester cord body to provide the passengers in your coupe with a comfortable and smoother ride.
Lastly, in contrast to your average winter tires, the Pirelo Winter Sottozero isn't a one-trick pony. It comes with three speed ratings – H, V and W – which means that these tires are as useful for a mini coupe as they are for John Cooper Works' models.
Pros
Increased traction on snow
More flexibility for added grip
Three speed ratings
Cons
Michelin Pilot Alpin PA3
Best Budget Winter Tire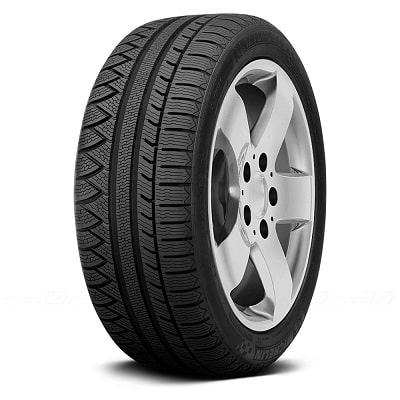 In case you're wondering, the reason why these tires are available in a budget doesn't mean that corners have been cut to keep their price low. Instead, it's the promise of Michelin to make its models accessible to a wide range of audience that has kept the coach of the Pilot Alpin PA3 in check.
Features
Maintaining traction, acceleration and control are among the most important features of making any experience of driving in winter conditions a pleasant one. Michelin has provided all these three factors by equipping with the Alpin PA3 with 3D Variable Thickness Sipe Technology.
This technology has made that possible by providing wider sipes along the inside and narrower sipes on the outside of the Alpin PA3. While the former provide better traction in the snow, the latter improves handling when the weather isn't inclement.
Other than that, veteran drivers who have used the previous versions of these tires might tell that the total number of Biting Edges of the Alpin PA3 are more than their predecessor, with the result that you can expect to get better traction while accelerating.
Finally, while most snow tires come with a short warranty, the Alpin PA3 are different. They come with a treadwear warranty of 30,000 miles, which, though not comparable with that of summer tries in this review, is head-and-shoulders above what you get with other winter tires.
Pros
Considerable treadwear warranty for winter tires
Huge acceleration, traction and braking power
More biting edges for added grip
Cons
Stopping distance could have been better
What to look for when choosing the best tires for Mini Cooper?
Follow this two-step approach to find the best set of tires for your Mini Cooper.
#1: Identify the Model of your Mini Cooper
Mini Coopers come in three body types. They include:
Base Mini Cooper
Drivers of this model might already be aware that it targets the urban-driver which never steps off of the highway. This model provides an agile driving experience and doesn't attract enthusiast drivers as much.
That's because with the 1.5-liter three-cylinder engine of this model – which produces 134 horsepower – is the least powerful among the three Cooper models.
Mini Cooper S
Unlike Mini Cooper which comes with a 1.5-liter 3-cylinder engine that produces 134 horsepower, the Mini Cooper S gets 189hp from its 2.0 four-cylinder engine & therefore provides more speed.
As a result of its more powerful engine, the Mini Cooper S runs faster in a straight line as compared to its predecessor, and it is quicker on the corner exit due to its optional limited slip.
John Cooper Works
The fastest of all Mini Coopers, John Cooper Works borrows its engine from the Mini Cooper S but gets out 228 horsepower from the same. That means that you can use it for in-house racing.
When compared with the Mini Cooper S, this model comes with a unique steering wheel design. Integrated head restraints, leather-trimmed sports seats, and trim options combine to make this model a must-have for the enthusiasts.
#2: Identify the tire best for your model
Once you have identified your model, it's time you turn your attention to the tire.
Standard All-Season tires
Recommended for Base Mini Cooper, these tires provide good traction, grip and braking power. You can count on them to perform well in corners, regardless of whether you're driving in dry or wet conditions.
What's more, as long as it's not frigid out there, these tires will be able to perform well in light snow. And the best thing about them? They are the quietest and most comfortable of any tire on the market.
High-Performance tires
Recommended for both the Mini Cooper S and John Cooper Works models, high-performance ties come in two types: summer and all-season. The former provides an extreme grip on the road, is hugely responsive and therefore easy to handle.
However, since the don't perform well in cold weather and light snow conditions, we recommend that you use high-performance, all-season tires when it's getting a bit chilly out there – as they added grip that they provide would come handy in such circumstances.
Winter tires
As with high-performance tires, winter tires are also available in two categories: touring tires that provide brilliant grip in snow and high-performance tires that run better on dry tarmac in the winter.
For the base Mini Cooper model, touring tires are recommended because their price is much lower. However, if you drive Cooper S or John Cooper Works, you need the high-levels of grip provided by high-performance winter tires.
Conclusion
Mini Coopers are known for their speed, extreme drifting, likable looks and the ability to slalom through traffic jams with ease. Provided you want to take full advantage of what they have to offer, you cannot rely on the company-supplied tires.
What you need, instead, are dedicated models which abridge the gap between your vehicle's requirements and those of the road. That's exactly what all ten tires mentioned in this model are capable of (and have been, for other drivers) doing.
Consequently, whether you own a basic Mini Cooper, the slightly more advanced Mini Cooper S or the race-crowd favorite John Cooper Works, there's a set of tires for your coupe in this review.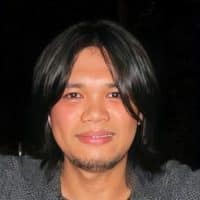 Alvin Reyes has expertise in automotive evaluation. He collaborated with famous newspapers and is still making efforts in tire review for DrivingPress.com