Hey there, gearheads! Alvin Reyes revving up to give you the lowdown on the perfect rubber for your Chevy Equinox. This crossover SUV is a real beast with its multiple trim levels and 4WD, but with three different rim sizes, choosing the right tires can be like navigating a maze.
But don't stall out just yet! I've sifted through the options and put together a list of the top 10 best tires for Chevy Equinox. These tires are versatile and offer all-around handling, ready for any driving challenge that comes your way.
As a seasoned driver, you know how much tires impact your driving experience. That's why I've put each of these tires through the wringer, testing them for performance, safety, and durability.
My reviews are the perfect pit stop for everything you need to know about each tire, including their strengths and weaknesses, unique features, and customer feedback. Whether you're cruising in an Equinox LS, LT, or Premier, my top 10 list has you covered.
In-depth Reviews Of The Best Tires For Chevy Equinox in 2023
Below is a list of tire models best suited for Chevy Equinox. I have divided the tire models by category. Depending on your area and requirements, you will find an option that will meet expectations.
All season tires
Pirelli Scorpion AS Plus 3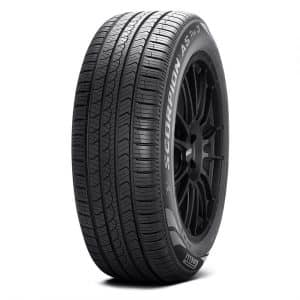 I have always had a particular fondness for Pirelli. The brand consistently delivers tires that meet strict standards for handling and durability. And Pirelli Scorpion AS Plus 3 is no exception!
In my opinion, the Scorpion AS Plus 3 is one of the best options for your Chevy Equinox.
Its overall steering feel is quite impressive when the steering wheel is relatively light compared to its predecessor. The ride quality is also commendable when it keeps quiet and smooth throughout the trip.
In addition to the common advantage, in each different condition, the tire has an impressive performance in its way.
On dry roads, the hard spikes give pretty good steering. The tire also scored well in my dry grip and traction tests.
On wet terrain, the tires are pretty water-resistant. It maintains impressive traction, steering, and braking even in heavy rain conditions.
I also appreciate the durability of this all-season tire. I've traveled over 6,000 miles on rough terrain with the Pirelli Scorpion AS Plus 3.
Surprisingly, the tire is still quite durable and resistant to external impacts. The warranty distance of up to 70,000 miles partly proves its excellent durability.
I am pretty satisfied with its ride feel, handling performance, and durability. The only complaint is that it can't run well on heavy snow. This tire needs more grip on the snow to keep up with the competition.
Pros
Enduring
Smooth and quiet ride.
Good steering on dry roads.
Light, responsive steering.
Handle well on slippery roads.
Cons
Not enough grip on heavy snow.
Continental CrossContact LX25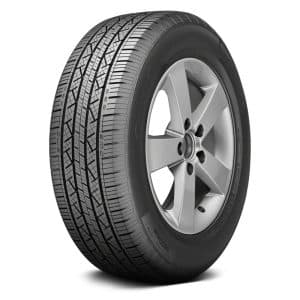 I always recommend Chevy Equinox owners to equip their vehicles with all-season touring tires. And one of the best picks in this category is the Continental CrossContact LX25.
Regardless of my expectations for an all-season tire, the CrossContact LX25 has year-round handling. Its upper power comes from the symmetrical tread pattern and a diverse number of grooves to improve traction on all surfaces.
It responds quickly on dry roads and provides impressive traction even at high speeds. Its braking distance is also the shortest in its class, ensuring a safe ride.
Continental CrossContact LX25 is also reliable for use in the rainy season. When installing this model, I confidently cornered and accelerated in wet conditions.
On typical winter roads, the CrossContact LX25 continues not to disappoint me.
It has good traction on light snow and short braking distances. The tire gives me quite some control when driving on this surface. Every handling is predictable.
Even so, CrossContact LX25 will not be a substitute for specialized winter tires. It also won't earn high marks from performance driving. Because, in my opinion, the tire does not meet vital driving needs.
I also appreciate the ride quality of the Continental Crosscontact LX25. I was barely bothered by the growl of the treads when traveling on good roads.
The ride was also relatively smooth, even if the road surface appeared to have some potholes.
Pros
It can handle light snow.
Quick response on a dry road.
Capable of handling year-round.
Short wet/dry braking distance.
Reliable to use in the rainy season.
Cons
Not the best choice for performance driving.
Firestone Destination LE3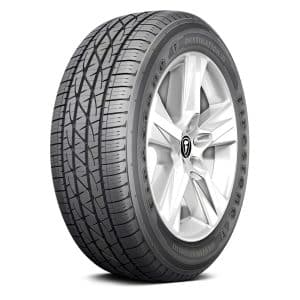 I used to love the Destination LE2, a popular all-season highway tire. And the Firestone Destination LE3 is an upgrade of my favorite tire model.
It still inherits the advantages that made the name of the predecessor version, such as impressive dry grip even when accelerating difficult and stability through slippery turns.
In addition to inheriting the advantages, Firestone Destination LE3 also impressed me with some improvements. Highway tires all season can barely complain about the steering feel that the Firestone tires provide.
This tire model's ability to handle snow is also an outstanding advantage. Compared to its predecessor, I love the LE3's snow performance more.
It has a good grip when accelerating, short stopping distances, and impressive complex corner handling. I don't have to worry about getting stuck in the snow with Firestone tires.
I was also quite pleased with the Firestone Destination LE3's flat road ride quality. It absorbs vibration before it enters the cabin and keeps noise to a minimum.
However, tires began to show weaknesses when crossing roads with many potholes. The trip was not too harsh. But, compared to in-class competitors, the Destination LE3 still seems less refined.
Pros
Sensitivity to driving.
Positive feedback.
Impressive dry grip.
It handles snow pretty well
Cornering is pretty good.
Cons
Poor handling on rough roads.
Goodyear Assurance Maxlife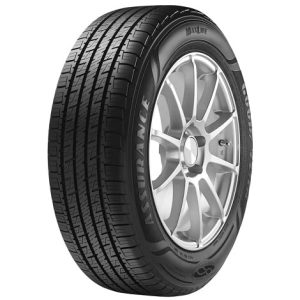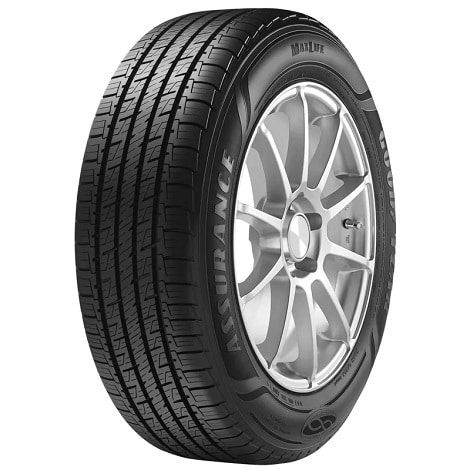 Generally, the more grip a tire has, the easier it is to wear out. Yet, Goodyear Assurance Maxlife is an exception.
It is one of the longest-lasting options in its class. I have traveled over 30,000 miles with Assurance MaxLife. And until now, I do not need to warranty the tire because it is still relatively new, worn evenly, and in good working order.
The manufacturer has equipped Assurance MaxLife with a warranty of up to 85,000 miles. The impressive number above also partly reflects the excellent longevity of this tire model.
But beyond being durable, the Goodyear Assurance Maxlife also impressed me with its year-round handling.
It has a pretty good grip and traction on dry roads. Even when I entered tricky corners at high speed, the tire maintained traction, ensuring safety for the trip.
The wet and slippery conditions also can't make the tire difficult. It has excellent traction and braking, even on par with the most premium options in its class.
I was also pleased with the Assurance MaxLife's light snow performance. It met my expectations for grip and braking distance well. It provides a relatively safe ride even on harsh surfaces such as heavy snow.
Goodyear Assurance Maxlife strikes a pretty good balance between durability and performance.
Unfortunately, it does have some downsides. Some problems with this durable tire are discomfort, low response, and noisier than the competition.
Pros
Enduring.
Handle well on light snow
Impressive traction on dry roads
Short wet braking distances.
Best mileage in the category.
Cons
Need to improve response and steering feel.
All weather tires
Michelin CrossClimate2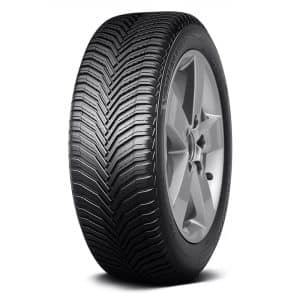 Michelin CrossClimate2 is a tire that balances dry road handling and cold winter grip.
On dry roads, CrossClimate2 conquered me with a vertical grip. Its traction when accelerating on dry roads also impressed me quite a bit. The stopping distance is the shortest in its class, surpassing many competitors.
In theory, tires that handle dry well don't do so well on snow. However, CrossClimate 2 proved otherwise. It offers enough acceleration traction, short stopping distances, and reliable grip.
The snow performance of this all-weather tire is so excellent that you don't need to replace your winter tires if the temperature doesn't drop too low.
CrossClimate 2's wet handling is equally impressive. It allows me to handle flexibly in wet, slippery conditions.
Despite frequent acceleration and cornering in heavy rain, I still have not encountered oversteer or understeer when using CrossClimate 2.
Comfort and refinement are also outstanding advantages. Right on the first test drive, I was conquered by its ability to reduce vibration and noise. Even driving daily on the street, I could barely detect the noise reverberating into the cabin.
Although it has many advantages, the Michelin CrossClimate2 is still not my perfect choice. It's unimpressive in the corners, especially compared to other high-end grand-touring models.
Pros
Cozy and quiet.
Impressive dry grip.
Short braking distance.
Snow handling is pretty excellent.
Cons
Handling in the corners is not too impressive.
Goodyear Assurance WeatherReady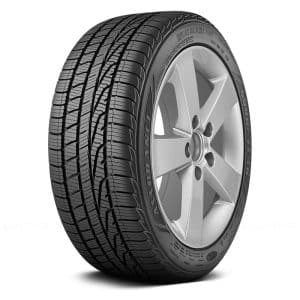 I am impressed with the technologies and innovations that Goodyear has provided to Assurance WeatherReady.
The tire features a specialized tread compound made from soybean oil, an asymmetrical tread pattern, traction grooves that expand as the tire wears, and four circumferential grooves.
The above equipment has maximized its power on many different terrains, including ice and snow. On dry runways, it has a pretty good grip.
Although the cornering ability is not as good as I expected, the dry road handling of Goodyear Assurance WeatherReady makes me quite satisfied.
I also did a lot of testing on its performance on wet and slippery roads. And the results of every test did not disappoint me. It is waterproof, has reasonably reliable braking distance, and has enough bite to get through heavy rain.
Light snow is also the terrain where Goodyear Assurance WeatherReady has a pretty excellent performance. It is not powerful enough to replace specialized winter tires. But it still provides a relatively safe ride on snow and ice.
With Assurance WeatherReady, Goodyear focused on enhancing year-round handling and inadvertently missed out on comfort and refinement.
It has less cushioning, so it won't be as smooth as gravel tires. Tires are also quite noisy, especially when traveling at high speeds.
Pros
Good grip on dry roads.
Much impressive equipment.
Excellent performance on the ice.
Reliable handling on wet roads.
It can be processed all year round.
Cons
Need to improve the quality of the trip.
All terrain tires
Falken Wildpeak A/T Trail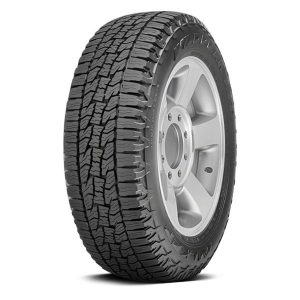 The Chevy Equinox is a small crossover; however, it is still a pretty good choice for off-road driving. To exploit the off-road power of this model, going to the Falken Wildpeak A/T Trail is a good idea.
I have tested this all-terrain tire on rough, muddy, and steep mountain roads. On these harsh terrains, the tire maintains good traction and grip.
The unique tread design allows Wildpeak A/T Trail to remove sand and mud from the surface on its own. As a result, it is better off-road and more durable.
But the Falken Wildpeak A/T Trail isn't simply an ideal tire for off-road driving. It is also an option that meets the needs of basic on-road driving quite well.
Tires handle well in all ordinary street driving situations. In particular, it is pretty excellent when moving on wet, slippery roads. During a long period of use, I did not face water damage, skidding, or losing control.
This all-terrain tire model also received 3PMSF certification. Although not as excellent as specialized winter tires, at least it still ensures the necessary traction and anti-skid on thick snow and thin ice.
My biggest complaint about this tire is its durability. As an all-terrain tire, I had high expectations for the durability of the tread. But, this disadvantage is still acceptable considering the price and the above advantages.
Pros
Capable of handling in winter.
It runs well on dry, wet roads.
Good traction and grip on rough terrain.
Self-removal of sand and gravel on the surface.
Balance performance on the road and off-road.
Cons
Toyo Open Country A/T III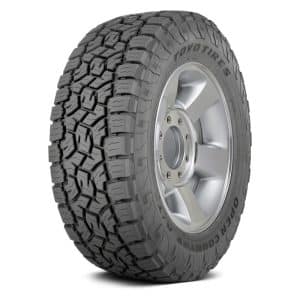 Right in the first test drive, I was surprised by the responsive road handling ability of Toyo Open Country A/T III.
Of course, this all-terrain tire experience cannot be similar to a highway tire. However, compared to its classmate, the Toyo Open Country A/T III's manners on the street are much more excellent.
It meets my daily driving needs quite well. It's not too noisy and relatively smooth when moving on rough terrain. Overall, I am pretty satisfied with the ride quality of Open Country A/T III.
Tires have stability when traveling on dry highways, good waterproofing in heavy rain conditions, and traction on snow.
In some of my tests, it stood out with its short snow braking distance and its ability to handle corners. As an all-terrain tire, it performs best on rough roads.
I appreciate its handling on hard-packing surfaces. It has the traction and stability I need to tackle dirt and gravel confidently.
I've also tested this version on some looser terrain, like shallow mud. And surprisingly, its sturdy spikes were strong enough to keep me from getting stuck on rough terrain.
Its disadvantage is only evident in deep mud. Compared to some all-terrain tires I've used, its maximum traction is much worse.
Pros
Sharp on the street.
Can cross shallow mud.
Meet your daily driving needs.
Good handling on hard packing surfaces.
It can move in winter without being too harsh.
Cons
Not excellent on deep mud.
Winter tires
Vredestein Wintrac Pro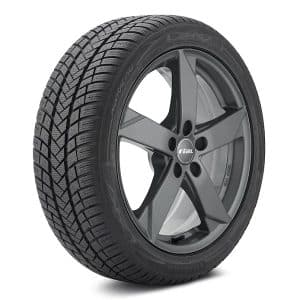 The tires I introduced earlier are capable of handling light snow. However, if you live in an area that gets tens of inches of snow for several months, you won't want to use regular all-weather tires.
Instead, equip the Chevy Equinox with a dedicated winter model like the Vredestein Wintrac Pro.
This version has quite a few differences compared to the options present in the list. Wintrac Pro comes with a compound that is stable in low temperatures. It also features shoulder guards to improve snow handling and a tread curve to eliminate snow on the surface.
The above equipment has made a model that works well in the snow. I can't complain about its braking distance, grip, and traction on typical winter terrain.
Vredestein Wintrac Pro also handles quite reliably on wet roads. The spike design allows it to be more waterproof. Meanwhile, the grooves on the shoulder support pretty well for their responsiveness in everyday driving.
Wintrac Pro is a reasonably reliable winter tire model. It has accompanied me to conquer the harshest winter terrains, providing relatively safe trips.
However, before choosing this one for the Chevy Equinox, you must consider the price. This tire model has a much higher price than the current average.
Pros
Good response.
Good waterproof
Short braking distance.
Handle well on snow.
The tire compound is flexible.
Cons
Not the best option for the budget.
Bridgestone Blizzak DM-V2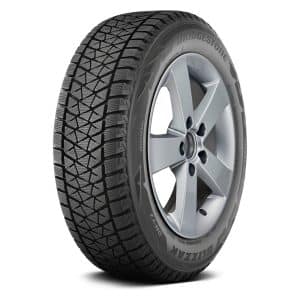 Unpredictably harsh winter roads are pretty dangerous terrain. However, with the Bridgestone Blizzak DM-V2, I have a safe and comfortable winter journey.
I can trust its performance because of its specialized winter compound, ultra-small biting edges, and sturdy block edges.
The Blizzak DM-V2's ice grip is the best in its category. It also excels on snow when it comes to short braking distances, helping to accelerate quickly out of corners.
The experience in harsh winter conditions that Blizzak DM-V2 brings is also quite impressive. It is pretty easy to drive and maintains quite well in the corners. Its driving feeling on the snow reminded me of the experience of driving on wet roads.
In addition to being a specialized tire for winter travel, the Bridgestone Blizzak DM-V2 is also a worthy choice for street driving. Its excellent balance is beneficial for my street driving feel. The response has never had a lag beyond my control.
Tire handling application on dry roads. Unlike many other specialized winter tires, I had no trouble accelerating or braking in these conditions.
The tire also has an impressive performance on wet and slippery roads. Tires are almost glued to the road surface and provide maximum support for acceleration. Overall, this winter tire model's dry and damp performance satisfied me.
The treadwear warranty is the only issue regarding this tire model that bothers me a bit. Bridgestone does not provide a tread mileage warranty, which is a big drawback, especially compared to some competitors.
Pros
Natural in corners.
Short snow brake.
Good acceleration on dry roads.
Impressive snow and ice handling.
Handle well on wet and slippery roads
Cons
It does not come with a treadwear warranty
How to choose best Chevy Equinox tires
After reviewing the 10 best Chevy Equinox tires above, you have come to the choice that is best for you. If so many suggestions make you confused, here are some criteria you can use to narrow down your search.
Warranty
Tire warranty service will protect your rights. Especially when you shop online, the tire model that offers the most warranties will be the most reliable choice.
For tires, the tire tread warranty distance can also be a measure for you to evaluate its life and quality. Therefore, pay attention to this criterion when choosing tires for Chevy Equinox.
Price
Its price is quite diverse. You can find the most advanced tire models with prices up to thousands of dollars/set.
You can also choose tires with more affordable prices. Do not forget to check the offers from the supplier to get a good set of tires at the lowest cost.
Size
Tire sizes will vary depending on your Chevy Equinox version. Please check the vehicle's parameters carefully to determine the correct tire size.
Choosing the right tire size should always be a priority and imperative with the Chevy Equinox. After many tests with the wrong tire models, I noticed a noticeable braking performance, feedback, and traction reduction.
Brand
A reputable brand will provide high-quality, durable products with an impressive tread warranty period. Of course, products from reputable brands will be more expensive. However, the money you spend on these products is entirely worth it.
FAQs
While searching for tires for the Chevy Equinox, I received several questions regarding this topic. Within the limited space of this article, I will help you answer some of the most frequently asked questions.
What tire size fits a Chevy Equinox?
The latest 2020 Chevrolet Equinox tires have several tire size options, including P225/65R17, P225/60R18, and P235 / 50R19. You need to take note that trying to fit a tire with the wrong size is not recommended. It can cause severe damage, such as overturning the rim and chassis after a period of use.
How long do tires last on a Chevy Equinox?
If you are in the habit of driving between 12,000 – 15,000 miles per year, the tires installed on your Chevy Equinox will have a lifespan of about 3 years.
How much are Chevy Equinox tires?
Some tires will have a relatively low price, from $50 – $150/tire. Meanwhile, the more advanced options will cost from $100 – $300/tire.
Does the chevy equinox come with a spare tire?
The short answer is No. The Chevy Equinox does not come with a spare tire. Instead, it comes with a tire inflator.
Conclusion
The Pirelli Scorpion AS Plus 3 is a high-end, durable tire that handles many weather conditions well. The Falken Wildpeak A/T Trail balances well between the on-road and off-road driving experiences.
Meanwhile, Bridgestone Blizzak DM-V2 is a reasonably reliable choice in winter.
Each tire has strengths to suit the Chevy Equinox on different terrains and weather. Whatever your choice, I believe it should be enough for your needs.
I hope you find the best tires for Chevy Equinox and have comfortable and safe driving experiences. Thank you for reading!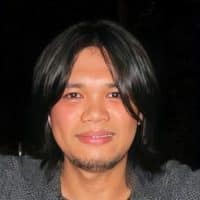 Alvin Reyes has expertise in automotive evaluation. He collaborated with famous newspapers and is still making efforts in tire review for DrivingPress.com