General Grabber X3 Review & Rating for 2023: Conquer Your Terrain
Dry

90%

90%

Wet

90%

90%

Off-road

95%

95%

Snow

90%

90%

Comfort

85%

85%

Noise

85%

85%

Treadwear

90%

90%

Overall

90%

90%
When General tires launched the Grabber X3 in July 2016, they did it with the spirit of "Anywhere is Possible". That trademark sign went a long way in telling potential customers that while they can take this tire anywhere they want, the X3 reserves its best performance for mud-terrain.
The company confirmed these beliefs later on by stating that this tire was built with off-road riders in mind. It has design goals for three off-road conditions – mud, rock, and dirt – and intends to give an extreme performance, hence the use of the term 'X' in its name.
Read on to check out our detailed review of the General Grabber X3.
General Grabber X3 Review: Features
The development of tire took 3 years, 16 patterns, 500-plus hours and 1,000 tires. Additionally, General says that in invited a team of competition drivers during its testing and OE development phase, people who earn a living from off-road vehicles. Did the effort pay off? That's the question whose answer you're going to find here.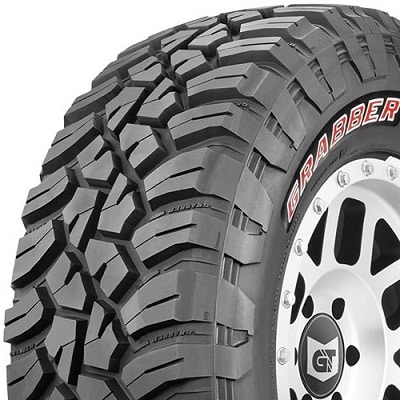 Exclusive General Technologies
Whether it's designing on-road tires or the off-road ones, it has always been the wont of General to provide its models with the latest technologies. Two such technologies have found their way into this tire and neither of them is one which you can do without.
DuraGen Technology: What this technology has done is introducing cuts in the tread of the Grabber X3. These cuts, in turn, provide the tire with a superior road grip, one which you'd most definitely want when venturing out for a ride on slippery surfaces
Acoustic Technology: As a mere glance on its name might tell you, the acoustic technology has something to do with noise suppression. It does that by changing the composition of the tread to make sure that it irritates your ears less.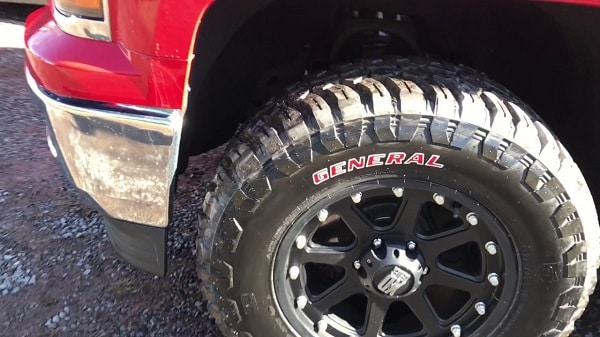 On-road design features
That this is a mud-terrain tire means that you should use it as far away from the dry tarmac as possible. Still, as common sense tells us, that can't always be the case. Which is why General infused the Grabber X3 with these features which would come to your rescue on those bump-free roads.
Siped design: Look closely at the border area of the tread and you might locate the presence of a few full-depth sides. They are there to help this tire in providing better traction on snow-covered or wet pavements.
Multi-pitch pattern: The multi-pitch pattern which the Grabber X3 comes with performs two functions. First, it joins its forces with the Acoustic technology to suppress the noise of this tire as it's moving along the street. Second, it increases the tire's grip on off-road conditions.
Aggressive styling: As you might already know, aggressive styling on any tire doesn't impact their performance one bit. Similar is the case with the Grabber X3 whose bold tread design and red sidewall lettering do little more than raising eyebrows.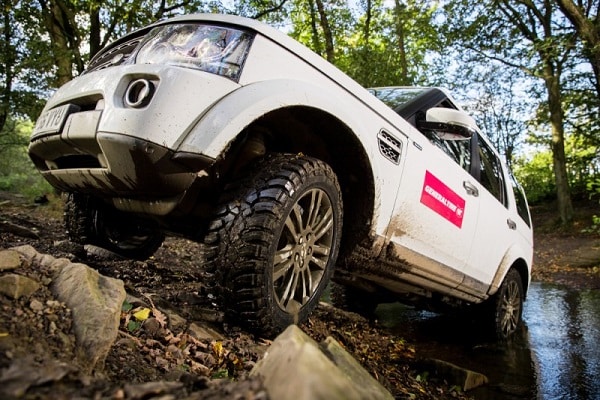 Off-road design features
If you have skipped all the previous paragraphs and jumped right on to this heading, let us assure you that, yes, the Grabber X3 has reserved its best features for off-road performance. All of whom combine to make it one of the best mud-terrain tires on the market.
Open Tread Design: Did you know where the high traction of the X3 in dirt, sand, mud, and gravel comes from? Or why it can self-clean? Your hunch is right; we have the open tread design to thank for all of this, and more.
Alternating shoulder scoops: What these scoops do is open up the surface of the tire. That, in turn, allows the X3 to provide better grip. It also empowers it to break large mud particles which may find their way inside the tire's tread as the X3 tramples down the mud.
Block chambers and traction notches: To save you from technical talk, both these design elements are there to help the X3 provide better grip and stability on loose dirt.
Stone Bumpers: One of the most exciting design features of the X3, stone bumpers have the duty to release any debris and stone from the tire's inner side to minimize stone drilling. They are also responsible for popping out the rocks before they can puncture the tire.
Sidewall protection lugs: Made of a robust compound, the sidewall lugs supplement your tire's performance by providing it with excellent adhesion. Also, they increase the X3's chip and cut resistance to ensure a relatively smooth side on rocky terrains.
General Grabber X3 Review: Test Drive
One can never negate that when it comes to on-track performance, features of a tire do play an important part. So how did the features of the General Grabber X3 made their presence felt when we took it out for a test drive? Let's check out.
Although we don't know whether General made this decision deliberately or not, the omission of technologies like Comfort Balance and StabiliTread, which you can find in other off-road General tires, made us feel that this tire won't be as durable as, say, the Grabber AT2.
Multiple months and 40,000 miles later, we're happy to report that we were wrong. What this tire lacks in technologies it more than makes up for in its Treadwear. Even after driving it up and down the country, we still feel that this tire has 5,000 miles or more in its locker before it would need replacement.
Still, there's one thing which we found lacking here. Most off-road General tires come with either the Visual Alignment Indicator (VAM) or Tread Wear Indicator (TWI) to let you know in advance when it's time to replace the tire. Their absence here means that you've to rely on your own decision-making skills.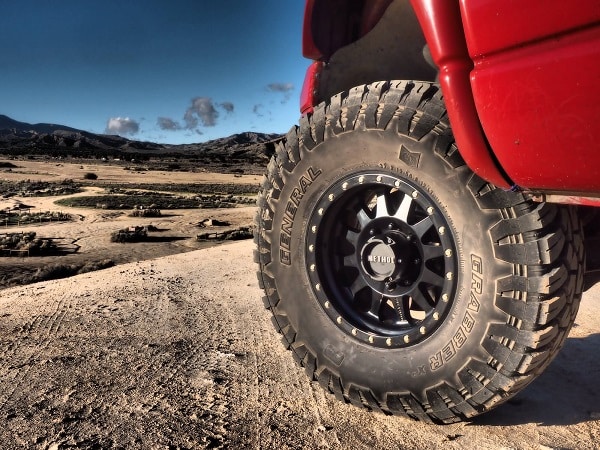 The Grabber X3 is one of those rare multi-terrain tires which hasn't put all its eggs in the off-road basket. Granted, we know that it delivers its best performance when far away from the dry tarmac. Yet, as its off-road features mentioned above suggest, it has something to offer for the city crowd as well.
Take its multi-pitch pattern, for instance. Its true purpose is still to allow the X3 to provide better grip and traction on rocky terrains. Yet, even if not deliberately, the pattern joins its forces with this model's acoustic technology to tone down its noise level on paved terrains as well.
That being said, we don't recommend that you use this tire for a 1000-mile road trip. Not only is its tread design unsuitable for such a long trip but its grip on dry tarmac is also questionable. So it would be better if you use it on the dry tarmac for only as long as is extremely necessary.
There were three off-road conditions on which we tested this tire's performance. They included dirt, mud, and rocky terrain. Starting with a glance on how it performed at dirt, the alternating shoulder scoops of the X3 open up to increase the surface area of the tire, thereby increasing its dirt grip.
Similar is the case with traction notches and block chambers which provide better grip on loose dirt. On mud, meanwhile, its open-tread design comes to the rescue. It does that by increasing the traction of the tire on all surfaces and allowing it to self-clean, thereby giving you one less thing to worry about
The sidewall protection legs and stone bumpers, though, make their presence felt on rocky terrains. The former, being an adhesive compound, increases the chip and cut resistance of the tire to let it easily handle rocky terrains. Stone bumpers, on the other hand, minimize stone drilling and the danger of rocks puncturing the tire by popping out the rocks as soon as they come in.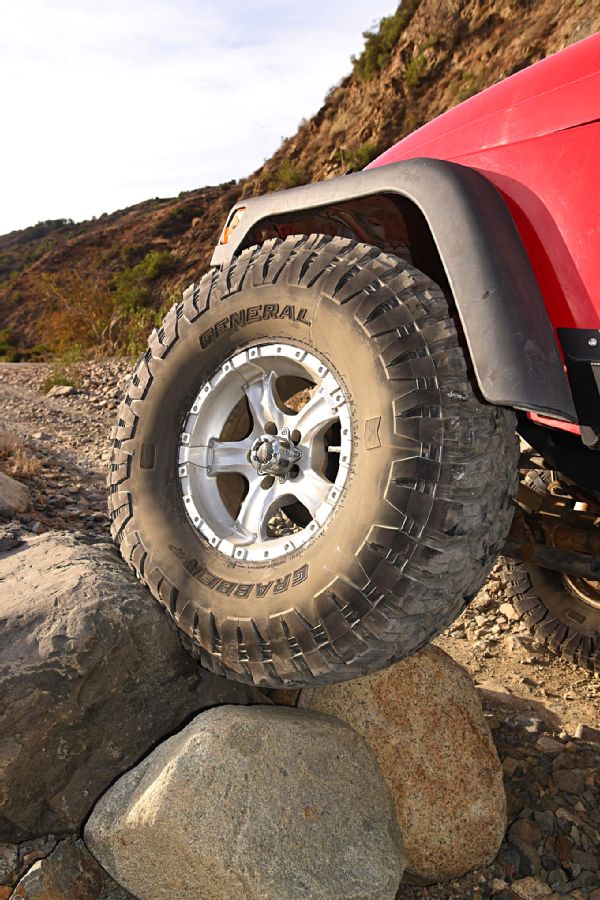 Wet Performance and Snow & Ice
Since it isn't a dedicated tire for winter conditions, the X3 only gives one feature to deal with wet, snow and ice-capped roads. That is the full-depth sipes which you see on all sides of the tread. While their depth allows the sipes to provide increased traction on wet surfaces, they are nowhere near enough to handle the slickness of icy roads.
As you might guess for a tire which isn't designed to be driven on dry tarmac, the Grabber X3 isn't the quietest tire on the market. It won't make your ears bleed with its noise, for sure, but don't expect either the acoustic technology or the multi-pitch pattern to make this tire super quiet. Despite that, and due to all of its features mentioned earlier, this tire is as comfortable as you get for off-road conditions.
General Grabber X3 Review: Conclusion
Summarizing everything we said earlier, the General Grabber X3 is one of the best tires for rocky, mud and loose dirt conditions. It has got enough features to protect itself, last longer and make your journey off the highway a memorable one.
Pros
Excellent off-road stability
Durable and long shelf-life

Tremendous grip on mud and loose dirt
Cons
Not the best for dry tarmac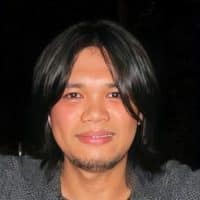 Alvin Reyes has expertise in automotive evaluation. He collaborated with famous newspapers and is still making efforts in tire review for DrivingPress.com