Continental ProContact Tires Review & Rating
Continental ProContact tires are standard equipment in modern cars, minivans, and crossover SUVs. All versions of the Continential ProContact are all-season touring tires designed for everyday driving. However, each version is different from the rest. The Continental ProContact is available in TX, GX, and RX models. In this review of the ProContact tires, we tested each version to find the difference between each model.
Continental Offers & Rebates AVAILABLE
DiscountTire.com: Receive up to $50 in Prepaid Mastercards by Mail with your purchase of tires and/or wheels with your Discount Tire credit card.
Valid thu 04/30/19 >> Learn more
TireRack.com: 6-Month Special Financing† on Any Tire Rack Purchase of $250 or More
 Valid thru 05/15/19 >> Learn more
Continental ProContact TX review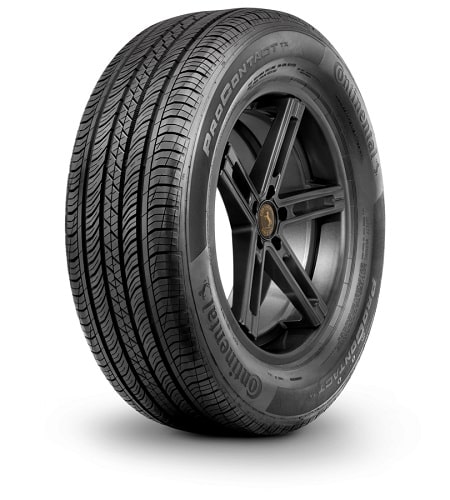 The Continental ProContact TX is original equipment on the Jeep Grand Cherokee Limited but the side range of sizes also makes them perfect for sedans and sports coupes. The ProContact TX is designed to achieve the best fuel economy while providing a silent and comfortable ride.
The tire is equipped with a complex multidirectional tread design with balanced sipe-to-block ratios to offer relentless wet or dry traction even over light snow. It also comes with an undertread compound and a blocking rib to provide an additional layer against shock while insulating the vehicle from tire roar or road noise. This tire is also M+S rated so it can handle some mud, loose dirt, and snow/ice without losing traction.
We got the chance to test the Continental ProContact TX on a 2016 Mini Countryman. We know that car had a rather stiff and firm ride, but the vehicle managed to ride more softly and gracefully when fitted with the ProContact TX tires. We also drove a 2017 Jeep Compass fitted with the same tires and we were able to tackle some mud and snow without upgrading to a proper set of all-terrain tires.
What makes these tires special is the excellent fuel economy and whisper-silent ride. The treadwear was also higher than average considering the low price of the tires. If you need a set of all-season touring tires that offer a better balance of comfort, fuel economy, and all-weather performance, the Continental ProContact TX is an excellent choice.
Continental ProContact GX review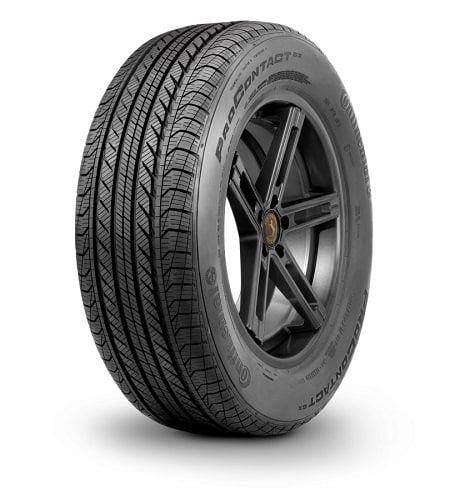 Like the rest of the ProContact range of tires from Continental, the ProContact GX is also engineered to deliver outstanding fuel economy, better highway comfort, and strong grip and traction in all-season driving. The Continental ProContact GX is standard equipment on the popular Subaru Outback and Legacy saloon. It is equipped with an innovative tread pattern that channels water away from the face of the tread to enhance wet and snow traction. The tire also comes with interlocking sipes and stronger shoulders to further improve stability and steering feel. The central tread rib further improves steering response while significantly reducing road noise.
We tested the Continental ProContact GX on a 2012 Honda CR-V. The tires were smooth as silk and quiet as a mouse. Wet traction was also better than lesser known all-season tires from China. Traction over dry tarmac was only average as the tires will frequently squirm for grip if you push the pedal to the metal. The ProContact GX also felt at home over mild snow but anything deeper than two or three inches of snow will require a better set of all-terrain or winter tires.
The biggest selling points of the Continental ProContact GX are outstanding fuel economy, good all-season traction, and a silent ride. It would be better if the tires offered higher levels of grip for better and more responsive handling, but who are we to complain given the affordable price?
One major complaint is the tread wear. The ProContact GX tires on our test vehicle were relatively new, but the tread was showing signs of premature wear. We even had the alignment checked to make sure the suspension or steering were adjusted according to factory specs, but everything looked fine.
Continental ProContact RX SSR review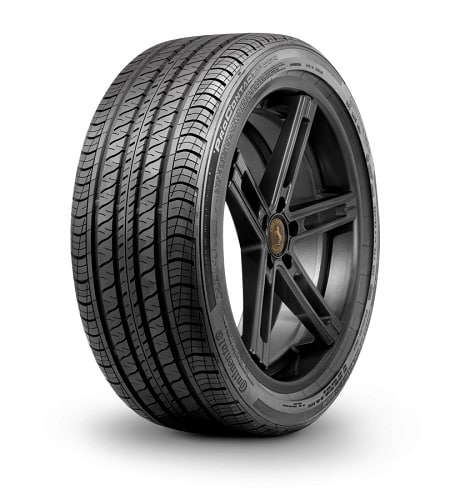 The Continental ProContact RX is the sportiest of the trio. If the TX and the GC are geared more towards fuel economy, the ProContact RX offers better all-season traction and grip without compromising fuel economy and driving comfort. This tire is standard equipment on Volkswagen, Cadillac, and certain Dodge vehicles.
The Continental ProContact RX SSR is an all-season run-flat tire designed for sedans, coupes, and small crossover vehicles. The tires are capable of run-flat mobility up to 50 miles at a speed of 50 mph after a puncture or loss of air pressure. The stiffer sidewall construction of the ProContact RX SSR enables the tire to continue rolling in the absence of air pressure but this contributes to a slightly stiffer and less comfortable ride.
Nitpicking aside, we were able to spend some time behind the wheel of a 2015 Cadillac ATS coupe fitted with the Continental ProContact RX tires. The ride was indeed a bit on the firmer side but the tires offered marvelous amounts of grip on dry and wet roads. The unique tread design was able to offer advanced levels of traction even over snowy roads. However, we found out the ProContact TX and GX are better equipped to handle ice and snow, but the Rx trumps the other two in terms of all-season handling and grip.
The Continental ProContact RX SSR tires are the most expensive in this list but nothing beats the security and convenience of a proper set of run flat tires. If your vehicle came with run flats from the factory and you are looking to buy a new set with the same capabilities, take a closer look at the ProContact RX SSR.
This review will hopefully shed some light on the differences between the Continental ProContact TX, GX, and RX tires. All of them were designed to excel in all-season driving and deliver better fuel economy without compromising ride silence and road comfort. If you need OEM grade tires for your car, minivan, or crossover, the ProContact series of tires from Continental should be on top of your list.