Toyota Tundra is a car specially made for adventure lovers. We need to equip it with the right quality tires to realize the dream trip.
When choosing the right tire, you need to determine the product's features and suitability for its intended use in order to make the right decision.
I have compiled the best tires for Toyota Tundra to make it easier for you when choosing. Each product will have a distinct strength to suit your requirements.
On the other hand, I have also developed specific guides for product selection in this article to help you quickly find the preferred tire for your car.
The Best Tires For Toyota Tundra Reviews Of 2023
Toyota Tundra is a high-class car developed in 1999 by Japanese manufacturers. It is the ideal nomination for the category of excellent consumer pickup trucks.
With the advancement in technology, the Toyota Tundra has been improved to be more innovative, have a good-looking appearance, and become a favorite car line. Here are the best Toyota Tundra tires that bring a great experience.
BFGoodrich All-Terrain T/A KO2
Best for Overall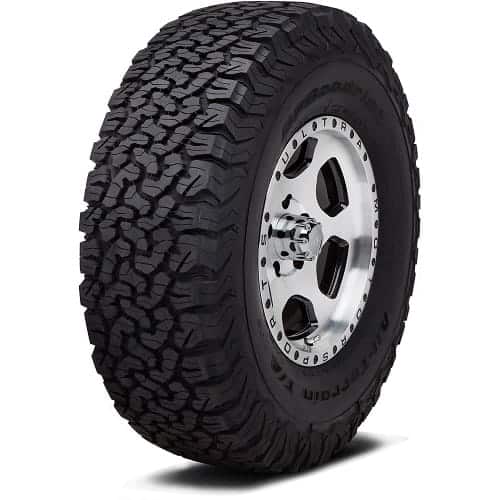 Specification
Size: LT275/65R18123/120R E
Maximum payload: 3415 lbs
Weight: 55 lbs
Owning tires compatible with all different types of terrain is great for creating exciting and exciting adventures. And the BFGoodrich All-Terrain T/A KO2 is my perfect recommendation for you in this category.
It was the first all-terrain tire to hit the market and became the highest-rated consumer product. This tire can turn any vehicle into an excellent all-terrain car. This advantage develops from the entire structure and high-quality materials of the product.
In terms of texture, the BFGoodrich All-Terrain T/A KO2 is unique because of its deep multi-groove pattern that allows for adequate traction. Moreover, they can cope with harsh winter weather, or even in the snow it also fulfills its role well.
Along with that is the interwoven tread design that contributes to improved traction and comprehensive contact on many different surfaces. The tire shoulder helps bring accuracy and speed to the cornering phase.
BFGoodrich All-Terrain T/A KO2 also makes users surprised by its high-quality materials. Tires with chip and cutting compounds provide 2X longer service life than previous generations. On the other hand, it also promotes the protection of products from adverse impacts from the external environment.
In particular, sustainable reinforcement by high-grade steel belts inside the tire increases the product's durability. However, I am not satisfied with is their price.
Pros
Suitable for all types of terrain
Outstanding traction ability
Comfortable and quiet
Great handling
Compliant with extreme weather conditions
Cons
Bottom line
BFGoodrich All-Terrain T/A KO2 will realize your desire to experience on all roads with different types of terrain. In addition, it also provides you with stable handling and superior durability.
Bridgestone Dueler A/T RH-S
Best for Travel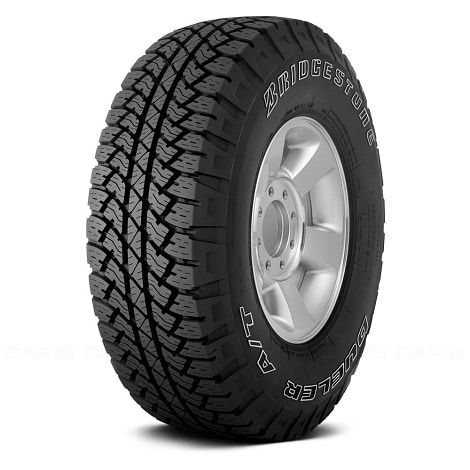 Specification
Size: 255/70R18113T SL
Maximum payload: 2535 lbs
Weight: 40 lbs
It's haunting if you have to travel long distances on poor quality and noisy tires. They can affect your ability to drive and operate a vehicle correctly, thereby endangering you and those around you.
To solve this problem, I would like to introduce the Bridgestone Dueler A/T RH-S product, a tire exclusively for travel that can ensure safety and provide a smooth experience and meaning.
That characteristic derives from many different aspects of the product, including design and materials. This tire model has a simple design with two deep parallel grooves combined with symmetrical treads that allow enhanced handling power on many different types of terrain.
The product's enhanced off-road capabilities and versatility can help to complement traction and result in more efficient tire-to-road contact. With all the advantages of the tire's design, you can move smoothly on the snow.
The longevity of the Bridgestone Dueler A/T RH-S tire is also one of the ideal highlights that you need to pay attention to. It is to give you perfect running time. On average, you can prolong the life of your tires by 4-5 years or even more if you take care of them regularly.
They are made from next-generation compounds to ensure you have a meaningful trip in terms of material construction. The product's unique combination provides effective wear resistance.
Besides outstanding strengths, at Bridgestone, there are still some other limitations. Typical is the ability to handle strongly separated terrain. Specifically, this tire is only suitable for light terrain; it is impractical and unsafe to use it for intense landscape.
Pros
Best touring tires
Stronger brakes
Correct cornering
Light and quiet
Lasting
Cons
Not commensurate with strong terrain
Bottom line
You can regret it if you ignore this impressive tire model. Not only taking on the role of a good travel tire, but Bridgestone also facilitates you to have valuable and authentic experiences.
Continental TerrainContact A/T
Best for Smooth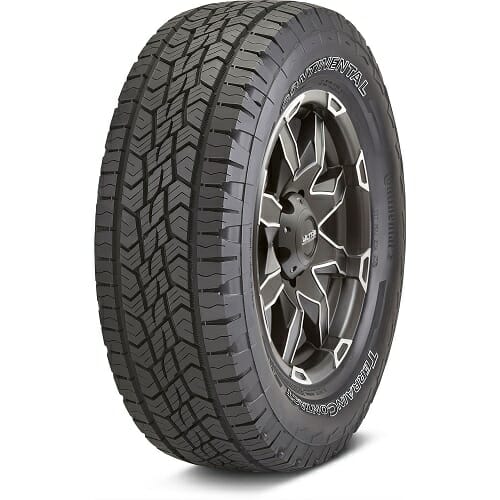 Specification
Size: 255/70R18113T SL
Maximum payload: 2535 lbs
Weight: 40 lbs
The Continental TerrainContact A/T tires are a great example of how smooth and comfortable the highway can be. This model, with many deep grooves and impressive treads, was explicitly for drivers of pickup trucks, Jeeps, or SUVs.
On the other hand, it also helps to ensure standard traction and outstanding water drainage that allows you to move smoothly in wet environments. The tire shoulder has a broader design to facilitate quick cornering and braking phases.
Going deeper into the tire's material, I was impressed with its premium finish. The tire compound is a harmonious combination of a fine blend and a silane additive that creates a stable and balanced structure to serve the maximum needs of consumers. At the same time, it helps to increase the usage time.
Specifically, you can operate this tire model for at least five years, and if you are careful and regularly take care of them, this number can increase many times.
It stands out in design and materials, but it is also ideal for giving you many fascinating experiences in terms of features alone.
This innovative tire model is improved compared to previous generations, allowing users to move on different terrains. However, their cost is relatively high. And that makes many customers unable to access the product.
Pros
Gentle, quiet
Good traction ability
Solid design
Stable handling
Warranty
Cons
The price is not suitable
Bottom line
I recommend using this tire for meaningful trips. In addition to providing maximum support for your journey, they can also increase your excitement with sharp orientation and easy steering.
Michelin LTX M/S2
Best for Tread Design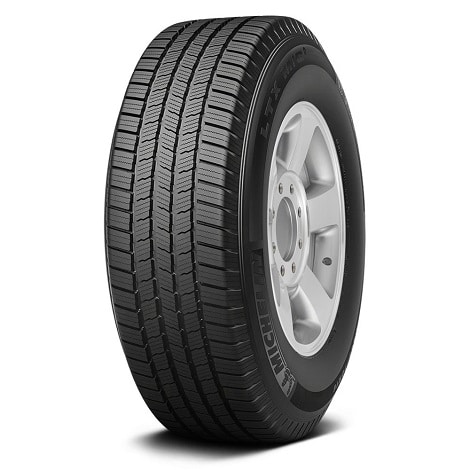 Specification
Size: P255/70R18112T SL
Maximum payload: 2469 lbs
Weight: 38 lbs
In most of my investigations, I usually pay little attention to the tire's design because I don't think it makes too much difference. But with the Michelin LTX M/S2, I had to change my mind.
This tire has the most straightforward and impressive tread design in my collection. Four deep parallel grooves arrange the tire pattern with symmetrical treads that increase traction and stability for your vehicle on all different surfaces. The tire shoulder is broader and more comfortable for you to make impressive cornering phases easily.
In more detail on the product's performance, I am genuinely impressed with the strength and versatility of this tire model. Plug it into your device and get going; it can take you everywhere you want to go.
This tire is made from high-quality rubber combined with silica to make your tire more durable in terms of materials. The practical anti-wear feature is also evident through this feature.
The most prominent advantage of this tire model is its warranty. The product supplier has been extremely generous when spending six years solving tire problems during use. Therefore, users can be comfortable with this issue.
With different sides, the Michelin LTX M/S2 has a distinct performance. However, its performance in each sleet is not good. Seeing that performance with my own eyes, I was really disappointed.
Pros
Impressive tread design
Comfortable and quiet ride
Long lifespan
Perfect traction
Fast and accurate handling
Cons
Poor performance in sleet
Bottom line
Mighty in performance and impressive in design is what Michelin LTX M/S2 owns. Ignoring this tire model, you will be hard-pressed to find an alternative.
Goodyear Wrangler All-Terrain Adventure With Kevlar
Best for all-purpose tires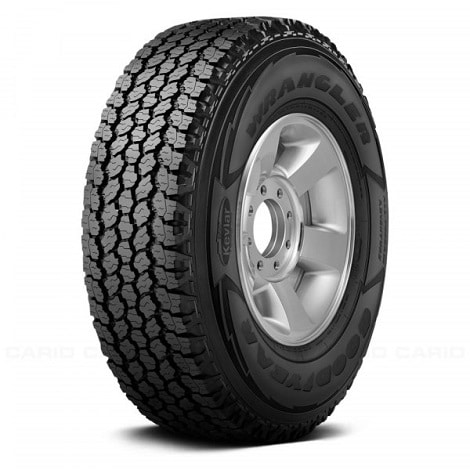 Specification
Size: 255/70R18113T SL
Maximum payload: 2535 lbs
Weight: 37 lbs
If you are looking for the best multi-purpose tire for your Toyota Tundra, then the Goodyear Wrangler All-Terrain Adventure with Kevlar is not to be missed. Its versatility is comprehensive in many aspects, including textures, materials, or features.
The tire has a different, independent design with long deep grooves and flexible treads that create a solid structure. Impressive traction and effective water repellency are typical features that evolved from the product's unique design.
Compared with previous versions, Goodyear stands out more by its innovative and novel design and the exclusive materials used.
This tire model comes with a compound that resists tearing for the whole season and protects the tire from the adverse effects of the environment. Thereby, it helps to prolong the life of the tires.
Along with the previous impressive advantages is the warranty that satisfies the expectations from users. Accordingly, six years is the manufacturer's warranty period for this tire model.
Every ride will be more enjoyable if the tires are smooth and light. However, in this tire model, they do not have that ability. Their operation on the highway is relatively poor, often with noise.
Although it is not too big, it is enough to distract and distract you. Practically experiencing this feature, I hope the supplier needs to overcome this situation.
Pros
The best all-purpose tire
Powerful wet brake
The grip on any terrain
Quick handling
Lasting
Cons
Bottom line
The Goodyear Wrangler All-Terrain Adventure with Kevlar is a good tire you should be concerned about. They can give you stable and precise handling and provide long-lasting use for all your needs.
Goodyear Wrangler Trailrunner A/T
Best for Sustainability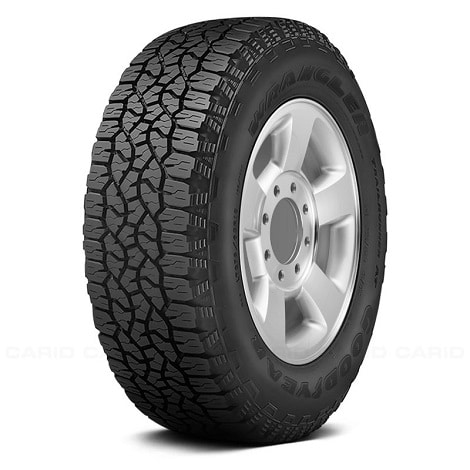 Specification
Size: 255/70R18113T SL
Maximum payload: 2535 lbs
Weight: 36 lbs
The previous Goodyear brother stands out for his versatility and perfection; this version is the epitome of sustainability and longevity.
On average, you can operate this tire model for about 7-8 years. Of course, when you are careful and take good care of it, this number will be even more.
I was attracted by its elegant yet powerful design. There are grooves with a flexible layout for long runs and multi-angle sipes edges to enhance traction in winter and all different types of terrain. While it does, the tread is for more extended wear and comfort on the ice.
In particular, the internal construction comes with a double steel belt with nylon reinforcement spirally wound on a double-layer polyester body to combine strength and durability with a smooth ride. At the same time, it also helps to bring comfort and peace to each of your long-term trips.
All features of this tire model are commensurate with the needs of consumers. Yet, with the current price, it does not match. With my long experience, I think the provider needs to have a lower adjustment decision to reach many users.
Pros
Long-Lasting
Comfortable ride
Quiet, gentle
Solid design
Warranty
Cons
Bottom line
It's hard to find a tire as durable as the Goodyear Wrangler Trailrunner A/T. In addition, it also brings peace to every ride with the ability to accurately and quickly handle every movement for you.
Toyo Open Country A/T III
Best for Powerful Performance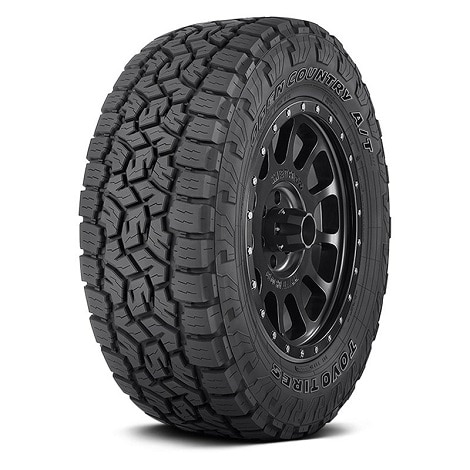 Specification
Size: LT275/65R18123/120S E
Maximum payload: 3415 lbs
Weight: 50 lbs
The Toyo Open Country A/T III tire is the perfect performance addition to Toyo's all-terrain tire collection. We can see the difference in the tire's development pattern with the naked eye.
It has a unique design with a stable and flexible tread system with 50% use on the road and 50% on the off road. This impressive model makes them the best performing product in my collection.
Practical experience of the product's traction, I am delighted with how they perform on dry and wet surfaces. The traction is not too intense to cause discomfort to you, and they are gentle, precise, and decisive to ensure your safety and those around you. When on ice, they do even better than you would expect.
The super-perfect grip at Toyo Open Country A/T III is also impressive traction. Thanks to the deep tread and grooves, it provides excellent and effective traction. Even if you walk on gravel, mud, or sand, this feature can be powerful.
However, they are not very quiet at your every move. They are noisier than any other tire in the collection.
Pros
Great performance
Outstanding traction on soil and gravel
The strong and durable compound
Warranty
Reasonable price
Cons
Bottom line
From my practical experience with this tire model, I sincerely recommend you to buy and use them. They are perfect and can meet all your usage requirements or even more.
Sumitomo Encounter AT
Best for Brake Force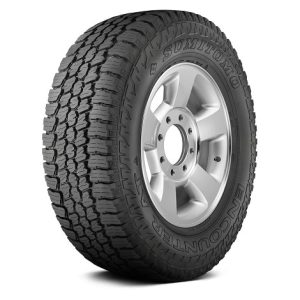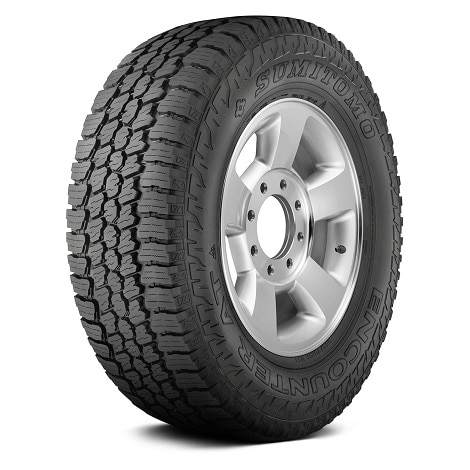 Specification
Size: 255/70R18113T SL
Maximum payload: 2535 lbs
Weight: 46 lbs
Traveling in cars that use poor quality tires and cannot brake correctly is a challenge for you. They pose a danger to you and those around you.
To overcome this situation, I recommend using the Sumitomo Encounter AT, and it is a tire with solid braking force on wet and slippery surfaces.
Moreover, this standard tire is also an excellent suggestion for excellent traction. Specifically, with a flexible arrangement of deep grooves and treads that allow for the perfect grip for you to have many safe trips on many different surfaces.
The deep groove circumference is wide enough to effectively absorb water from the contact patch for a firm grip in the presence of standing water. In addition, this innovative tire is also distinguished by its impressive traction.
Taking a closer look at the internal structure of the products, I was surprised by their diverse design styles. It consists of a sidewall 2 polyester underneath two wide steel belts that enhance stability and ride comfort.
Regarding the warranty, I am not very satisfied because five years is short for such a tire.
Pros
Precision brake
Great traction
Long lifespan
Take the delicate highway
Reasonable price
Cons
Warranty is not compatible
Bottom line
Sumitomo Encounter AT is great for me, and I'm sure it will satisfy you. Using this tire model, you will have a great experience.
How To Choose The Best Tires For Toyota Tundra?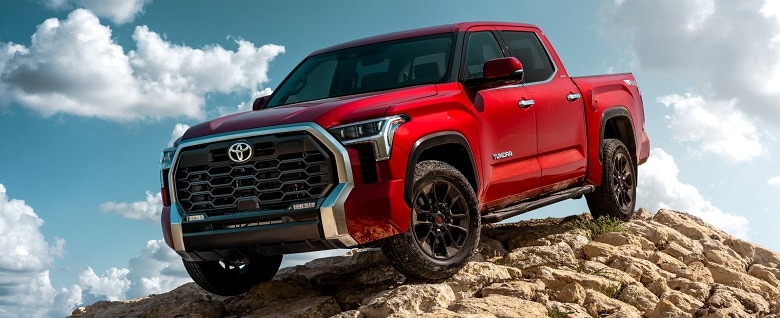 Check out some of my guidelines to choose the suitable tire model for you!
Size
Each tire has a different size, so you can freely choose to be compatible with your Toyota Tundra car. If you are not sure what size you need, you can refer to the numbers from old tires or contact a tire salesperson. They will advise and answer your specific concerns.
Noise
You need quality tires to give you a smooth, gentle ride. Less reputable tire models can cause noise to distract you and affect your safety.
If you have not found quality products, you can check out my collection. The tires I bring are comfortable and peaceful.
Weather
Tires that can adapt to various weather conditions are excellent for you. They can give you many comfortable and valuable trips. Moreover, they also contribute to ensuring the safety of both you and those around you.
Safe
You are the driver of your vehicle, so it is essential to consider choosing a safe tire. If you are driving on poor-quality tires, it would be extremely dangerous.
In addition, to ensure the safety of yourself and the community, you also need to check your vehicle regularly. Timely fixing tire problems is an effective solution to help protect yourself.
FAQs
What is the giant tire I can put on a Toyota Tundra?
The giant tire you can fit on an original Toyota Tundra without a lifter is 275/70 R16 on 16-inch rims on the first generation Tundra. On 17-inch rims, you can mount 265/70 R17 or 275/65 R17.
Is the Toyota Tundra the most reliable truck?
Yes, the Toyota Tundra is the most reliable full-size truck you can buy.  According to Pickup Truck Talk, the Tundra excels with Consumer Reports' predicted high-reliability rating. There are few complaints listed on the National Highway Traffic Safety Administration (NHTSA).
What tires come with Tundra TRD Pro?
Tundra SR5, TRD Pro, and TRD Off-Road equipped with 17-inch wheels and 265/70R17 tires. The OE tires are Firestone Winterforce 2 UV or Goodyear Wrangler AT/S. The Limited Edition comes with 20-inch wheels and P245/60R20 tires.
Conclusion
Through the information about the best tires for Toyota Tundra above, we hope to help you soon choose the suitable tire model for your requirements.
Before making a final decision, you need to consider the wheel size. Only then will you successfully operate your car to bring many valuable trips. Check out the gallery, and don't forget to leave feedback!
Thank you for reading!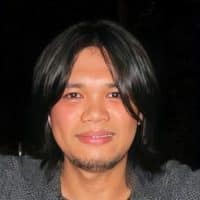 Alvin Reyes has expertise in automotive evaluation. He collaborated with famous newspapers and is still making efforts in tire review for DrivingPress.com