Maxxis Aggressor Review & Rating for 2023
Cornering

85%

85%

Pedaling Traction

85%

85%

Braking Traction

75%

75%

Rolling Resistance

85%

85%

Longevity

85%

85%

Installation

85%

85%

Overall

84%

84%
Even though it was initially billed as a bit of a do-it-all tire, the Maxxis Aggressor has gained fame as a rear option, especially after legendary biker Richie Rude won a number of victories on Enduro World Series circuit by running this tire on the rear of his bike.
Such overnight fame has allowed this tire to find support from hitherto unexpected quarters. While it was previously found useful by only those riders who wanted to ride at higher speeds in drier conditions, of late, even those who want more traction out in the open have become converts.
Little wonder, then, that Maxxis has moved in to cash in on its success. At the time of its release, it was only available as a 2.3'' model. Currently, however, you can also find it in the 2.5'' wide-trail version – whose diameter is extended outwards to make space for the larger casing.
Read on to find out how the Maxxis Aggressor fared in our review.
When it comes to weight, durability, rolling resistance and balancing traction, our review of the Maxxis Aggressor tire found it capable of hitting the bull's eye in pretty much all of these areas. Also, while it could do a lot of things, the Aggressor reserves its best performance when used in dry conditions as a rear tire.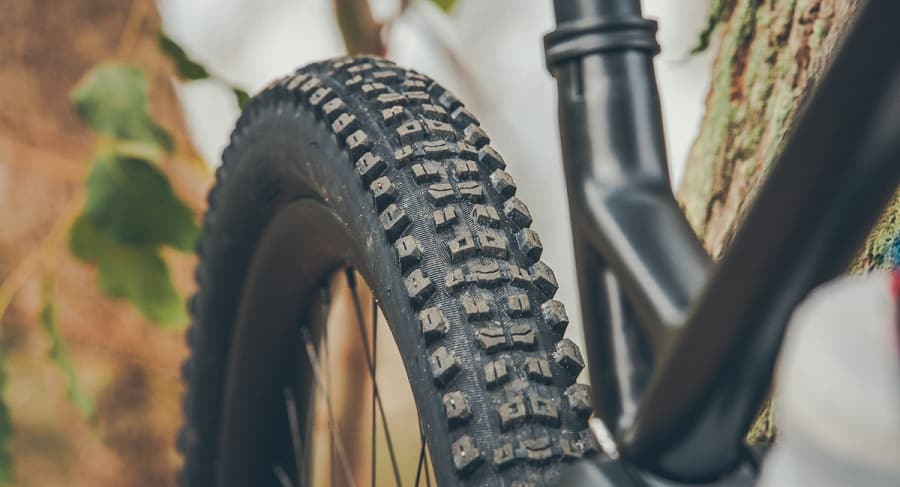 Installation
The Maxxis Aggressor is one of those sweet tires which won't trouble you one bit with their installation. All you'd need to have to mount this tire is some assistance from a tire lever and a supple bead. Even if you don't have a booster nearby, you can inflate it using a floor pump. Though it should be obvious that you'd have to spend more time (and effort) if you go that way.
Also, because it's not an ultra-wide tire, mounting the aggressor on say 35mm Wheel Works rims would give it a very square shape. Conversely, if you have narrow 24mm XT rims on your model – the sort of which one normally sees on trail bikes, then this tire would give a more circular shape.
Front or rear?
One cannot fathom why Maxxis doesn't list the specific position of the Aggressor. Most tire manufacturers these days list their products as either front or rear-specific. Maxxis, on the contrary, leaves it to the genius of its users to determine where they want to use this model.
If you ask us, we recommend using this tire as a rear-option. That's because when you take it out back, the closely spaced tread allows the Aggressor to roll quickly and brake well for a burly tire, with the tread breaks holding their shape and not putting to much pressure on their leading edge.
On dry tarmac, the Aggressor will be able to hold its own as a front tire. However, the moment things start to get dusty or loose, the (lack of) penetration provided by this tire won't inspire confidence in the rider. Throw into the mix the rigid tread blocks and the robust construction of the casing and the sidewalls, and it gets easier to see why most people use the Aggressor as a rear option.
Best use of Aggressor?
As a mere glance at its specifications would reveal, the Aggressor is an all-around trail tire. It means that its applications range from enduro racing on one extreme to listless XC trail rides, on the other. Also, if you are one of those riders who like to be in control when descending downhill, the enhanced cornering and traction of this tire would make it a worth-having option.
One thing which you may want to notice is that the Aggressor is available in two casings: EXO and DD. While the former is suitable for paved tracks and dry tarmac, the latter is capable of handling everything the most difficult of tracks can throw at it.
Consequently, if you don't want to repeat our mistake (explained in the next section), make sure that that it should be the conditions of your potential trail – and not your gut feeling – which should decide what type of casing you should get.  
Durability
Since we used the EXO casing of this tire during our testing phase, we are happy to report that after riding it for quite a miles, the Aggressor showed nothing more than a few minor scuffs on its sidewalls. In our hands, we found it to be more robust and beefier than most.
Also, while we did suffer a puncture during the riding phase, the fault was entirely the author. Maxxis has clearly mentioned that if you're riding on rough trails, it is the DD casing (which we didn't use) and not the EXO casing (which we did) that should be the go-to choice.
Away from the testing phase, we rode the 29er version of this tire of a trail feature that ended by forcing the rider to stop things by skidding. After doing the same stunt about 5 times, there was nothing on the wear that could indicate that it was even close to reaching its limit.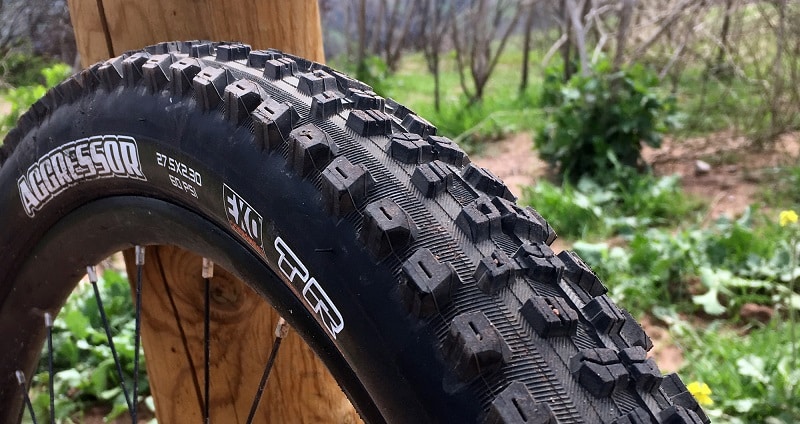 Cornering
Since this tire has rubbed microtread and tight knob spacing, it shouldn't be surprising to know that you don't have to drive it hard into corners. Unlike the majority of rear tires that we have tested, this one doesn't require you to discover and maintain its 'sweet spot' for perfect cornering.
Instead, when you are riding the Aggressor, you'd always feel it provides a consistent and predictable amount of cornering traction. And it does that while paying little regard to how far you decide to lean while turning a corner, which is a great feature to have.
What's more, it doesn't even require you to fully commit yourselves while turning a corner. If you decide to corner aggressively, the siped knobs in its transitional zone come into play to provide a tremendous grip. That means that you can say goodbye to that feeling of being in "no man's land".
Pedal traction
What makes the Aggressor such an excellent cornering tire also helps reinforce its reputation in the pedal traction department. It does that with a unique placement of center knobs on its base, whereas all the other rear-specific tires you see tend to be smooth between the knobs.
While this feature won't provide much traction on dry tarmac, it will add traction over slippery surfaces, wet roots, and rocks. Placed in the middle of the side knobs, these interconnected center knobs flatten the tire's profile, thereby improving the tire's contact with the ground and boosting its traction.
Such an arrangement, while coming handy on most surfaces, reserves its best performance on dry and loose soils. These surfaces are never traction's best friend but with its improved contact with the ground, you'd find the Aggressor particularly adept on such difficult terrains.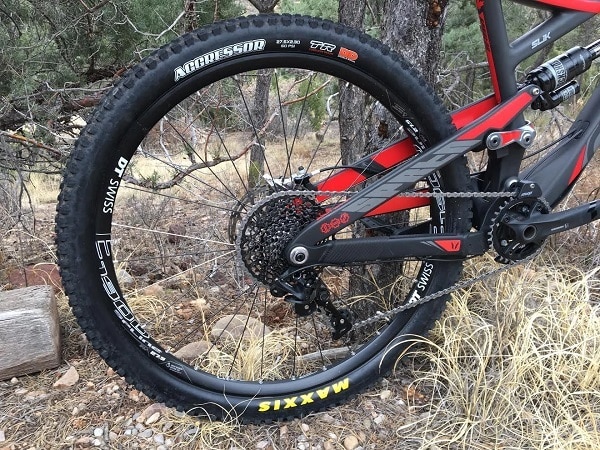 Braking traction
While most other semi-slick tires choose their knobs to be ramped – so that they glance over the terra firma, the Aggressor has its digging inside. Yet another feature that sets this model apart is the variety of knobs it has whose main purpose is to provide braking traction.
For instance, it has three knobs interconnecting the center and extension knobs. While these knobs have horizontal siping on the former, they have vertical siping on the latter. Also present are a rectangular siped block with a small opening down its middle and a wing-shaped knob with an opening down its center.
The reason why Maxxis was so particular about providing so many knobs is that this tire is designed for Enduro racing, one which takes place on the edge of control. Therefore, by providing more options for braking traction, what Maxxis has done will potentially prevent disaster in dangerous situations.
Rolling Resistance
Considering the fact that this tire boosts huge braking and pedaling traction, we were happy to see that the Aggressor rolls with relatively undisturbing resistance. Even though the knobs maintain a constant height at all times, the resulting increase in rolling resistance won't be huge for you to notice.
What that means is that if you haven't used one of the smoother tires before in your life, you won't notice any sluggishness in its rolling resistance. Though that little resistance which will be there at all times does serve its purpose.
As you're moving downhill, you'd notice the tire able to hold a line. Any guesses from where this much-sought-after feature comes from? That's right; it's the rolling resistance. Hence the reason why many users who found the resistance annoying at first chose to live with it afterward.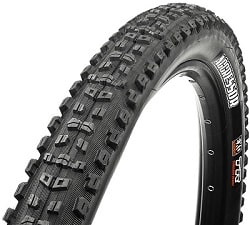 Maxxis Aggressor Review: Conclusion
The Maxxis Aggressor provides little rolling resistance but more than makes up for it with its excellent paddling and braking traction.  As long as you aren't going to ride this tire in deep mud, there won't be many other conditions which would force you to consider its alternative.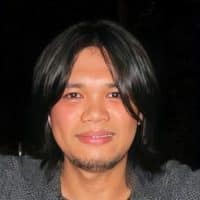 Alvin Reyes has expertise in automotive evaluation. He collaborated with famous newspapers and is still making efforts in tire review for DrivingPress.com