Maintaining correct tire inflation pressure is very important since it helps optimize tire performance and fuel economy while over-inflated tires are just as problematic as under-inflated ones.
In fact, driving with under-inflated tires is one of the biggest causes of tire failure, according to the National Highway Traffic Safety Administration.
Besides, under-inflated tires can cause many other problems such as wearing out more rapidly, handling poorly and reducing fuel efficiency.
In addition, over-inflated tires are more susceptible to damage from road irregularities, and this also creates a bumpier ride.
Overfilling your tires is just as dangerous as under-filling them, so it's important you know what is recommended for your vehicle.
This article will give you everything that you need know about your recommended tire pressure. These include:
where to find recommended tire pressure
reasons that maximum tire pressure is not the best one
how to check your tire pressure
signs that your tires might be under-inflated
Recommended tire pressure, where to find it?
Since tire pressure is so important to your safety and your car's overall performance, it is important to know which level of tire pressure is right for your vehicle.
In fact, how much air pressure your tires need depends on several factors, including the type of vehicle, the type of tire and the intended use of the vehicle etc.
Air pressure in tires is measured in pounds per square inch or PSI. You can find your tire pressure both inside your car and on the sidewall of the tire.
How to find recommended tire pressure inside your car
You could find the manufacturer's optimum or recommended tire pressure for your car on a sticker in the door jam, or in your owner's manual. Some car models even place the stickers on the trunk lid, in the console or on the fuel door. For best results, look for a placard on the inside of the driver's door, like the example in the photo below.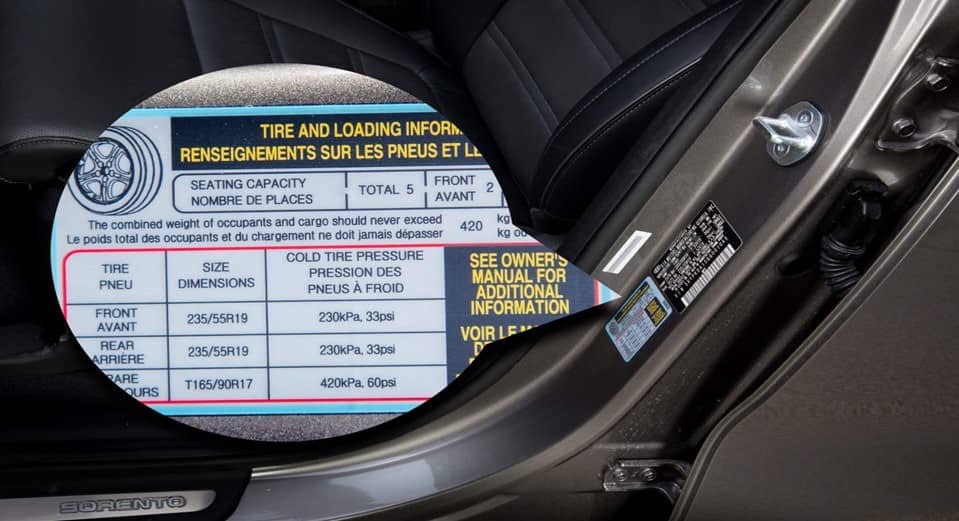 How to find maximum tire pressure on the sidewall of your tires
Somewhere on the sidewall of your tire, just below the big, bold letters of the manufacturer, for example, you might have noticed the words 'Max. Press. 35 PSI.' (pounds per square inch).
That number tells you the maximum cold pressure needed for your tire to carry its maximum load.
Most typical tires require about 32 to 35 pounds per square inch (PSI) of air, says Rod Tate, owner of highly rated Colony One Auto Center in Stafford, Texas.
Large trucks require much larger tires with PSIs of 50 to 60. Heavy-duty vehicles can go even higher. For example, tire in the picture below requires 41 pounds per square inch of air.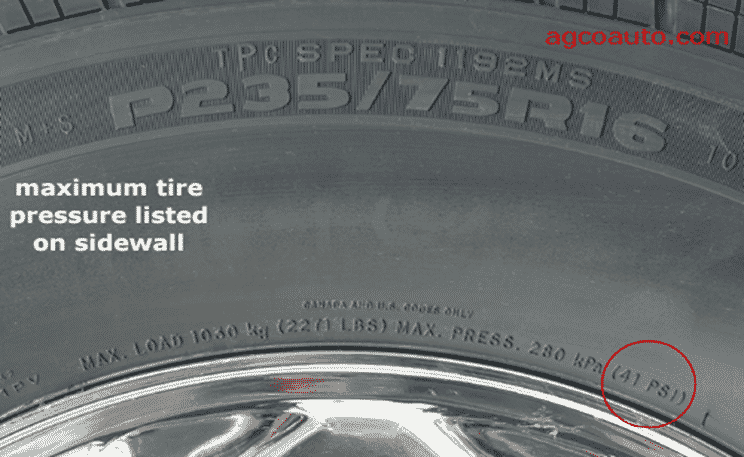 However, the tire's maximum pressure is NOT necessarily the most suitable pressure for every vehicle upon which the tire can be used (almost all vehicle manufacturers' recommended tire inflation pressures are less than the tires' maximum pressure).
You really should follow the recommended pressure printed somewhere inside your car or in the manual rather than the maximum pressure. In the next section, I will explain why.
Why is maximum tire pressure not the best?
If you insist on inflating your tires to the max PSI, there will be more likely that two things below will happen
The handling characteristics change
Since tires inflated to the max cannot give as much on the sidewall, you might see superior cornering, but it could be at the risk of your braking threshold. One quick corner and your back end could slide out.
The life of your tire decreases
When your tires are inflated too much, the rubber rounds out at the top of the tire when you are driving, and the center will quickly wear out. You will also reduce your traction and you could even cause a blowout.
Therefore, maximum pressure is not the best, rather, recommended pressure is. I need to repeat here that the pressure listed on the sidewall is a maximum pressure only, but not a recommended pressure. Instead, you should use the air pressure recommended in the vehicle's owner's manual or tire information placard label.
How to check your tires pressure?
Therefore, maximum pressure is not the best, rather, recommended pressure is. I need to repeat here that the pressure listed on the sidewall is a maximum pressure only, but not a recommended pressure. Instead, you should use the air pressure recommended in the vehicle's owner's manual or tire information placard label.
After knowing the most appropriate pressure for your car tires, you should check whether your tires have such pressure. In addition, checking the pressure of your tires regularly is one of the most important – and most often overlooked – regular maintenance that you should do to ensure your safety and quality of your driving. Monitoring the amount of air in your tires will let you know if you have a small leak and can help you avoid an unexpected flat tire.
Frequently checking your PSI becomes even more important in the fall and winter, when outside temperatures drop and weather conditions fluctuate causing your tires to lose air more quickly. Generally speaking, your tire will gain or lose one PSI for every 10-degree change in temperature, which means if you have a sudden drop of 30 degrees, you could lose three PSI overnight. If your tires were already low, this could cause tire damage, steering problems or even a flat tire.
Some experts recommend that you should check the air pressure every time you refuel; others say once a month is sufficient.
How to check tire pressure properly? Checking tire pressure is easy. You can do it right at home or at the gas station. Just be sure you check the pressure when your tires are cold, or have not been driven in several hours. This will give you the most accurate reading.
The most important piece of equipment you need is an accurate tire pressure gauge. You can find battery-operated digital gauges, or more traditional stick-type gauge found at most gas stations. A good gauge should not set you back more than $15 – a worthwhile investment for a longer life for your tires.
Make sure you have your manufacturer's PSI handy when you are checking your tire pressure, and then follow these steps:
Remove the end caps on your tires' air valves (do not lose them!).
Place the tire pressure gauge into the valve stem and press down quickly to get a reading.
Check the PSI reading. Compare that to your vehicle's recommended PSI. (It can often be tricky to get the gauge to press fully onto the valve, resulting in an off reading – so take a few readings to eliminate any anomalies.)
If the reading is above the recommendation, push in the valve to let out some air (you might have to do this a few times to get it right).
If the PSI reading is below the recommendation, fill your tire with air until you reach the ideal level (this may also take a few tries).
By checking tire pressure once a month, you will get a good idea how they are performing. If your tires are fairly new and continue to leak air, you should consult your dealer or mechanic. You may have a faulty valve or other damage that is difficult to detect which could unfortunately result in the need to replace the tires completely. But with proactive maintenance, you could catch an issue before it becomes a problem, and just end up needing a small repair.
Signs that your tires might be underinflated
Often, it is hard to spot an under-inflated tire until it is too late – in other words, it is completely flat. Of course, you could carry a gauge around at all times to measure the pressure, but that is not exactly convenient. Instead, watch for these signs and symptoms of tires that are under-inflated.
Your car is not handling as well as it usually does
When your tires are under-inflated, your ride can be less smooth than usual. You may even find that it takes longer to brake.
There are cracks in the tire
When a tire is not inflated properly, it wears down more quickly. If you notice that one or all of your tires are wearing out faster than usual, it may be because they are under-inflated.
Your steering wheel is shaking or vibrating
Tires that are under-inflated can make your vehicle quiver and shake, which is not a pleasant driving experience. Under-inflation can even cause tires to become misaligned, with comes with it is own variety of problems.
Conclusion
These are all things that you need to know about recommended pressures of your car tires. After reading this article, you will never confuse about the right pressure of your tires and will know how to check it.
Please share your ideas with me if you have other tips for this.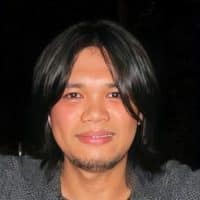 Alvin Reyes has expertise in automotive evaluation. He collaborated with famous newspapers and is still making efforts in tire review for DrivingPress.com