The list of the most popular luxury SUVs in the US and the world, in general, cannot be without the name Lexus RX350. The success of this model comes from the smooth, comfortable feel of the powerful, reliable engine.
Even the Lexus RX350 is a model that never breaks down. However, after a period of owning a car, you may face tire wear and need to be replaced.
In this case, you're going to need a quality set of tires that can deliver both a luxurious feel and a comfortable ride, with impressive durability as well as commendable performance.
To give you more suggestions on tires that meet the above requirements, I have compiled a list of the best tires for Lexus RX350, including feature reviews, pros, and cons. You certainly won't miss a detailed list included in this article.
The Best Tires For Lexus RX350 Reviews Of 2023
To evaluate most objectively, I tell my experiences when using the product and make a lot of comparisons, weighing between performance, technology, durability, and longevity.
Michelin Premier LTX
Best For Overall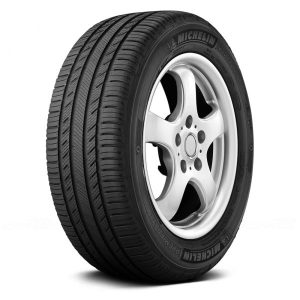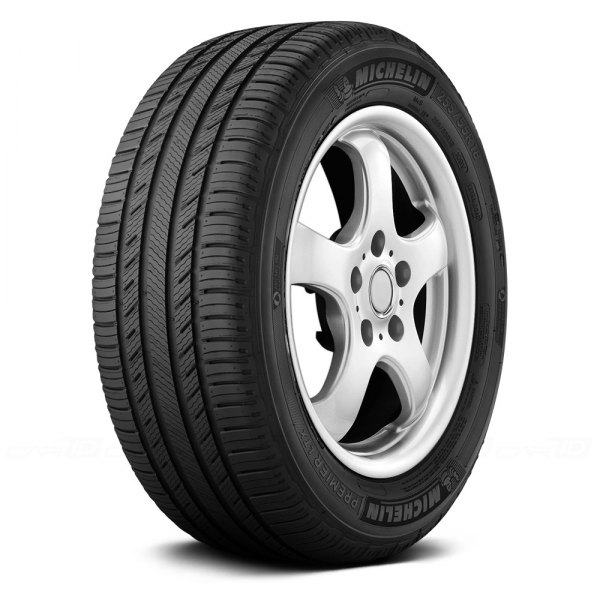 Specification:
Load Index Rating: 103.0.
Tire Aspect Ratio: 60.0.
Speed ​​Rating: H.
The Michelin Premier LTX has all the features you would look for in a tire for Crossover vehicles in general and the Lexus RS350 in particular: using the most advanced technologies, good performance, and a warranty worth considering.
Specifically, with Premier LTX, Michelin continues to use EverGrip technology – the technology behind the success of many other popular tire models. At the same time, the manufacturer is also very loyal to the compound consisting of silica and sunflower oil.
Michelin has every reason to maintain the advantages already available on its predecessors. Because from tire compound to EverGrip technology, all maximize power, helping to increase braking performance and traction even when the tires are worn.
Although there are some similarities compared to its predecessors, in my experience, I can still distinguish Michelin Premier LTX from other products by the advantages that only this representative from France brings.
Specifically, when driving on dry roads, the sidewall design is stiff. Still, the tread is soft, and EverGrip technology has been effective in increasing grip and ensuring even tire wear.
On wet, slippery surfaces, the tire's performance is not reduced because of that. Instead, the grooves and the material with a large amount of sunflower oil and waterproof silica work very well in draining water, preventing water damage so that you can drive safely in harmful conditions.
When you consider the performance of this model on more severe surfaces, you will be pretty satisfied if you drive on light snow because the rubber tread of the product can work well on thin snow. At the same time, Michelin's high silica content can keep the tire's texture stable even on ice.
The overall performance is good, but this one is still not perfect because there are still some disadvantages. One of them is the high tire wear rate. The wear rate is much faster than what I had expected in a model with a warranty period of up to 60,000 miles.
Pros
EverGrip Technology.
Silica compounds and sunflower oil.
Warranty period 60,000 miles.
Good overall performance.
Good traction even under abrasion.
Cons
Bottom Line
Although not perfect, the Michelin Premier LTX with the above advantages is still one of the most worth-investing tire models today, especially when you own a Lexus RX350.
Bridgestone Dueler H/L Alenza Plus
Best for Quietness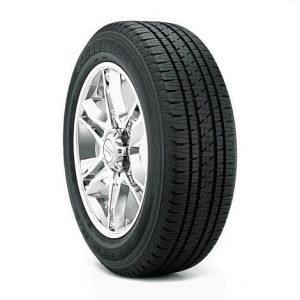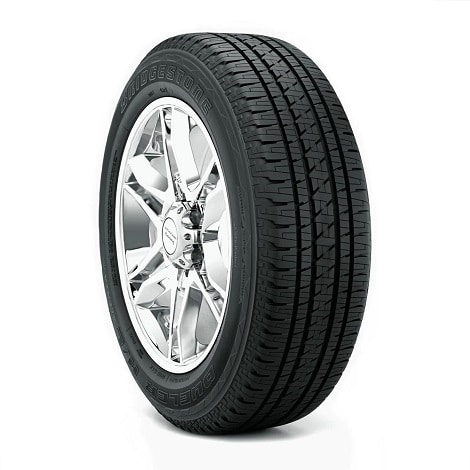 Specification:
Load Index Rating: 100.0.
Tire Aspect Ratio: 55.0.
Speed ​​Rating: V.
As crossovers become more and more popular, tire manufacturers have constantly researched and improved to bring products that can make the most of the power of this vehicle.
And Bridgestone joined the race with the Dueler H/L Alenza Plus and quickly reaped a lot of success.
One of the factors that make this tire from Japan so popular worldwide is its excellent handling and driving feel. I have used this model for daily driving.
Dueler H/L Alenza Plus has always been one of the products that make me most satisfied in terms of responsiveness in particular and driving feeling in general.
In addition to the above advantages, traction is also one of the critical factors that help this model get so much attention.
If you learn a little about cars and tires, you will understand that tire life is often proportional to traction. However, Bridgestone with Dueler H/L proved otherwise.
When driving with the Dueler H/L, I still managed to get the traction I needed while the braking distance was extremely short.
The above superiority makes it possible for me to accelerate the car without any problems and at the same time can decelerate quickly without difficulty.
The Bridgestone Dueler H/L Alenza Plus also impressed me with its quietness on many different types of terrain. Making this great advantage, in large part, is thanks to the symmetrical spike design that the manufacturer provides.
The only downside of this model lies in the lack of modern technology or manual measures to protect the tire. Therefore, the tire's life will be significantly reduced if you use Bridgestone on rough roads with many sharp rocks.
With the above disadvantages, you almost certainly should not choose Dueler H/L tires if you have a passion for off-road driving.
Pros
The noise is almost zero.
Great tread life.
Short braking distance.
Good grip as well as water resistance.
Better performance on light snow than the competition.
Cons
Not a good choice for off-roading.
Bottom Line
If you do not use your Lexus RX350 for off-road driving, the Bridgestone Dueler H/L Alenza Plus will be a perfect choice for durability, performance, and comfort.
Michelin CrossClimate SUV
Best for Responsive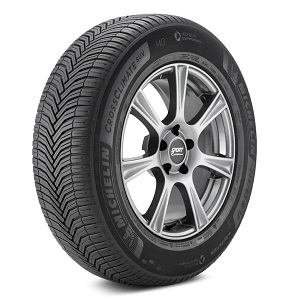 Specification:
Load Index Rating: 107.0.
Tire Aspect Ratio: 60.0.
Speed ​​Rating: V.
The Michelin CrossClimate SUV, like any other product from this famous French brand, has quite a few advantages, of which responsiveness is the feature that impresses me the most.
To provide quick feedback, the manufacturer has focused on research and development of the silica compound and the directional tread pattern. This focus on improvement makes this model balance performance and wear with both high grip and impressive life.
More importantly, the design of this tire makes the product responsive. Michelin's competitors will undoubtedly have to improve a lot if they compete directly with this CrossClimate SUV product.
When testing this tire on many different types of terrain, I discovered an interesting fact: the pros and cons of the CrossClimate SUV lie in the braking.
CrossClimate's braking distance is the shortest when compared to products in direct competition on dry roads.
However, on snowy terrain, the aerial performance is no longer maintained too well. Specifically, when testing the brakes on snow, I noticed that the braking distance of this model is slightly longer than that of other joint surfaces.
Pros
Impressive braking, especially on dry surfaces.
Excellent handling in dry and wet conditions.
Stable highway
It can be available in light snow.
Low rolling resistance technology.
Cons
Braking on snow is a bit worse.
Bottom Line
Although the ability to brake on snow is not as expected, overall, CrossClimate SUV still has quite good performance on snow in particular and in all other types of terrain.
Bridgestone Dueler H/P Sport
Best for Excellent Braking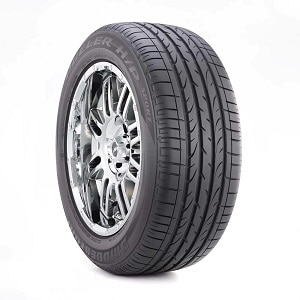 Specification:
Load Index Rating: 100.0.
Tire Aspect Ratio: 60.0.
Speed ​​Rating: H.
When it comes to tires for high-end crossovers and SUVs like the Lexus RX350, it's impossible not to mention the Dueler HP Sport.
The strong suction on the product does not come from traction grip on dry roads like some other tire models. Even the above feature is the point that makes me not too satisfied with the product because the grip is just above average – much lower than what I expected.
However, even in winter, I was entirely conquered by the Bridgestone Dueler H/P Sport when driving in wet conditions.
The design with small spikes that gather into a closed shoulder design to the high silica content multiple directional grooves makes the product resistant. It offers the most impressive driving experiences even in not-so-ideal weather conditions such as a wet cold.
I was particularly impressed by this Bridgestone representative's braking performance. When comparing this aspect with many other competitors, the Bridgestone Dueler H/P Sport still performs well with short braking distances and good handling.
Pros
Tires wear evenly even under load.
Impressive braking performance.
Good handling.
Comfortable.
Good handling.
Cons
It should improve the dry grip.
Bottom Line
As one of the Street/Sport Truck summer members in the Dueler light truck tire line, the Bridgestone Dueler H/P Sport has inherited all the advantages that make the tire line famous.
And it also has changed to become one of the most suitable products to use on luxury SUVs like Lexus.
Goodyear Assurance CS Fuel Max
Best for Fuel-Saving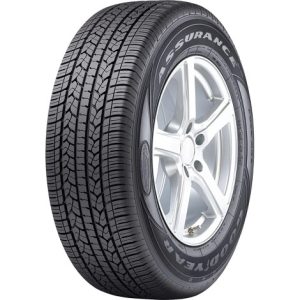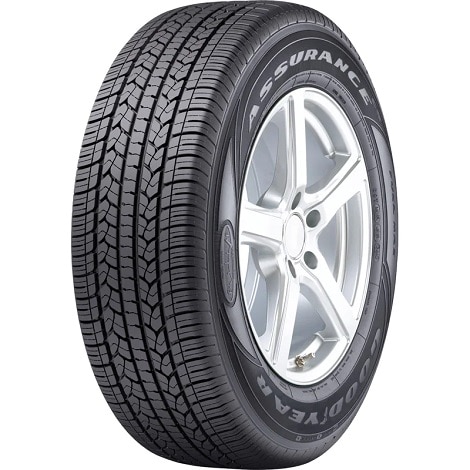 Specification:
Load Index Rating: 109.0.
Tire Aspect Ratio: 55.0.
Speed ​​Rating: H.
Whether you are a person with a green lifestyle, interested in reducing C02 emissions or not, you will recognize that saving fuel costs is always an attractive advantage.
With the Assurance CS Fuel Max, Goodyear has brought this advantage closer to users. Fuel-efficient tires have differences compared to traditional tire models.
When looking at the design of this representative from Goodyear, you will see that the tread is unique with five rows of spikes.
Next, the manufacturer also offers a lot of channels called "Dual Aquachannel." Through some manufacturing operations, the outer tread blocks of the product also have distinctive features.
The above characteristics make the Assurance CS Fuel Max have good traction while reducing unnecessary drag to a minimum.
As a result, you will save a lot of fuel compared to other traditional tire models. According to manufacturer testing, this product can save up to 2,500 miles. It is a pretty impressive number considering the amount of money you have to spend.
More than just a fuel-efficient tire, the Goodyear Assurance CS Fuel Max also impressed me with its good grip on both dry and wet surfaces. Steering response and comfort are also advantages in Assurance CS Fuel Max that I appreciate.
Unfortunately, when it comes to performance on snowy roads in harsh winters, I can hardly remain satisfied. The tire's ability to brake, traction, and acceleration need to be further if Goodyear aims to produce a perfect tire.
Pros
Comfortable.
Good steering response.
Energy-saving.
Traction on dry and wet surfaces is quite good.
Tread life is quite commendable.
Cons
Should improve performance on snow and ice.
Bottom Line
If you both want excellent performance and want to save fuel and reduce CO2 emissions, the Goodyear Assurance CS Fuel Max is the product you are looking for.
Cooper Discoverer SRX
Best for Treadwear Warranty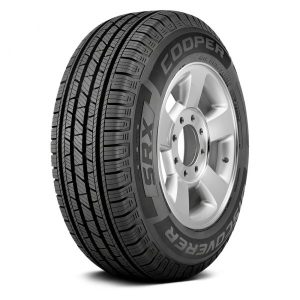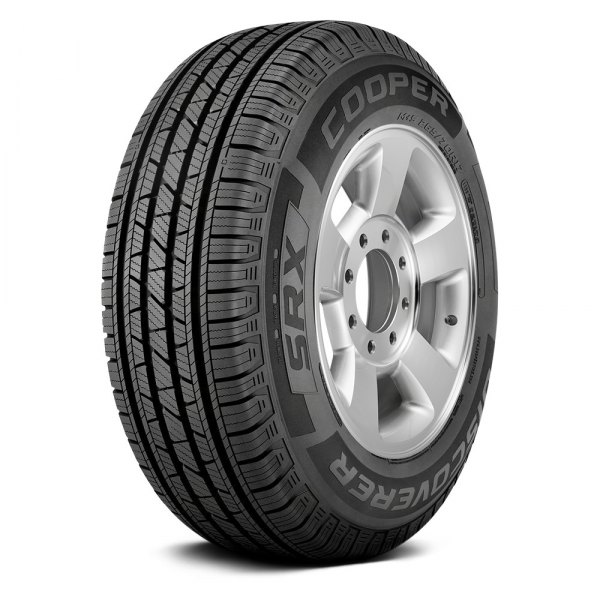 Specification:
Load Index Rating: 117.0.
Tire Aspect Ratio: 55.0.
Speed ​​Rating: H.
Quiet, durable, long service life are the adjectives that best describe Cooper Discoverer SRX.
The secret of these advantages comes from the long thin bars that run the length of the tire, whose main task is to provide stability and improve handling.
The silica tread compound, which has long been famous for its incredible durability and high grip ability, appears on the product, further confirming the product's longevity and impressive performance.
The exclusive StabilEdge Performance technology also improves the Discoverer SRX's performance. Simply put, this new technology helps to link the outer spike blocks, thereby creating stability for the shoulder spike blocks.
As someone who's spent enough time using the product, I'll admit that Cooper doesn't overstate their technology. Because when cornering, the Discoverer SRX is flexible and has quite an impressive grip – an advantage that is rare in similar tires.
Last but not least, the Discoverer SRX has a treadwear warranty of up to 75,000 miles. Almost the highest number of warranties Cooper has ever provided.
I only regret that a product with many grooves providing a good grip on ice like the Discoverer SRX has not been further to have the symbol Triple Peak Snowflake – certification for its ability performance in severe winter weather.
Pros
Dulcet.
Long lifespan.
Tire warranty up to 75,000 miles.
Impressive performance.
Exclusive StabilEdge Performance technology.
Cons
Should improve performance on snow.
Bottom Line
With all the above advantages, the Discoverer SRX is the ideal choice if you are always looking for a durable tire capable of responding well to your daily driving activities.
Goodyear Assurance WeatherReady
Best for Winter Traction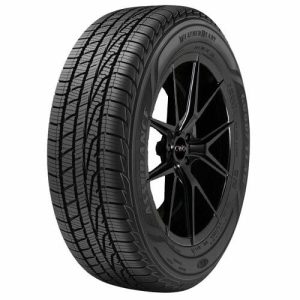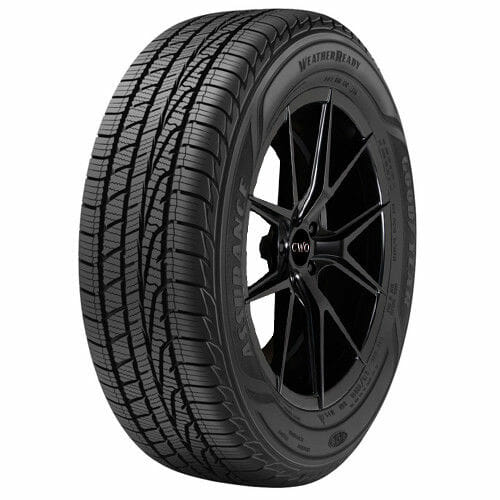 Specification:
Load Index Rating: 94.0.
Tire Aspect Ratio: 55.0.
Speed ​​Rating: V.
The Goodyear Assurance WeatherReady is classified as a four-season model by the manufacturer. However, this product has a three-peak snowflake symbol – symbolizing a model that can perform in winter, even the harshest of winters.
This impressive ability comes mainly from the asymmetrical design with many grooves that help provide quite a remarkable traction. Besides, the tire compound containing soybean oil also promotes good waterproofing ability, thereby anti-freezing, very suitable for use in low-temperature environments.
Thorns are also one of Assurance WeatherReady compared to tire models that cannot work well in icy conditions.
Because it not only owns the middle spike, the manufacturer also equips additional spike blocks with teeth on the inside. The appearance of these thorny masses creates bite edges in cold weather.
My only complaint with this moderately successful Goodyear tire is that the size of the product is slightly larger than the usual size of all-season tires.
Pros
Good performance in summer.
Can handle the heavy snow terrain of harsh winters well.
Extended warranty period.
Enduring.
Different design.
Cons
The size is slightly larger than regular four-season tires.
Bottom Line
There are not many four-season tires that can perform well on snow and ice surfaces as impressively as the Goodyear Assurance WeatherReady in summer.
And the above advantage is more than enough for you to at least once consider this high-performance tire from the Goodyear brand.
Michelin Latitude X-Ice Xi2
Best for Icy Terrain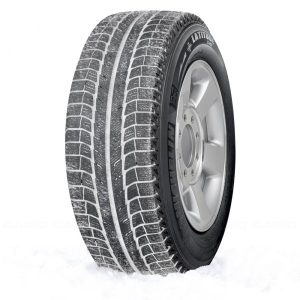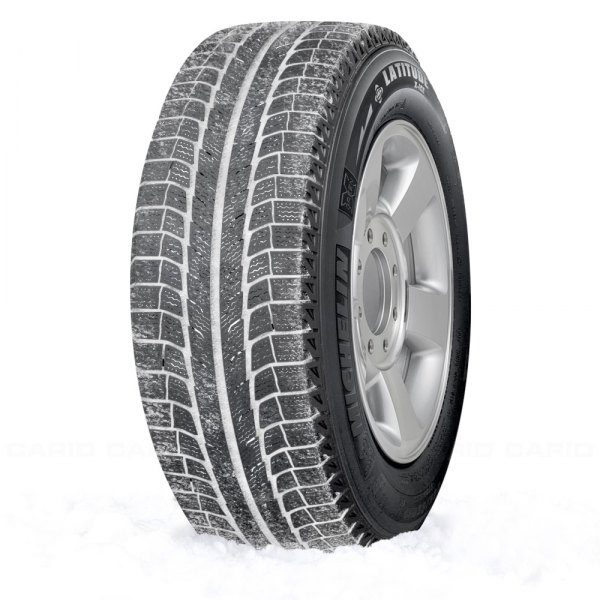 Specification:
Load Index Rating: 109.0.
Tire Aspect Ratio: 65.0.
Speed ​​Rating: T.
As the name suggests, the Michelin Latitude X-Ice XI2 is a tire that was born to help you drive safely on the harsh icy terrain of winter.
The Latitude X-Ice XI2's impressive snow and ice performance are in no small part due to the compound FleX-IceTM.
Compared with the traditional compound commonly found on the Michelin tires listed on this list, FleX-IceTM offers outstanding flexibility, allowing the tire to perform well on even the harshest surfaces, including ice.
Accompanying the breakthrough compound is Cross Z-SipesTM technology with a 3-D design whose primary mission is to provide stability.
The manufacturer also made a series of changes in the design of the spikes and the side structure. Therefore, it is not surprising that the representative from Michelin has achieved a series of remarkable achievements.
The tire only travels on the ice for a distance of 23.48 meters from braking to stopping – an impressive number, surpassing many heavyweight competitors.
Or when considering traction on ice, this model also gives quite impressive results when it can help the car accelerate to 30 km/h in just 6.53 seconds.
The numbers above partly prove the excellent performance of the product. However, this model still has some disadvantages, such as the traction on the mud is not too good or the price is relatively high.
Pros
The FleX-Ice compound is suitable in harsh winters.
Max Touch Construction improves tread life.
Total performance enhances endurance.
Comfort Control technology provides a smooth, quiet, comfortable ride.
Excellent on snow and ice.
Cons
Bottom Line
Like other Michelin tires, to experience the significant advantages of the Latitude X-Ice Xi2, you have to spend a rather high price. However, in reality, what you get from the Latitude X-Ice Xi2 makes this tire model never an unwise investment.
Things to consider when choosing tires for Lexus RX350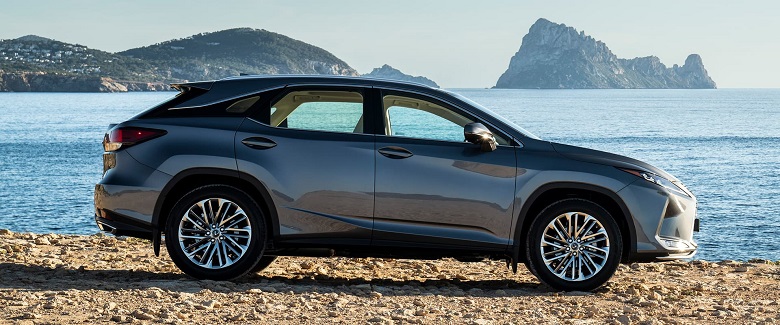 Choosing a tire, in addition to the type of tire (four colors, winter, summer, off-road tires, touring tires) is often seen; you need to consider even small but important factors such as size-speed score.
In the framework of this guide, I will mention three issues worth noting, but buyers often overlook when choosing the best tires for Lexus RX350.
Tire size
The first rule of thumb when replacing a tire is to find a replacement part of the same size. The size difference can prevent your car from performing at its best and even damage.
Therefore, you need to know the tire size of your Lexus RS350. There will be a series of numbers showing the dimensions of the tire.
For example, with a tire model with the designation 245/40-R18, you might know that the maximum width of the tire is 245mm, the height of the sidewalls as a percentage of the width is 40, and the tire diameter is 18′.
Speed ​​Score
Knowing your tire's speed rating will give you a safe speed limit for driving. In addition, this parameter also tells you the tire's overall performance.
Speed ​​ratings are indicated by letters ranging from L to Y.
In particular, L indicates speeds up to 75 mph, and Y corresponds to rates over 186 mph.
Information about Tread-Wear
There are two pieces of information about treadwear that you need to be sure of: wear rating and tire warranty coverage.
You will easily find the treadwear rating on the sidewalls. Some manufacturers also integrate an intelligent indicator of tread wear, so you can easily capture and monitor.
In addition to assessing tire life based on tread wear, you can rely on information regarding warranty coverage. Typically, tires will last approximately or more than the warranty period provided by the manufacturer.
FAQs
There are quite a few questions regarding the Lexus RX350 and its replacement tires. Here are some frequently asked questions and answers for your reference:
Can I use the spare tire of RX350 for long-term use?
The answer is no. This compact tire should only be in emergencies. You should consider high-performance models used as full-fledged tires for long-term use. What is the recommended tire pressure for the Lexus RX 350? The recommended pressure on the Lexus RX 350 is 33 psi.
How do I reset the tire pressure monitoring system on a Lexus RX 350?
For On 2016 Lexus RX 350 and later, you can reset the TPMS by following these steps. 
First, use the function keys to adjust the nose so that you can go to the "Settings" section and select OK. At this point, do not rush to leave the screen, but continue to search for the TPMS line.
Then, choose OK until the TPMS light on the dash blinks three times.
Conclusion
The best tires for Lexus RX350 above have excellently surpassed many existing tire models on the market. They have also been analyzed, evaluated, and clearly shown their advantages and disadvantages.
Hopefully, the above quality suggestions and detailed analysis can help you choose a suitable product for the Lexus RX350 – one of the most loved luxury models today.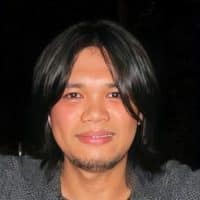 Alvin Reyes has expertise in automotive evaluation. He collaborated with famous newspapers and is still making efforts in tire review for DrivingPress.com